7 Guilt-Free Lunches Near Your DC Office That You'll Actually Like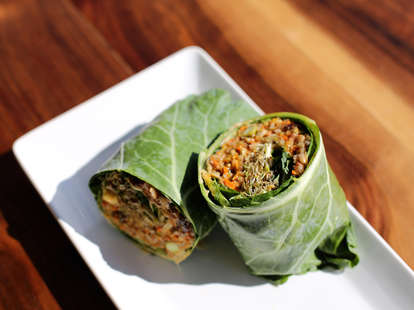 Courtesy of Fruitive
Courtesy of Fruitive
Admit it, you overdid it. Mom cooked her ass off this year, and Whole Foods was ON POINT with their pecan pies. So now it's time to turn your lunch break into belly flab rehab by hitting the healthiest new spots near your office. Yep, that means you can kiss these, and these, and definitely these goodbye. (For a few weeks, at least.) Hit the kale hard for lunch, because there's always dinner.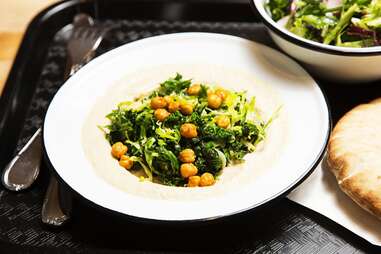 Dupont Circle
The DGS Delicatessen team is launching a lunch-only offshoot in its basement specializing in hummus (made fresh daily). Because bowls are the only thing hotter than Star Wars, that's how you'll order. Five bowls feature a hummus base and various savory toppings. One has chopped pastrami and pickled mustard seeds to remind you of what's upstairs, while another is a rosy beacon with roasted beets, soft yogurt, and hazelnut dukka. Prices run from $9-$12 a bowl, and they all come with warm pita and salad with sumac-honey dressing. Here's hoping Little Sesame gives Philadelphia's cultish Dizengoff some regional competition.
Dupont Circle
Challah devotee in need of penance for your carbo-loading sins? Get to gluten-free newcomer, The Little Beet. Sure, it's a New York import, but don't knock it until you try it. The healthy menu comes from a chef who learned to cook and eat right after a Type 2 diabetes diagnosis at age 27. The menu entices with three main lunch options: plates made up of a protein, such as salmon or steak paired with sides; rice bowls like salmon tartare or banh mi chicken (pictured); and salads packed with veggies. Pair whatever you order with a cold-pressed juice so you can carry it around like a merit badge for trendiness.
Downtown
These rolls are pure gold. Burrito in size, Buredo's punched up take on sushi marries super fresh sashimi and spunky vegetables and sauces. Quentin Tarantino fans will dig the names of the rolls, including the breadwinning Beatrix (pictured) with tuna, salmon, and pickled cabbage; the indulgent Sofie with shrimp tempura and Sriracha mayo; or the land-based Crazy 88 with slow cooked pork shoulder and kimchi slaw. Although Buredo's McPherson Square pin drop is already convenient, Buredo tends to pop up on Uber Eats once a week -- meaning these burritos can be car-catapulted to your door in 10 minutes.
Downtown
One step into SKWR, and you can smell meat spinning on a spit; a few more steps in and you can see it. The shop, from the sons of Reston Kabob industry vets, blends the flavors of hole-in-the-wall Middle Eastern gems with the build-it-yourself ordering with which we're clearly obsessed. Don't be too quick to label it a Cava Grill copycat. The flavors lean more Afghani than Greek -- though Middle Eastern and Mediterranean cuisines share commonalities like tangy yogurt sauces and a love of lamb. Build a bowl out of greens and grains, or go the wrap route and start crafting. You'll pick a protein first (we dig the chicken), then layer on spreads like apple chutney, toppings like peynir cheese, and finally a sauce (you want za'atar yogurt aioli).
CityCenterDC
At Fruitive you can drink your lunch, but you don't have to. The plant-devoted juice bar and restaurant serves liquid meals like the Peaches & Greens (pictured); salads with clever names like Hail to the Kale; and sandwiches including the eye-catching collard wrap that replaces a tortilla with sturdy, grabbable greens. Mondays shouldn't be the only day you go meatless when gooey sandwiches like the Tuscan Kale Grilled Wrap are out there. A tortilla houses kale, butternut squash, quinoa, broccoli, garbanzo beans, caramelized onion, addictive basil pesto mayo, and Mediterranean dressing. They might try to talk you into a juice cleanse, but baby steps. Baby steps.
Georgetown
Chaia should come with a "you won't miss the meat" guarantee. The vegetarian taco restaurant that started as a popular farmer's market pick now has a permanent home. No more waiting until Sunday for corn tortillas stuffed with nature's candy. Order a set of three tacos for $11 with fillings like Moroccan-spiced carrots with goat cheese; creamy kale and potatoes in poblano crema; and mushrooms with feta. Chaia is fast. Your vegetable-stuffed tacos will be ready in minutes, but do yourself a favor and dine in. The setting is serene, soothing even (especially the upstairs), with its bright whites, warm woods, and potted succulents. It's the clutter-free condo of your dreams. Drink-wise, they hit a hat trick: cold-pressed juice from Misfit Juicery, Vigilante Coffee, and even wine or local beer.
Dupont Circle
If you listen to José Andrés speak enough times, you might notice he plays favorites with words. One of them is "unleashed." He even dropped it during his Top Chef guest appearance this season. It fits, then, that his healthy, quick bites concept, Beefsteak, carries the motto, "Vegetables, Unleashed." Thanks to line-drawing popularity at the original Foggy Bottom locale, Dupont got a Beefsteak, too. Now all the non-profit worker bees surrounding the circle can swing down for blanched veggies in bowls like the Frida Kale or Eden (pictured). Don't skip the seasonal specials, which right now include a beet burger and carrot miso soup.
Sign up here for our daily DC email and be the first to get all the food/drink/fun in town.
Laura Hayes is a DC-based food, drink & travel writer who also contributes to Washington City Paper, Food Network, Arlington Magazine, and others. If Buredo is on Uber Eats, she's ordering it. Follow her on Twitter @BTMenu.