Marjorie Meek-Bradley's late-night picks
Washington DC When Ripple and Roofers Union Chef Marjorie Meek-Bradley isn't busy swimming in RAMMY nominations, she's cooking up some of the finest beer brats we've ever tasted. Corn dogs too. But being the boss of two restaurants means a lot of late-night meals. Here's where she heads come midnight, which means you should, too.
Laura Hayes
Bar Pilar
14th Street
Marjorie digs this spot that was one of the OGs of 14th St, primarily for their late-night libations. "Great bartenders make this a super-fun spot to head to, and they make the best Negroni I've had in months."  For something a little more Summery at this Hemingway-themed bar, opt for the "Wedding Ring Tan Line" made with mezcal, coconut milk, orange, and lime juice with pineapple shrub.  Continue Reading
Meghan Gallery
Nanny O'Briens
Cleveland Park
Eight flavors of wings. That's why Marjorie has a soft spot for this Cleveland Park dive bar. It's also a stone's throw from her first restaurant, Ripple. Teriyaki Maryland-style is a strong pick because the wings are dry rubbed with Old Bay, but nothing tops DC-style because DC = mumbo sauce. Visit on Wednesdays for 50-cent wings from 5-10pm.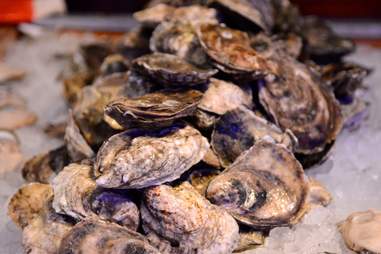 Laura Hayes
Clyde's
Multiple Locations
This DC institution does late-night right, according to Marjorie. You can find her indulging in bivalves at Clyde's when the ENTIRE raw bar is half off from 10pm-1am (in the bar area only).  Liquor and oysters late-night, yea that sounds pretty chef-like. Meanwhile, the rest of us are elbow deep in burgers and Jumbo Slice.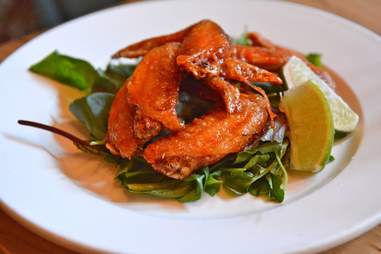 Laura Hayes
Boundary Road
H Street
H Street NE is Marjorie's hood, so we should take her extra seriously on this one. Her top pick is Boundary Road, where the late-night food menu includes a charcuterie sammy, honey-Sriracha wings, and their signature quark and black pepper pierogies. Drink-wise, Marjorie swears by Kettle and sodas, since they're hangover proof (so she says!), but you might want to take advantage of BR's late-night Comboh -- a shot of rye whiskey and a Natty Boh for $6. 


Laura Hayes
Mandu (K Street)
Mt. Vernon Triangle
"That bibim bap in the stone bowl is my favorite thing in the world," Marjorie proclaims. That's high praise. She's talking about Mandu's dolsot bibim bap that arrives at the table still sizzling. But beyond that bibim bap, Marjorie is a fan of Mandu's late-night menu featuring Korean fried chicken, Korean BBQ tacos, kimchi quesadillas, and more. Get these bar snacks Tue-Sat 11pm-1am and Sun-Mon 10pm-12am.