DC's 9 best mac 'n cheese dishes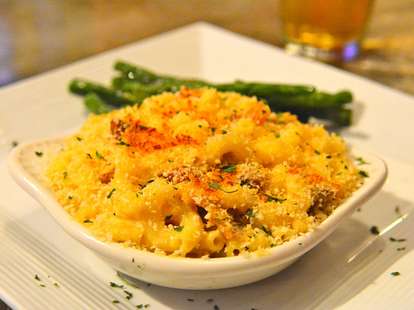 Laura Hayes
Laura Hayes
Mac 'n cheese is probably the ultimate comfort food, but it can only do its job and make you briefly forget about how much everything sucks if you know where to get a decent bowl -- that's why we nobly put on our stretchy pants, did the delicious research, and tracked down DC's finest curdy treats.
The Pinch -- Mac 'n' Quack
Columbia Heights
Two words make this dish DC's best mac: duck bacon. The CoHi watering hole won't tell you how it's made (cool or scary?) but they do make it in-house. Also, important note: this Gouda-laced heart stopper is only available Mondays (as are free JELL-O shots!).
Oohh's and Aahh's -- Macaroni & Cheese
U Street
This classic soul food spot serves classic soul food mac 'n cheese -- the recipe's been in the family for three generations, it combines six different cheeses, weighs in at a just $3.95, and is totally delicious.

Cheesetique -- Bacon 'N Blue
Shirlington
So, this may well be THE best Alexander Hammy you can spend in the state of Virginia. Cambozola cheese (Gorg's somehow stinkier cousin) commingles with crumbled bacon, roasted toms, and fusilli pasta. Also? The spot's a wine bar and cheese shop to boot, so you can get a little of the goodness to take home with you.
Range -- Old Bay Lobster Mac
Friendship Heights
Old Bay seasoning plus Parmesan and cheddar cheese combine with oversized "macaroni" (seriously, they're GIANT) before being topped with generous hunks of Maine lobster. Sure, it's a little exorbitant at $18, but it's completely worth it, and it's definitely no side dish.
Co-Co Sala -- Bacon Mac & Cheese
Metro Center
Can a chocolate emporium produce award-winning mac 'n cheese?? Apparently so, and they can even brazenly include chocolate in it too. This sucker comes with a thick slab of chocolate-covered bacon to be stirred into the four cheese-covered orecchiette, and it works like a freaking dream.
The Pig -- Truffle Crust Mac & Cheese
Logan Circle
The Pig easily scoops the crown for best value, because as fancy as "truffle crust" sounds, and as delicious as these Gruyere, white cheddar, and goat cheese-filled mini-crocks are, they're actually crazy reasonable. In fact, when was the last time you got truffle ANYTHING for $7.50?
Founding Farmers -- Macaroni and Cheese
Foggy Bottom
For those feeling a little nostalgic, there's Founding Farmers' mac 'n cheese, which is loaded with childhood staples -- we're talking ham, peas, and apples -- and of course there's Gouda and Gruyere in there too (otherwise it would just be "Macaroni and").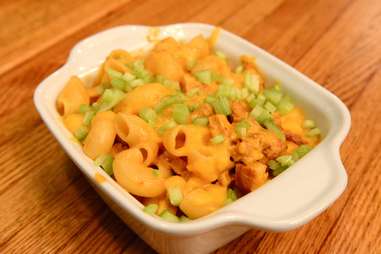 Stoney's on L -- Buffalo Mac-N-Cheese
West End
If you took a buffalo wing and used it as a whisk in a super creamy mac 'n cheese until it completely disintegrated but magically left no bones behind, you'd get Stoney's famed Mac-N-Cheese. It's all in there: buffalo sauce, grilled chicken, diced celery, and crumbled bleu cheese sauce. Sure, you can get this game-day classic on P Street, but L Street is just so new and shiny (read: better bathrooms).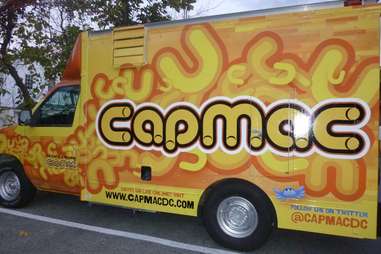 CapMac
Food Truck
The rumors are true -- CapMac, which closed its window in 2013, will be imminently resurrected under fan-turned-owner Josh Warner, and bringing back its frankly incredible Classic CapMac'n Cheese, which throws together cheddar, pimento, and a Cheez-It crumble.
Laura Hayes is a contributing writer at Thrillist and the founder of Best Thing on the Menu. She counteracts her passion for food and killer cocktails with CrossFit and corgi walks. Follow her adventures @BTMenu.