These DC Restaurants Are Now Offering Meal Kits and Grocery Items
Chances are you've tried one before, or at least are aware of them by way of eager coupons mailed to your home. They've always presented themselves as a means of creating a beautiful meal the easiest way possible by providing recipes and practically every item you need to bring said recipe to life -- perfect for the gastro-curious and grocery store-averse.
Never did we think, though, that the time might finally come when the world would need to call on them the most. The meal kit that's come to save your quarantine dinners. These perfectly boxed selections of mealtime fixings have gone through quite the transformation lately, too, as many local DC restaurants have quickly made some major adjustments to their business models in order to adapt to a time where staying at home is mandated, dine-in service is forbidden, and social distancing is what we need to do to flatten the curve.
So, for those of you who are looking for something a whole lot tastier than cereal for breakfast and beans for dinner, these kits are now your best friend. These DIY kits can help you create anything from craft cocktails to legit homemade ramen to be enjoyed from the comfort of your couch. Helping your favorite DC restaurants in business is a pretty sweet bonus as well.
Columbia Heights
This Southern Italian eatery -- which has been on Michelin's Bib Gourmand list for the past two years -- is known for signatures like pasta with Neapolitan ragu, ziti alla Genovese, and eggplant Parmesan. Now you can order family meals with baccala, burrata, ragu, gnocchi, chicken and dessert to enjoy at home. To really set the Napoli mood, the restaurant is also selling its beautifully designed plates, pitchers, and cup sets.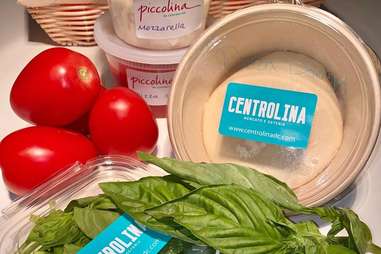 CityCenter
Already accustomed to having a market, the five-year old Centrolina has expanded to offer its grocery items for pickup and delivery now. You can still purchase its jarred sauces, fresh pasta, and season produce from the market, but James Beard-nominated chef Amy Brandwein is now also developing pizza kits for two at her market. The kit includes two rolls of dough, homemade tomato sauce, mozzarella, and basil. The best part? You can add in a bottle of wine from the same spot.
Brookland
Ever dreamt of having a private chef? This might just be your next best option, as local catering company Occasions is bringing their gourmet meals directly to your house now. The new at-home service is designed to provide several meals for households of up to four, sent weekly in disposable, oven-ready containers with heating and serving instructions. Meal kit menus include tasty items like Southern BBQ roast chicken, grilled broccoli rabe, and even make-at-home brownie kits.
Adams Morgan
We're pretty sure that if there's one thing everyone can agree on, it's how ramen is the ultimate comfort food. Entering stage left is Ramen by Uzu, which now offers a way to get your noodle and broth fix in while also providing a fun evening activity with his at-home ramen kits. They include a selection of fixins (fresh noodles, broth, and garnishes) available at Hana Market -- also a great place to stop for a number of other Asian pantry items.
North Bethesda
Besides offering ready-made family meals that feed four, Summer House Santa Monica also has happy hours covered with build-your-own cocktail kits. They start from the pretty simple Don't Get on a Greyhound with vodka, grapefruit juice, and limes to the more advanced Can't Travel to Manhattan which comes with bourbon, vermouth, bitters, and cherries.
Capitol Hill
Craving a burger? Need some toilet paper? Well, you're in luck because The Alibi is providing pick up or free delivery for DC addresses of their freshly prepared meal kits. Choose from options like their Local and Organic Backyard BBQ with Roseda Farms dry-aged burgers and your choice of three sides, or the Winner Winner Chicken Dinner which comes with 3 to 4 pounds of a dry rubbed whole bird.
The Wharf
The casual Southern Italian restaurant, known for its fresh seafood and airy rooftop bar, has added weekly subscription options for its patrons. The weekly delivery includes farm-fresh vegetables, proteins from the butcher, meals and snacks from the market, and bread from the bakery. (Pickup is available any time after 2pm.) In addition, Officina is offering prepared and "cook-at-home" meals, like rigatoni and basil pesto, with cooking instructions included.
H Street, Northeast
In addition to its regular menu of vegan comfort food, Fare Well is now offering both pick-up and delivery options for reheatable meals like lasagna and Impossible meatloaf, as well as some pretty delicious looking frozen vegan pierogies. Also available is the new vegan baker's pantry, which includes staples that are even becoming tough to find in grocery stores like flour, coconut milk, and yeast for bread baking (everyone's doing it now).
Cathedral Heights
If you're looking to upgrade your pasta tonight, look no further than Chef Geoff's, which is now offering produce, fresh pastas, homemade sauces, milk, eggs, breads, and more for pick-up or delivery. If cooking isn't in the cards for you tonight, the spot also offers prepared food takeout menus with items like eggplant Parm and jumbo lump crab cakes. Don't forget to grab a beer, wine, or a cocktail while you're at it. We also love that all pantry proceeds go to restaurant staff.
Riverdale, Maryland
It's not DiGiorno, it's Geppetto -- and thank goodness for that. This local catering company recently launched a line of stay-at-home packages that they can deliver straight to your door with free, contactless delivery. The kit serves four (or could serve just you four times) and comes with dough, locally made sauce, cheese, and your choice of curated toppings such as meat lover's or garden veggie. Each meal kit also includes a Caesar salad and a six-pack of beer or soda.
Sign up here for our daily DC email and be the first to get all the food/drink/fun in town.