Chefs & Bartenders Tell Us About Their Favorite Mid-Atlantic Food & Drink Road Trips
Saison

| Patrick Moran Photography/Courtesy of Saison
Saison

| Patrick Moran Photography/Courtesy of Saison
As much as websites like Thrillist can help with travel plans, the best resources are usually back in the kitchen or right behind the bar. Let's face it: restaurant owners, chefs, and bartenders are the experts when it comes to finding the best pit stops for food and drink because, well, it's their day job (and passion). Want a good cheese shop? You should probably ask a sommelier. The best pastries? Ask a baker. If it's hand-crafted cocktails you seek, a bar manager is your best bet. So we've done the homework for you and asked six experts in the industry about their favorite Mid-Atlantic road trips... and where they stop to eat and drink along the way.
Experience true Southern cuisine in Richmond, VA
"Before my chef days, Richmond used to be the best city to play when I was in my band. I remember playing almost every iteration of Twisters and Nancy Raygun from 1998-2007. We used to eat at so many awesome places there that unfortunately aren't all open anymore, but I love all the new places popping up." -- Erik Bruner-Yang, Chef, Maketto
Bruner-Yang also recommends Rappahannock Oyster Co.'s new market Rapp Session for raw Virginia oysters and cocktails, and suggests drinking Commonwealth gin straight from the source at James River Distillery. Go for cocktails at the Rogue Gentleman, and locally sourced Southern cuisine at Saison... and if you make it an overnight trip, start off your second day with coffee and pastries at Sub Rosa Bakery, then pick up supplies at the Stock Provisions butcher shop, and grab a phenomenal, Sichuan-inspired lunch made by James Beard-award winner Peter Chang.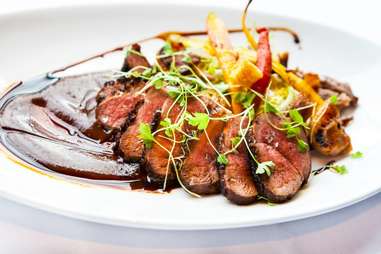 Taste everything from barbecue to lobster chowder in Frederick, MD
"Being a Frederick, Maryland native, I love the way my hometown food and beverage scene has grown over the years. The spot that comes to mind first is The Tasting Room, which offers up welcome dishes like a delicious lobster chowder and classics like tuna tartare and Colorado rack of lamb with fingerling potatoes... and don't miss the bar with house creations and classic cocktails. Next, my dad and I would both agree to go to Black Hog BBQ and Bar for some tasty barbecue and a local pint of Flying Dog beer. My favorites on their menu include the smoked brisket and the Carolina chopped pork with just the right amount of tangy sauce. For a relaxing drink, I head to the Wine Kitchen on the Creek for a flight of vino while enjoying the views of Carroll Creek. There's a variety of wine flights to choose from and, if you go during their happy hour, bar snacks are half off." -- Brendan Dorr, Bar Manager, B&O American Brasserie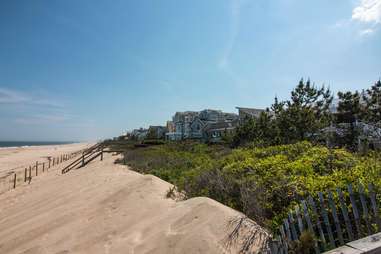 Go for simple, beautiful seafood in Rehoboth, Delaware
"A coastal town, Rehoboth has several restaurants within a mile of the beach that produce fun and interesting dining experiences. Plus, it's not summer without a trip to the beach, and I want to go somewhere that has tasty dining options (and a fantastic weekly farmers market)... Touch of Italy might be worth the drive alone: they have great sandwiches, piled high with Italian meats and cheeses, marinated vegetables, and peppers. But it's their chilled seafood salad that I've had literal dreams of eating. Pulpo, calamari, shrimp, and clams... at the beach.
"A lot of care also goes into the entire menu preparation at Green Man, and it shows through their focus on fresh, local ingredients. Their vegan and vegetarian options are amazing, and make it a great place to grab a light lunch before heading to the boardwalk and ruining your diet with Fisher's popcorn and ice cream. For dinner, Salt Air is an excellent spot for great seafood prepared simply, which is surprisingly hard to find on the coast these days. Their consistently fresh oysters, fish, and seafood keep me coming back season after season." -- Ben Lefenfeld, Chef, La Cuchara
Head to Charlottesville, VA for pastries and cocktails
"I love Charlottesville. It's far enough from Washington, DC to feel like you're really 'getting away,' and yet it's just a hop, skip and a jump from the city. I ought to know -- I make it down there quite a bit to deliver wedding cakes to clients, and have some very good friends that live in the area. Charlottesville is teeming with independently owned small businesses with fresh, creative designs. I loved every bite of food I had at The Alley Light... they even made great mocktails for a pregnant friend of mine when we went (and the cocktails are well-known). Plus, the husband-and-husband team behind MarieBette Cafe & Bakery does French-inspired pastries super well. And if you want to drink margaritas on a patio, Guadalajara is a great bet." -- Tiffany MacIsaac, Owner/Chef, Buttercream Bakeshop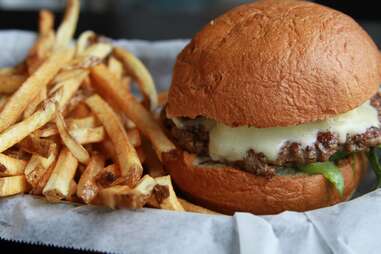 Go on an all-Virginia, all-food road trip (and bring home some amazing cheeses)
"I am always driving from DC through Virginia, and there are so many great, small towns that I like to stop through. Most times on my way out, my first stop will be The Italian Store in Arlington for a slice of pizza and an Illy bottled coffee, which usually gets me going. Along the way, there are a few spots that I love to hit. Effee's on route 29 in Warrenton does some pretty incredible custard... and if I'm stopping early enough, that town also has a great spot called Frost Diner: the biscuits and gravy are unreal. After that, I love hitting Culpeper, my favorite country town. The Culpeper Cheese Shop is sick; they've got great beers and wines -- and cheese, of course. I always try and hit Deli-icious when I'm there; they're sandwiches are fantastic. The town of Orange has some gems too: Wise Guys Burgers and More is incredible and ŒThe Light Well has very good food, weird live music, and a great beer list." -- Sebastian Zutant, Sommelier, The Red Hen
Enjoy local wine at a beautiful vineyard in Manassas, VA
"My parents live in the Manassas, VA area, so I often do trips out there to see them. This is my favorite trajectory: I start by eating at Katerina's Greek American Cuisine, where the chef's traditional Avgolemono soup is perfectly zesty and comforting... it's the dish I go there for, although they often have specials, and whenever octopus is involved, you know it's going to be good. Pop by The Winery at La Grange any day for local wine and occasional live music -- the landscape is beautiful, and the base is a historic house that I've wandered through many times. My absolute favorite place to visit is Pearmund Cellars: I come here with a blanket and a well-stocked picnic basket, drink wine with my family, and watch my three little nieces ramble around the vines. I recommend the cab franc or petit manseng -- buy the bottle because you will finish it, nap in the grass, and wonder why you don't own a vineyard. Before you leave, stop into the Red Truck Bakery, which is housed in an old 1921 Esso service station! I come here for a slice of pie and cup of coffee, which prepares me for my drive back to Baltimore." -- Lane Harlan, Owner, Clavel and W.C. Harlan
Sign up here for our daily DC email and be the first to get all the food/drink/fun in town.
Jess Mayhugh is the digital editor at
Baltimore
magazine, and she is definitely going to need to up her road-trip food game. Follow her for all things boozy @jessmayhugh.