The global street food explosion (metaphorical explosion... calm down) dominated the restaurant openings this Spring, but that doesn't mean there weren't still plenty of mac and cheese sandwiches, fried baked potatoes, dive bars, and a whole lot of burgers to boot. Here are 11 places you've been missing out on -- get ready to fix that.
Recommended Video
These Onion Rings Are Stuffed With Cheeseburgers
Compass Rose (info and address)
14th Street
Ever listen to David Greene on NPR's Morning Edition? Well, he has a side job helping his wife run a so-cool-it's-hot restaurant. Rose Previte and David have put together a menu of street food from their world travels, like the buzzed-about khachapuri -- a Georgian dish resembling a cheese, butter, and egg calzone. It's more addictive than Double-Stuffed Oreos. Also spring for the deep-fried baked potato. Chef John Paul Damato is the one making magic in the kitchen, and the cozy brick setting resembles another florally named hotspot that rhymes with Moses Buxury.

Sona Creamery & Wine Bar (info and address)
Eastern Market
This new eatery doubles as DC's first restaurant with an onsite creamery. They even have cheese caves for aging. Most importantly though, Sona's the place to get Bruno's Big Kid -- a grilled cheese sandwich stuffed with mac and cheese. They always have homemade bacon jam on hand, so get it on EVERYTHING. If you're a wino, cash in on $6 glasses of wine available during happy hour from 4-8pm Mon-Friday.

STK (info and address)
Dupont Circle
Sure, they took a lot of flak for having hot girls pressing on temporary tattoos at their overstuffed opening shindig, but they're open for business and everyone deserves a second chance. Perhaps the best way to do STK is to pull up a bar stool and make jokes about being really horny, given the bar décor. Order the Not Your Daddy's Manhattan, a $12 treat made with Bulleit Bourbon, Zinfandel Port, and sweet and dry vermouth.

Soi 38 (info and address)
West End
There's Americanized Thai food, and then there's authentic THAI food with a twist. You'll find the latter at Soi 38 -- a sleek spot serving the street food you'd find at a Bangkok night market… and fried chicken. Slide into a gold velvet booth under impressive wall art and start with slow-roasted duck rolled up in fried roti, or skewers of pork belly marinated in coconut milk. Some dishes pack five-alarm fire heat -- fortunately, cocktails from JP Caceres will help.
Lyman's Tavern (info and address)
Columbia Heights
Because Columbia Heights needed a little slice of Montana, Lyman's Tavern has arrived. The ranch-inspired bar may be the best Laundromat makeover the city has ever seen. Scratch that -- forgot about Le Dip. Nevertheless, it's truly a passion project for Kevin Perone, one of the owners. One wall is lined with knickknacks he stored in Montana for 10 years while the other features old cameras, most of which he's shot on -- including Super 8s! Stop in to play some pinball and order a shot of rye, because that's what Kevin wants to pour you.

G Street Food (info and address)
McPherson Square
GSF is the Epcot of 15th St and the Singapore of DC. That's because you can try cuisine from most corners of the universe, like German schnitzel, British bangers, Cambodian rice noodles, and Middle Eastern falafel. They call it global street food, but show us a street that serves this Singapore Chili Crab and we'll move there. This is the first full-service concept from the G Street team, and full service = booze. Wash down some charred duck wings with some of the cheapest (non-dive bar) beer in town. Bonus: they do brunch!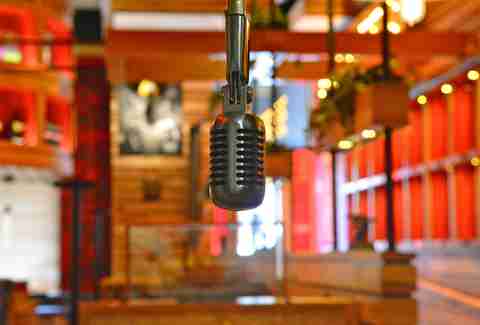 TKO Burger (info and address)
Rhode Island Row
Allow us to remind you that burgers and boxing pack a one-two punch. Lance London's TKO Burger serves up stacked burgers including one stuffed with mac and cheese and another topped with Southern goodness like a fried green tomato. Be sure to check out the boxing wall-of-fame as you wait to place your order. P.S. That order will get called out over an old-school boxing ring mic.

Dino's Grotto (info and address)
Shaw
Dino's is back! The reimagined version of the shuttered Cleveland Park restaurant is a lot more fun. They've stepped up their drink program with an ever-changing and somewhat foul-mouthed cocktail menu (Swiss Strap-on anyone?) and more bar snacks. But, you can still get your favorites from Chef Dean Gold like his Free Form Lasagnette, which is loaded with bacon or his Trotter Tots, which are essentially pork and smoked mozzarella croquettes.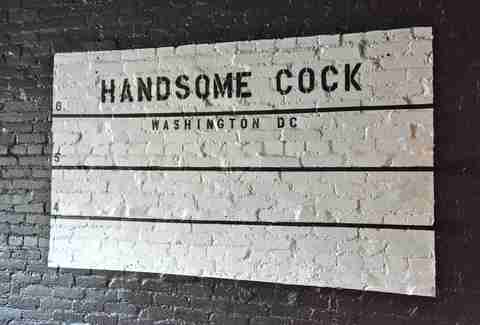 Handsome Cock (info and address)
U Street
The owners are STILL in a long, hard (sorry, had to!) battle to earn the right to have an exterior sign displaying their name, as their landlord wasn't too happy with "Handsome Cock". What's going on inside is innocent enough though -- just cheap beer and people playing board games while drinking whiskey. Or, combining them for a $6 shot-and-a-beer combo. Then there's the highly Instagrammable mug shot wall. HC is another no-frills dive from the folks behind The Fairy Codmother located downstairs, and they serve a bit of bar food.
Toro Toro (info and address)
McPherson Square
See how long you can last with your "green means go" flip card face up at Richard Sandoval's new Brazilian-style steakhouse. Men in black (but not Will Smith) will bring skewer after skewer of grilled meat to your table as a part of the full on "Rodizio Experience". Sure, it costs $79 dollars, but you also get to pick some small plates and sides. Get buzzed off some barrel-aged cocktails and a whole lot of pisco while you're there, especially if you're downstairs, where things get clubby.
City Burger (info and address)
Bethesda, MD
Mooooove over -- there's a new beef slinger in town, and they're bringing the Aloha spirit to Maryland. Pair a Pali Highway burger topped with caramelized pineapple, ham, spicy pickles, and chile mayo with a Lanai Pineapple shake. Or, if you're hungry enough for the big leagues, get the City Stacked Bus topped with a rectangular block of fried cheese and pretty much everything else in the kitchen. You can trust these folks with your burger order because you know them from Food, Wine & Co. and Fish Taco.