It's early yet, but 2015 has already brought us crave-worthy bar bites, grandiose burgers, Korean fried chicken, and Filipino food. Not to mention sexy new places to bring those bedroom eyes and a mini-restaurant boom in Northern Virginia. Give these 13 newcomers your undivided attention:
Capitol Hill
The Green Burger at this Hill hotspot serves as the great equalizer. That's because everyone from senators to staffers are reduced to hungry, messy toddlers when they take on the towering stack of two bacon infused patties, smoked Gouda, bacon aioli, (more!) bacon, and onion rings. Come up for air between bites to reflect on the science-defying fact that 319 Pennsylvania Ave used to be Pour House. Now it's a cocktail bar with a classic feel of a bygone era. Erik Holzherr -- who is behind reliable watering holes like Church & State and Wisdom -- did the drinks. Try them in the first floor bistro area or the lofty, beautifully lit second floor. A more intimate, high-end basement bar is in the works. 
14th Street
Something about Sotto's sleek setting makes it the bar equivalent of baby-making music. The nightly (actual) live music, ranging from jazz to reggae, doesn't hurt either. Find the basement bar under Ghibellina. It's from the same owners, but you won't find pizza. Instead, you're pairing craft cocktails with sausage samplers, beef brisket, pork ribs, and pretzel monkey bread served with apple mustard. Four of the bar's signature drinks are half-off during happy hour, like the Ed Ellington with Scotch, Lillet Rose, cranberry, and orange. Sotto is open Tuesday-Saturday.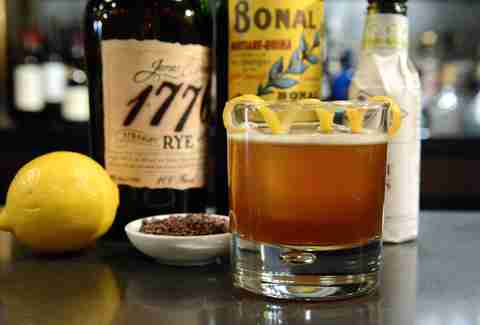 Georgetown
Alexander Graham Bell would be disappointed that we text instead of call each other on his precious invention, but at least he has a bar to call his own. Tucked into The Graham Hotel in Georgetown is a "steampunk"-inspired space that asks if you're feeling luxurious today. That's because 36 Scotches are begging to be sipped, and the cocktails deliver an uppercut to sobriety. The Graham, for example, combines rye infused with coco nibs, Bonal, agave nectar, lemon juice, and walnut bitters. Whiskey flights, like a Glenlivet vertical, are also available at The Alex. Rely on bar bites like truffle fries and sliders to keep you upright. 
Navy Yard
Good news! Double-fried Korean chicken wings will replace Cracker Jack as the most craved baseball snack thanks to the new Bonchon location just blocks from Nationals Park. Along with drums, wings, and strips, order the bulgogi sliders and salmon-avocado balls at the Busan import with locations in six countries. Ice-cold beer from both far-off lands and here at home will tame your mouth after a trip aboard the spicy-hot-garlic wing-train. Bonchon is open for lunch Monday-Friday (plus game days) and dinner seven nights a week. Expect to be envious of others' patio seats. 
North Bethesda
What happens when a chef who previously cooked at Michelin star restaurants decides to toss dough instead? Pizza fireworks. Jeff Mahin's white and red pies are perfection, especially this one with butternut squash, candied bacon, and Fresno chilies. You'll feel more like you're in a rich California dude's man-cave than a pizza parlor, thanks to the leather chesterfields, mounted hipster bicycle, and handsome wood-meets-metal style. Given this vibe, order something with rye like the "New York Sour" or "Doctor's Orders #2."
Georgetown
Orange Anchor's Anchor Dog uses a bun to bring surf and turf straight to your lips in what could be the most bougie boardwalk snack of all time: an all-beef hot dog wrapped in bacon with mustard crab salad and crispy shallots. However, the caviar tacos and duck confit corn dogs also compete at this waterfront rum restaurant. The rum is best enjoyed in a mean daiquiri that also includes a pour of Prosecco. OA serves lunch, dinner, and weekend brunch, and will even bring Solo cups, bags of ice, and boxed-up meals to docked party boats full of yahoos yelling "I am the captain now." Pro tip: ask about the koozie rewards program.
Ballston
Yes, you should go to Kapnos Taverna even if you live within walking distance of Mike Isabella's original Greek outpost, Kapnos, on 14th St. That's because there's a raw bar cranking out seafood towers that would make beachy Nantucket restaurants feel silly. Taylor Bay scallops, king crab, king salmon tartare, oysters, and marinated mussels all make an appearance alongside house-made condiments like harissa hot sauce and tomato-ouzo cocktail sauce. Because lobster pizza has been on your agenda, try the Maine lobster flatbread before you leave smelling of the sea. Kapnos Taverna serves lunch, dinner, and weekend brunch (with gyros!).
Mt Pleasant
What if there were two floors of awesome in Mt Pleasant beckoning you with sliders, lumpia, steak frites, and cocktails that make you feel like you're on vacation? Enter Purple Patch, a Filipino-American restaurant in the former Tonic space that looks like a success story from Flip This House. The upstairs dining room screams date-night and serves large-format dishes, like whole fried snapper escabeche, that won't break the bank at $22. For basement-bar loyalists, take solace knowing the sporty-meets-sloppy feel remains intact, only the food and drinks are better. Stay tuned for a lounge that will serve coffee by day. 
Dupont Circle
This new lobby bar and restaurant inside the Embassy Row Hotel is all about bottled cocktails and bar bites like Korean caveman pops, mushroom arancini, and even pizza bagels! Much like the jingle, you can visit Station Kitchen & Cocktails anytime (in the morning, in the evening, and at supper time!). By day, Station Kitchen & Cocktails aims to be like a Starbucks that doesn't suck -- meaning customers can kick back with a mug of Compass Coffee and their laptop. When the sun itches to set, the space transforms into a buzzy bar with a sweet patio overlooking Mass Ave. Expect to head here quite a bit, because the renovated rooftop will be deserving of your time.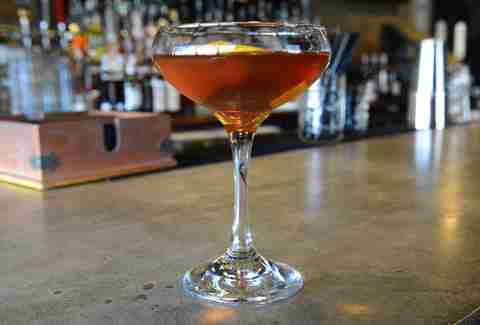 Alexandria
If trendy Edison light bulbs are an indication of a restaurant with promise, then Mason Social is GTG. Sure there's a dining room in the back, but where you want to post up is at the bar, where you can hang with bar man Tony Burke as he makes you a twist on a classic cocktail. The Parker Gray -- with Earl Grey-infused rye, vermouth, and bitters -- is the neighborhood restaurant's signature drink. The bar menu stars everything from a bone marrow butter-laced burger and BBQ pork sandwich, to more uppity scallop pasta or rockfish with fennel and winter citrus salad. Nothing, however, costs more than $30. 
Penn Quarter
Better get ready to pay up when you move your top hat or thimble through Penn Quarter, because José Andrés' monopoly on the neighborhood just got even stronger -- and tastier -- with China Chilcano's opening. The eye-catching restaurant fuses Japanese, Peruvian, and Chinese cuisine, just as you'd find in Peru, and pisco is the preferred beverage pairing. They currently serve lunch and dinner. Here are seven things you're ordering.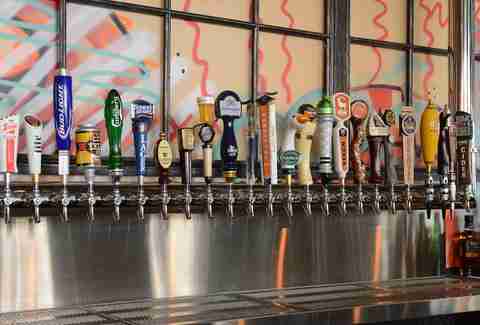 Crystal City
If you've ever had a good time at Penn Social, you're going to like Highline RXR from the same folks. Its mammoth size, high ceilings, draft list, and versatility make it a great addition to Northern Virginia. Sports fans dig the six projector screens that drop down for games; telecommuters can get work done thanks to Zeke's Coffee on draft and a strong Wi-Fi signal; and the al fresco-obsessed will go wild when the giant windows open up, creating a giant porch feel. Settle in for a beer, board game, and an intense eating session involving bacon nuts, mac & cheese poppers, and dirty corn on the cob. 
Ballston
The first thing this new Spanish restaurant wants you know is that it's not a tapas bar. While there are small plates like croquetas and breath-destroying gambas al ajillo, the focus is on actual entrees. Alums of Taberna del Alabardero cook up paella, a catch of the day, braised pork cheeks, and other main dishes. None compare to the cochinillo, or roast suckling pig, which can feed two-three people. The skin crackles like a thunderstorm and Navarra potatoes soak up the jus for you. You're drinking Sherry cocktails or Mahou on draft. SER serves lunch and dinner seven days a week.
Sign up here for our daily DC email and be the first to get all the food/drink/fun in town.