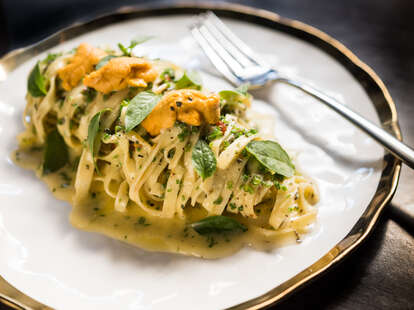 DC's Best New Restaurants of 2017
Another monumental year for DC dining is rapidly coming to a close, and while we've mourned the loss of a few industry stalwarts (thank you for your service, Nora's, Bayou, Ripple, Bar Civita, and Cantina Marina), we also saw several extreme makeovers (lookin' at you, Sequoia and Charlie Palmer Steak), and the addition of so many fresh-faced newcomers ready to make their mark. The constant barrage of openings each month goes to show that, like a loaf of artisanal no-knead bread, DC is still rising. Here are DC's Best New Restaurants of 2017.
Downtown
Heaping rice dishes built for sharing make this a perfect date spot
Celebrity chef Mike Isabella may be a busy man dividing his time between 11 restaurants, but this new Spanish and Moroccan concept is without a doubt his crown jewel in 2017. As the name suggests, arroz, or rice, is its main attraction of this Mount Vernon Square joint. You can get huge pans of creamy yet crispy bomba rice there -- meant for sharing and made with elaborate toppings like Berkshire pork or diver scallops. Arroz may be part of the expansive new Marriott Marquis Hotel, but the décor in the restaurant is transportive, with striking geometric patterns, pops of blue, shiny gold accents, and booths nestled in wall alcoves that will instantly elevate any date night.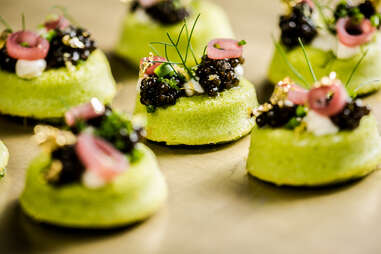 U Street Corridor
A cozy bistro covered in honeycomb designs and serving terrific dry-aged beef
Quirky doesn't even begin to describe what chef Ryan Ratino and his team have going at their brand new bistro on 14th Street. The restaurant subscribes to the Parisian movement of "bistronomy" (bistro + gastronomy), which is what you get when you cross upscale French culinary techniques with a hip, casual bistro. At Bresca, that translates to imaginative takes on classic dishes and out-there decor. The name literally means honeycomb in Spanish, so bees and hexagons are featured prominently inside the place. The most popular dish on the menu so far is a decadent twirl of linguine made with uni, truffles, chili, yeast butter, and porcini mushrooms. Ratino also has a knack for dry-aging beef, giving the mature steak a flavor profile that's nuttier and funkier than a younger model. The interior is chic but kooky, with goldfish heads, preserved moss, and Animorphs-like illustrations adorning the walls.
Logan Circle
Already the best DC spot for Peruvian chicken and rare Scotch
There aren't many places where you can chase juicy Peruvian-style pollo a la brasa with a dram of Glenfiddich. Enter Chicken + Whiskey, a fast-casual chicken spot with a craft whiskey bar in the back. Up front, chef Enrique Limardo and his team slow-roast brined chickens in Peruvian charcoal ovens, producing impossibly tender and flavorful meat. There's no shortage of side dishes, from yuca fries and sweet plantains to black beans and guasacaca, plus sandos, salads, and dessert. Past the kitchen behind a refrigerator door lies the whiskey den, where you can sample 99 different whiskeys, neat or in a classic cocktail. For your entertainment, there's a DJ booth with a sweet vinyl collection.
Capitol Hill
Fast, casual, irreplaceable Chinese and Korean fusion
When two of the city's favorite slingers of Asian cuisine joined forces in the kitchen, magical things happened. Chefs Danny Lee (of Mandu) and Scott Drewno (formerly of The Source), along with Drew Kim (of Matchbox Food Group) formed the Fried Rice Collective to open ChiKo on Barracks Row. It may be a fast-casual joint, but the food is a far cry from a #BoringDeskLunch. The menu defies categorization, with Korean and Chinese influences and techniques blended together in ways that only Lee and Drewno could dream up. Standouts include the double-fried chicken wings, the black pepper short ribs, and a rice bowl topped with Wagshal's chopped brisket. You can order a few dishes to try, or make the wise choice and sit at the counter to sample the entire menu for $50.
U Street Corridor
A cheap place for outdoor vibes, delicious Cuban sammos, and coffee
Mixology showman Juan Coronado and his team put a spotlight on Cuban cuisine this year by opening the second location of Colada Shop in the city. The urban outpost -- modeled after Miami's ventanitas -- is right in the middle of the hustle and bustle of the U St and 14th Street corridors, but it's a perfectly chic hideaway to refuel with seriously strong coffee, flaky pastelitos, stuffed empanadas, Cuban sandwiches, and plantain chips. The craft cocktails here are on point, and their $10 price tag is a welcome change of pace around these parts. Read why Colada Shop was chosen as one of Thrillist's Prime 13 best new restaurants of the year.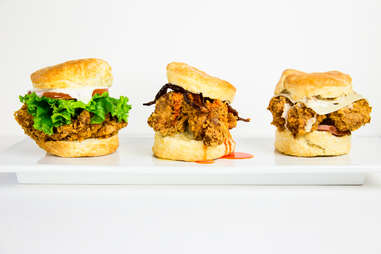 Langdon Park
A crazy-good drive-thru spot that's extremely serious about biscuits
It's no surprise that Mason Dixie's very first brick-and-mortar space was an instant hit. The biscuit company has been winning hearts and stomachs since their early days in Union Market, and their old-fashioned drive-thru is no different. There's a to-go window outside, plus an indoor counter with brightly-colored retro seating. The star of the show is, naturally, biscuits -- either as the backbone of a stacked breakfast sandwich or the accompaniment to crispy fried chicken. There's also ice cream and shakes for dessert. While the menu items may feel familiar, it's not your average fast-food joint. Chef Jason Gehring makes everything from scratch using high-quality ingredients.
Forest Hills
A chic pasta house that bows to the king of carbs
The Trabocchis, esteemed members of DC's restaurant royalty, added two new members to their growing family of dining destinations in the last year. Sfoglina, which recently joined the ranks of Michelin's Bib Gourmand class, is a love letter to pasta in all its forms. The name refers to the Italian word for a woman who rolls sheets of pasta by hand with a rolling pin, so the restaurant's focus is artfully prepared pasta of all shapes and sizes. The menu playfully asks, "Which Pasta Are You?" to which you should reply, "All of them." You can't go wrong, whether you choose a classic like the rigatoni all'Amatriciana, or a seasonal special like the Marche white truffle pappardelle. If you're not a fan of pasta -- don't fret -- you're still welcome at Sfoglina, since the menu also includes delicate small plates like grilled spicy calamari, and entrees like the 72-hour beef short ribs.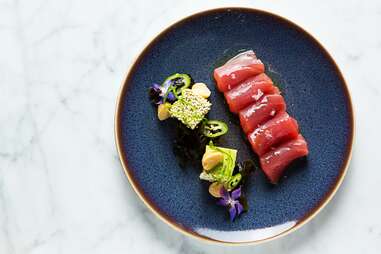 Logan Circle
A high-end seafood establishment fit for Poseidon
The newest vessel in chef Robert Wiedmaier's fleet of restaurants docked in the Darcy Hotel this spring. To say Siren is luxurious is an understatement -- it's the kind of place where an order of oysters can run as much as $150 -- but it's worth it. Chef John Critchley's menu is seafood-focused, and each item is quite a catch (we'll just see ourselves out). Small plates range from uni in a blue crab custard to bigeye tuna with avocado mousse and macadamia nuts. There's a healthy selection of whole fish and filets, like sea bream and salt-crusted royal bass. Live high on the quahog and splurge for the Royal Ossetra caviar or the grand plateau of oysters, littleneck clams, prawns, Maine lobster, and a selection of sashimi. (By the way, its bar bites menu is more affordably priced -- $8 for most items.)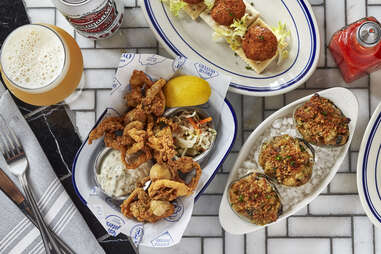 Navy Yard
Affordable, sustainability-focused seafood with a great raw bar
This oyster and ale house from chef Kyle Bailey and Long Shot Hospitality channels New England to bring you fresh seafood and a killer beer selection right on the waterfront. You can check off all the classics, from clam chowder and lobster rolls to johnnycakes and stuffies, or branch out with experimental dishes like seacuterie (seafood charcuterie, obvi) including swordfish mortadella, potted lobster, and smoked trout salad. Don't skip the raw bar, which showcases oyster shooters and an epic seafood tower appropriately dubbed "The Kraken." The best part? You can feel good about what you're eating thanks to Bailey's commitment to sustainability and his involvement with Dock to Dish, a sourcing model that connects fishermen directly to chefs and highlights underappreciated fish.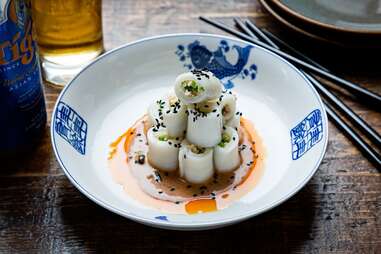 Shaw
Hong Kong street food bistro to feast on alongside Chinese cocktails
The minds behind The Fainting Goat brought Hong Kong to Blagden Alley with the opening of Tiger Fork this year. Chef Irvin Van Oordt's menu puts a modern, global spin on street food, traditional dim sum, and Chinese classics, which are all served family-style to encourage sharing. The dining room has a long communal table where guests can savor kowloon buns, cheung fun, dandan noodles, and barbecue. The drinks take after traditional Chinese medicinal techniques that rely on on herbal teas and tonics, so it's a great place to nurse a hangover.
Sign up here for our daily DC email and be the first to get all the food/drink/fun in town.
Lani Furbank is a freelance food writer who's always looking for a new restaurant to christen "the best meal she ever ate." Follow her on Twitter and Instagram @lanifurbank or read her work at www.LanisCupOfTea.com.