DC brought out the big guns this fall. Momofuku and Milk Bar are here, and so too are The Dabney and Bad Saint. But these spots are only a slice of the (crack) pie. Also making autumnal debuts: an edgy European sports bar, a mac and cheese waffle that serves as a vessel for pork and brisket, a cool project from the Ben's Chili Bowl team, and a hub for hog wings. Here are 12 places you need to hit immediately.
Recommended Video
The 'Game of Thrones' Pop-Up Bar Is Now Open in Washington, DC
CityCenterDC
The Grand Poobah of pork buns has finally had his DC area homecoming with the aggressively awaited Momofuku CCDC. David Chang smartly appeases the umami-craving masses with staples like an arsenal of buns and Momofuku ramen, but he's also tossed in surprises like Shrimp Louie, and Old Bay pork rinds and biscuit bites, perhaps as a tribute to the Mid-Atlantic. The space is expansive, like many of its CityCenterDC neighbors, and it boasts a bar, noodle bar, dining room, and private dining space.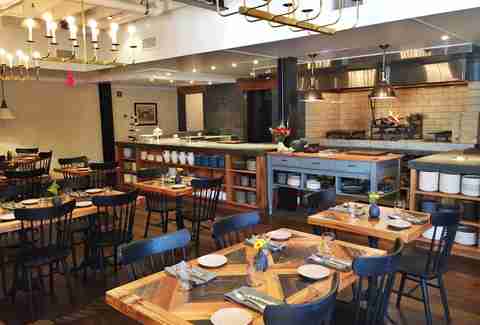 Shaw
The Washington Post wrote 10 stories about The Dabney before the restaurant even opened its doors, so expectations should be about where they are for Star Wars: The Force Awakens. Fortunately, Chef Jeremiah Langhorne, who comes from McCrady's in Charleston, won't let you down. The standout feature of the Blagden Alley dining room is a dramatically large open-air hearth. Conceptually, Mid-Atlantic sourcing is top priority for the chef. Look forward to cocktails from Tyler Hudgens, she's been tapped to run the drink program.
Columbia Heights
This shoebox-sized Filipino hotspot has Little Serow swagger, Rose's Luxury lines, and its own unique spin on the sizzling-hot Asian food of the moment. Chef Tom Cunanan takes taste buds off-roading to uncharted territories of heat and tang with dishes like his manila clams with Chinese sausage and Sichuan chilies. You'll also find more traditional snacks like ukoy shrimp fritters and lumpiang shanghai, which both gently make out with the fryer for a crunch, bang texture. Wash everything down with cocktails that are borderline tropical from the Room 11 team, or a sturdy glass of Lambrusco.
H Street NE
Potato chip-crusted gnocchi. Shrimp and half smoke corndogs. PB & J donut sandwiches. These three dishes on the Ten 01 opening menu are not only home runs, but they should also clue you in to the fact that this restaurant from the Ben's Chili Bowl team is above all else, playful. From a handsome downstairs dining room that is practically perfumed with brown liquor, to a selfie stairway adorned with a mural that includes such gems as pandas drinking 40oz beers, to an expansive roof deck you're going to want to spend a lot of time on, this place is special. Look for craft beer, infused bourbons, and barrel-aged whiskey.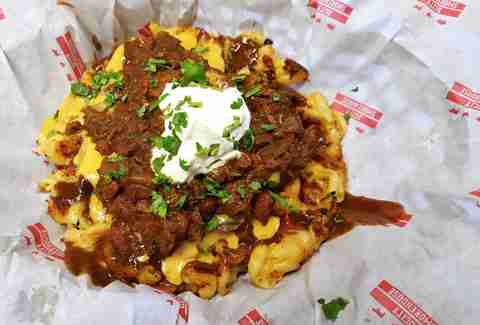 Bloomingdale
Like DCity Smokehouse? LOVE Wicked Bloom DC because you can get the same great BBQ (plus some over-the-top additions) while sitting in actual seats and drinking actual cocktails. The second project from the DCity team is positively crushing it on the corner with explosive plates like the Smokehouse Bomb: a mac and cheese waffle topped with chopped pork, brisket chili, cheese sauce, and sour cream. Ben Matz, formerly of Eat The Rich, is the man behind the stick-swirling craft cocktails for a little less than other bars these days. Look for it to host regular local beer collaborations in its fetching space that impossibly used to be a Subway.
Columbia Heights/Petworth
You know that friend of yours that is so obsessed with passing as European that he's starting to talk like non-Dr. House Hugh Laurie? Bring him to The Airedale because he'll find German Bundesliga and English Premier League on the TV, and schnitzel and bratwurst sandwiches coming out of the kitchen. Even non-Europhiles will enjoy Old Overholt rye soft serve, the quirky artwork, and three outdoor dining areas including a beer garden-style patio off the second floor. Don't go through life without trying the la mitraillette at least once. It's a sandwich combining your choice of sausage with hamburger meat, sautéed onions, frites, mayo, and ketchup.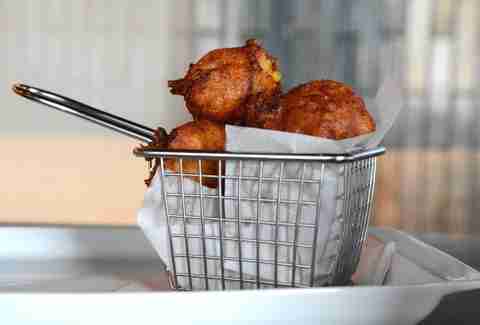 Chinatown
Bar snacks reign supreme at this colossal pre-sports option housed inside the historic Bulletin Building. We think United Publishing Company employees from back in the day would approve of modern Washingtonians tossing back treats like Old Bay blue crab fritters and poutine fries in their former digs. Wood-grilled everything also stars at Bar Deco, and you can see the massive oven when you walk through the entryway before making your way to floors containing the dining room, a 50ft zinc bar, and a roof deck that looks right at the Verizon Center. Cocktails, like juleps, mules, and Sazeracs run $13, and there are eight draft beers available by the pint or pitcher. We dig its happy hour because it's generous on food specials.
Navy Yard
The menu at Due South reads like a roadmap. You have a North Carolina hickory-smoked pulled pork sandwich, Nashville hot fried chicken (score!), smoked chicken wings in Alabama white sauce, Brunswick stew, and herbed fries in Mississippi comeback sauce. It's a trip you want to take, especially because the space turned out to be so stunning. The drafts, too, seem to have been selected by throwing darts at a map of the South: Shiner Ruby Redbird, Abita Purple Haze, and Terrapin Hopsecutioner IPA, to name a few. Due South serves weekday lunch, nightly dinner, and weekend brunch.
Ivy City
There's a secret bar tucked inside a distillery in a not-so-obvious location that minimally throws its name around. Does that mean we found the closest thing this city has to a speakeasy? Maybe. You need to find your way to the Murray Hill Club (inspired by an early 20th century bourbon blend) inside the Jos. A Magnus & Co. distillery because that's where gin goddess Nicole Hassoun spends her time. When she's not on the other side of the wall distilling, she's experimenting with the spirit she's dedicated her life to, and we're the beneficiaries.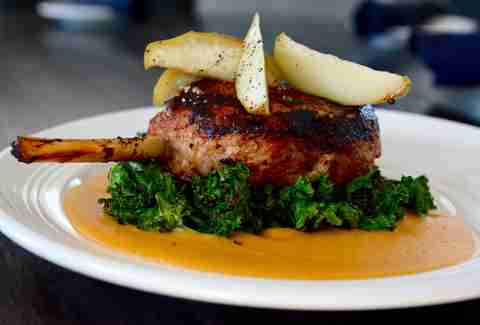 NoMa
No trendy restaurant name generator was used in the making of Union Social. Instead, the moniker salutes the nearby Union Station that made DC a transportation hub when it was built out from 1901-1908. Seeing as though this was the golden age of classic cocktails, you'll find train-themed cocktails that are riffs on classics at Union Social like the Grandy Dancer, which is slang for rail worker. The drink program is a draw, but you'll definitely want to put Chef Randy Mosteller's menu to good use. The longbreads are great for groups because they're the size of a skateboard, the seared scallops on farro risotto tell your date you're civilized, and the Ossabaw pork chop comes with all the trappings of fall.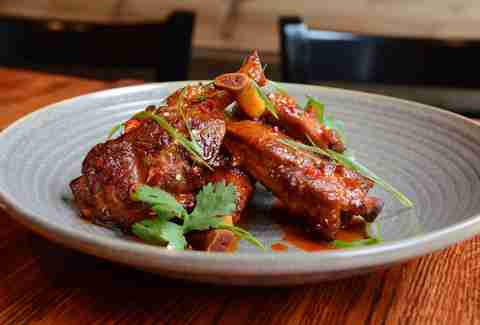 U Street
This new sports bar full of flat-screens will change the way you eat wings during a game. That's because they flew the coop and decided to leave chicken behind in favor of what they call hog wings. Chef James Duke takes pork foreshanks and braises them before they hit the fryer, then it's up to you to choose a sauce ranging from adventurous Thai chile to Cognac BBQ. Wash your hog wings, and perhaps an order of goat nachos, down with cider. Yes, cider. Because it's so hot right now. The two-floor restaurant punctuated with sweet sports memorabilia serves dinner and opens at 11:30am on the weekend.
CityCenterDC
Celebrity Chef Christina Tosi's Milk Bar is open and already causing cravings. How could it not with those addictive Compost Cookies, Crack Pies, and cones of Cereal Milk Soft Serve? The CityCenterDC outpost of the outrageously successful sweet shop that serves as a sister bakery to Momofuku restaurants also sells whole cakes, parfaits fit for foodies, espresso drinks, and savory breads. Like Chang, Tosi also hails from Northern Virginia, so this is a homecoming for the chef. Milk Bar is open daily from 7am-midnight. You're bound to wait in line at the start for your Compost Cookies, so silently apologize for cracking jokes about people queuing at Georgetown Cupcake.
Sign up here for our daily DC email and be the first to get all the food/drink/fun in town.
Laura Hayes is a DC-based food, drink & travel writer who also contributes to Washington City Paper, Food Network, Edible DC, and others. Her Momofuku countdown clock can finally be retired. Follow her on Twitter @BTMenu.