Labor Day is in the rearview. Football is coming. You suddenly find yourself craving pumpkin spice-flavored things, and you're wondering, "Did I get the most out of my summer?". Unless you have been to all 13 of these new DC restaurants that debuted this summer, you did not. Don't worry, there's still time to fix that.
Recommended Video
Hooters Is Opening a New Restaurant Chain That's Hiring Guys
Brookland
What it is: Another beer-slinging beauty from the guys behind Meridian Pint and Smoke & Barrel, located in a newly buzzed-about neighborhood.
Why you should care: Sheer numbers. They have seven burgers, four tasty quesadillas, and dozens of craft brews on draft. Added bonuses: a dog-friendly patio, convenient places to charge your phone, a commitment to sustainability, vegetarian-friendly bar food, and a big mural displaying the Old Abe quote "Folks who have no vices have very few virtues."
Mosaic District
What it is: The second restaurant from Chef RJ Cooper. You know his crazy creations from Rogue 24, but this spot's more laid back.
Why you should care: The restaurant has a rock-and-roll feel, and not just because '90s rock dominates the soundtrack. The food and décor are inspired by the chef's motorcycle escapades. The best seat in the house is at the bar, where you can drink a crazy cocktail while watching the dramatic open kitchen crank out dishes like chicken skin cracklins, Virginia peanut soup, lobster lasagna, and four types of mac and cheese. The brunch menu is just as impressive, and come April 2015, the restaurant will debut roof deck dining.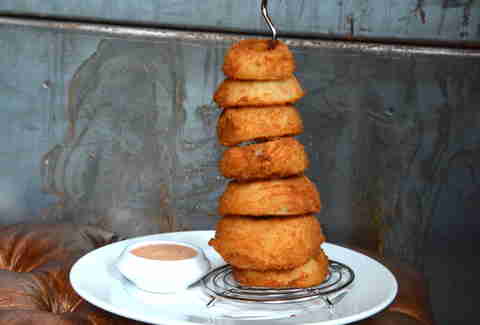 Chinatown
What it is: A fresh cousin of District Commons with a clutch location next to the Verizon Center. They have just as impressive of a beer program, and American tavern fare.
Why you should care: You can go on a beer vacay without leaving the District: they carry 40 beers on tap, with a representative from nearly every ale-producing state in the country. Try them with an order of The Big O onion rings, which combine slight inappropriateness with a side of Comeback Sauce -- a delightful ketchup/mayo combo.
Logan Circle
What it is: An Argentine steakhouse from Iron Chef and national restaurateur Jose Garces.
Why you should care: This handsomely decorated steakhouse packs South American cowboy accents into the sexiest grill you've ever seen (and you, sir, have seen some sexy grills). Its flames kiss almost every dish on the menu. In addition to killer cuts of meat, there is also an array of sausages and even a pizza clone called a fugazza (thanks to the Italian influence in Buenos Aires!). You'll find it inside the Loews Madison Hotel.
Penn Quarter
What it is: A Southern food spot under the Warner Theatre named after Alexander "Boss" Shepherd -- the dude who fixed DC after the Civil War.
Why you should care: First, the brown liquor options are outstanding. They stock about 120 whiskeys and some are poured directly from barrels behind the bar. They even have a barrel of George Dickel whiskey that's exclusive to the restaurant. All that whiskey goes great with ultra-comforting dishes like chicken pot pie fritters, crispy pig ears, and fried chicken.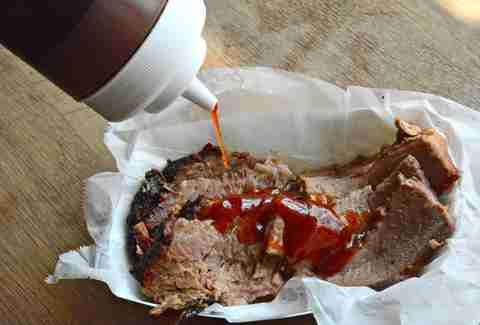 Cleveland Park
What it is: A BBQ joint offering styles of 'cue from all across the country, small-batch bourbon, and a casual atmosphere.
Why you should care: Their 18-hour brisket melts in your mouth. That's not all. They also slay it at pulled pork, baby back ribs, NC chopped pork, wings, and more -- all thanks to a smoker so big it required a crane to get it inside. Since they have a ton of flat-screens, it's a solid pick for game day too. Here are 10 more reasons you'll dig it.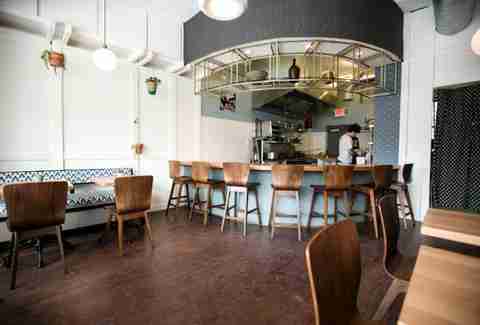 Petworth
What it is: The most elegant eatery to take root in Petworth from the folks who brought you gems like Room 11.
Why you should care: This restaurant has no gimmicks, just really good food. Reminiscent of a cool café in Japan, the small charmer serves up French and Japanese-inspired cuisine like straw-smoked tatakis, a cool take on pork cheek ramen, charcoal-grilled short rib, and a scallop dish you'll be talking about for days. They get points for nabbing Chef Makoto Hamamura from CityZen.
Tyson's Corner
What it is: A little slice of Americana from José Andrés, who -- let's face it -- can do no wrong.
Why you should care: Above the kitchen reads a sign, "We The People". Well, we the people can now devour a smorgasbord of country hams, hush puppies, decadent burgers with five kinds of "catsup", bacon-wrapped beef hot dogs, and so much more. As a fun extra, the menu describes the origin of each dish, and just because it's inside the Ritz-Carlton doesn't mean it'll break the bank.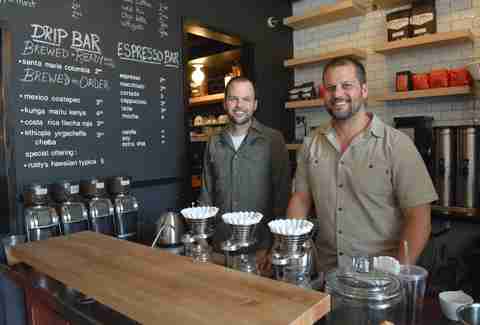 14th Street
What it is: A coffee bar from two brothers, and yet so much more.
Why you should care: You're guaranteed to get a good cup of Joe at this joint because of the standards they've put in place: a simple but tasty Italian-style espresso menu and a no-skim-milk policy -- it ruins the texture, they say (mmm, dairy fat). Their nibbles are top notch, the tables are communal (human contact!), and there's no Wi-Fi (even MORE human contact!). Into fancy grounds from far-off lands? They have those, too.
Dupont Circle
What it is: A Bavarian beer garden smack-dab in the middle of Dupont with three floors, including a massive patio punctuated with picnic tables.
Why you should care: Other than just NEW BEER GARDEN? They have 16 German beers on draft in just about every style you can think of, plus beer cocktails, polka music, sausages, and 2lb pretzels. Learn more right here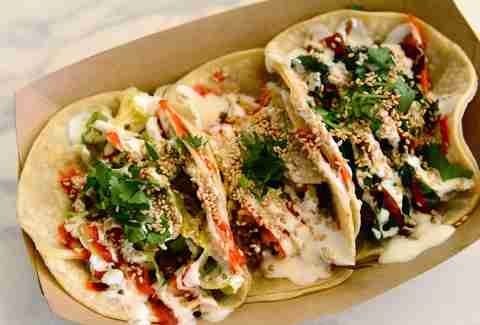 Navy Yard
What it is: The first bona fide brick-and-mortar venture from the kings of Korean tacos.
Why you should care: You no longer have to check Food Truck Fiesta or schlep to Union Market to try bo ssam or bulgogi tacos loaded with sauce and slaw. That's because a full-blown restaurant is now serving folks in the bustling neighborhood by the ballpark. Even better news: you can wash down your tacos or rice bowl with draft beer, soju, or sake.
14th Street
What it is: A big, boisterous restaurant from celebrity chef Michael Schlow that actually takes reservations on 14th St.
Why you should care: The menu is loaded with treats boasting Spanish/Latin American influences, like these can't-miss manchego cheese fritters served with a spicy pomegranate-honey sauce. They blow mozzarella sticks out of the water. You'll also find seven kinds of tacos, ceviche, mac and cheese, and a whole lot of tequila. Tacos and small plates are on the cheap during happy hour Mon-Fri 4-7pm.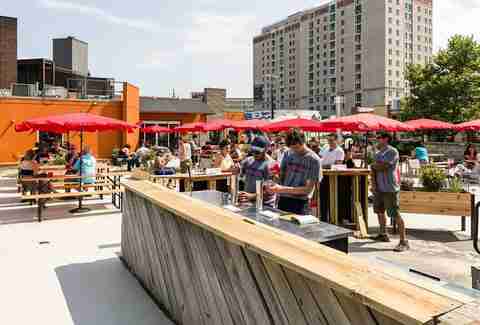 Silver Spring, MD
What it is: The newest brewery to open in the DMV, complete with a beer garden and barbecue.
Why you should care: There are few things better in life than chowing down on a pulled pork sandwich while drinking craft beer outside. This is now possible in Silver Spring thanks to Denizens and their food partner -- BBQ Bus! They're looking to release five core styles of beer come fall, along with some seasonal brews. For now, you can only try a small sample like their Southside rye IPA, alongside beers from other breweries.
Sign up here for our daily DC email and be the first to get all the food/drink/fun in town.