Washington DC DC loves brunch. DC loves eating and drinking outside. So put on some shorts for the first time this season and head to these five spots to soak up some well-deserved brunch calories and vitamin D.
Recommended Video
This Holiday Waffle Is Spiked with Beer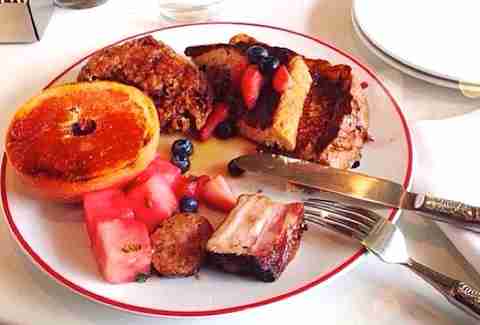 Farmers Fishers Bakers (info and address)
Georgetown Waterfront
The FFB brunch requires very little decision making on your part, which is great because you'll be so focused on the view. Just fork over $29.99 (don't actually use your fork) and hit the buffet to your heart's content. Boozy libations not included, but tack on a sparkling punch bowl for $20 (serves two-four). Continue Reading
Blue Duck Tavern (info and address)
West End
Get your buns outside. No literally, Blue Duck Tavern's wood-fired pecan sticky buns are best devoured on the super-sunny terrace complete with an herb garden and fountain. This is a bring-Mom-and-Dad kind of brunch, and hopefully they'll be so impressed by the ambiance that they won't ask you to throw in on the check.


Iron Gate (info and address)
Dupont Circle
Brunching outdoors at Iron Gate means a walk through an old-school carriageway to reach the most charming courtyard in the city (and DC has some CHARMING courtyards). The spot's been around since the 1920s, when it belonged to a cavalry officer who later became Secretary of the Army. We think General Nelson Miles would dig the chef's baked hen eggs with beef and pork meatballs, tomato, and burrata cheese. DC brunched back then, right?
Osteria Morini (info and address)
Navy Yard
This freshly launched brunch features a view of the river and a short walk to ballpark. Oh, and the fluffiest ricotta pancakes you've ever had dressed in maple mascarpone and orange preserves. For drinks, enjoy a DIY mimosa with some cohorts — they'll bring you a bottle of Prosecco and a carafe of juice for $36.


Mintwood Place (info and address)
Adams Morgan
Order the Hangover Special on the Mintwood Place's sun-lit patio to right your wrongs from the previous night. Or, if for some reason your hangover doesn't need help, try one of their specialties, like breakfast succotash or a super-thin tart called a Flammekueche. No spelling quizzes will be administered with brunch. PS --those chairs you're sitting on? They're made from recycled Coca-Cola bottles!