Sure, DC may not have a style of pizza to call its own, per se, but that just means it gets the best of everywhere else. And isn't that the most democratic way to enjoy pizza anyway? Whether you're looking for a late-night carb fix or a classier date spot, these are the best pizza joints in 17 different Washington DC neighborhoods, ensuring your next great slice is never too far away.
Park View
Grandma-style pies in retro, cool digs
Sonny's Pizza is all about the vibe -- with benches reclaimed from bowling alleys and tables made out of repurposed bleachers. Munch on slices or a whole pie of their granny-style pizza out in the back "pizza garden" and make sure to check out some of its other offerings, including chicken and eggplant parms, meatballs, Caesar salads, and garlic knots.
Logan Circle/14th Street
Italian gastropub with elevated, cut-your-own pizzas
Stylish, dark, and minimalist -- it's all about happy hour at Ghibellina. From 4-6:30pm on weekdays and starting at 3pm on weekends, nosh on some discounted thin-crust pizzas, cocktails for $9, and wine for only $7. Ghibellina is known for its extra-crispy-crusted pies that you cut yourself with pizza shears.
Petworth
A farmers market haul on top of a pizza, and wine on draft
Since Timber hit the Petworth scene in 2016, it has been making quite the splash, and for good reason. A casual atmosphere complete with communal tables and growlers of local beer make Timber a popular local spot. Here, you can order your pizza "half-and-half," so you'll never again have to decide between your two favorites. People go crazy for the Green Monster pie, teeming with fresh mozzarella, zucchini, and kale.
Cleveland Park
A bustling, Neapolitan neighborhood institution
Though it hardly needs an introduction, 2Amys is one of DC's longest standing favorites, and one of the founding members of the Neapolitan renaissance in the District. Come here for near-perfect, delicate pies with bubbly crusts, fresh mozzarella, and fragrant basil. The margherita is the baseline against which all Neapolitan pies in DC are judged, but a wide range of other concoctions, arancini, and an impressive Italian wine list have helped 2Amys endure as a mainstay in the capital's culinary conversation.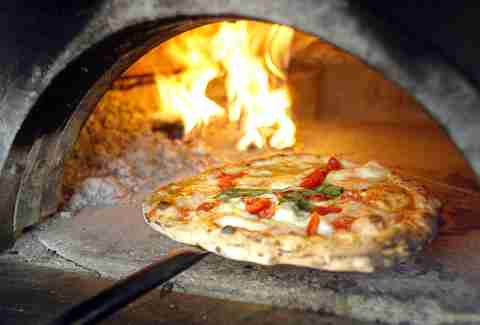 Georgetown
Authentic Neapolitan pizza in a historic district
Il Canale serves up authenticity with its giant, Italian-made wood-burning oven, rotating fork dough mixer, and fresh Buffalo mozzarella -- all of the hallmarks of a true Neapolitan pie. This is what has earned the Georgetown spot the distinction of being named one of DC's VPN pizzerias (and one of less than 400 in the world). Il Canale boasts a full Italian menu as well, but if you're after the pie, the margherita is a little taste of Naples.
Eastern Market
Wood-fired pies with DC pride
A charming little nook of a restaurant just steps from Eastern Market, 7th Hill isn't shy about its love for the city. Each pie is named for a DC neighborhood, like the Navy Yard with smoky Toulouse sausage, oregano, and pecorino; or the Barracks Row with red onions and spinach. How exactly each of these combinations embody their respective neighborhoods is not immediately apparent, but they're tasty and there are plenty to choose from, so focus more on the eating than the logic.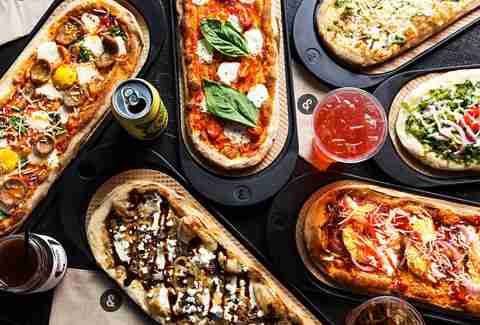 Multiple locations
Convenient, customizable, and open late
Since &pizza opened its DC flagship location on H Street in 2012, Washingtonians haven't been able to get enough of the speedy, rectangular, customizable pies. One location that continues to stay absolutely packed through the day and night, especially on weekends, is the shop on U Street. With hits like the meat-packed Maverick, the vegetarian Moonstruck (covered in mushroom truffle sauce and goat cheese), and even a hot honey drizzled pie called the American Honey, there's something for everyone.
Adams Morgan
Vegan- and vegetarian-friendly chain with a laid-back attitude
This Atlanta-based pizza chain is all about keeping up the mellow vibes. Since its arrival to the AdMo scene, it has definitely become an institution. Come for the impressive offering of craft beers and stay for the rooftop patio. Vegetarians and vegans will also have plenty to choose from -- there's even a great gluten-free dough option.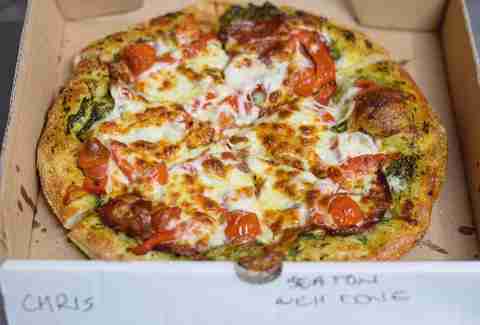 Bloomingdale
Charming spot with a sidewalk patio and $4 happy-hour beers
The tiny neighborhood of Bloomingdale has gotten some serious love lately, probably due to its surprisingly vast array of culinary options, bars, and parks. Bacio perfectly exemplifies the charm of the neighborhood with its rustic-modern feel, dog-friendly patio, and make-your-own pizza options. It also does takeaway.
Wakefield
A hip pizza joint for great for Ping-Pong and local band performances
There are a few reasons to make a trip to Northwest DC's Wakefield neighborhood -- namely Politics & Prose, Little Red Fox, and Comet Ping Pong, all of which you can find on the same stretch of Connecticut Avenue. Comet once faced some drama thanks to the infamous Pizzagate scandal, but that doesn't negate the fact that its pizza is delicious. So are the wings. Comet is a unique spot because you can actually play Ping-Pong, and there's a regular cadence of bands performing in its warehouse-chic back room.
Union Market
Upscale-yet-casual "Neo-Neapolitan" pizza and Italian wine
One of the latest newcomers to the DC pizza scene is Stellina Pizzeria by longtime friends Antonio Matarazzo and chef Matteo Venini. Besides their pies, their simple menu nods to the street food of the southern Italian coast with a selection of fried seafood and veggies served in paper cones called cuoppo.
Friendship Heights
Family-friendly spot, emphasizing a locally sourced menu
Those homesick for New England-style pizza can find themselves at home at Pete's. New Haven-style pies have been slowly gaining ground in DC, and Pete's is the frontrunner: producing the large, thin, crisp crusts with a healthy char of its regional namesake. Of course, Pete's couldn't claim its New Haven pedigree without the requisite white clam pie: fresh clams, garlic, olive oil, and Romano.
Brookland
Low-key joint with classic pies and ample craft beer
The lesser-known neighborhood of Brookland houses one of the city's hidden gems. Menomale serves one of the best pies in town. Every bite of every pie tastes fresh and flavorful to the highest order. The dough is fired to the perfect state of a thin crisp shell with a mouthwateringly moist and chewy interior. The margherita is impeccable, and the Chef's Special is not only an optimal balance of flavors and textures with its layered arugula, prosciutto, and Grana Padano -- it's also one of the prettiest pies you're likely to ever eat.
Multiple locations
Where Neapolitan pizza and craft beer live in sweet harmony
Paradiso has been around for more than two decades and has expanded to five locations. Its success is due to a couple of factors. The first being its quality Neapolitan-style pies, like the ever popular Atomica -- spicy salami, pepper flakes, and sweet pickled olives crafting a potent mix of sweet and heat. The second is that Paradiso is also a killer beer bar, with dozens of crafts from around the world to choose from. Delicious pizza. Delicious beer. Name a better combo.
Penn Quarter
Cornmeal deep-dish and thin-crust pizza
Even though Pi is known for their cornmeal deep-dish pizza, they also have unique specialty pies which feature items such as the Cubano with slow-cooked pork shoulder, country ham, kosher pickle, swiss, and yellow mustard. The St. Louis-based chain first gained notoriety after Barack Obama supposedly claimed Pi as his favorite pizza place. The ingredients are sourced locally, and they claim to have built their brand upon the promise of minimizing its carbon footprint through sustainable purchases and practices.
Shaw and Navy Yard
Jersey- and Italian-style pies with thick-yet-airy crust, and great eggplant parm
Italian-American eatery All-Purpose opened to amazing reviews and instantly bustling business in the spring of 2016. With pizza inspired by both Rome and New Jersey, it's known for doughy crusts and delicious garlic knots. Other offerings include house-made charcuterie, a wide selection of hot and cold antipasti, and dessert from neighboring bakeshop, Buttercream. Be sure to check out its second location, All-Purpose Riverfront in Navy Yard.
H Street
Tasty New York-style pizza in the District
Who says it's impossible to get a good NY slice in DC? Wiseguy is proving that you don't have to travel up 95 for that perfect cheesy slice. Here, slices are handmade from scratch, sizable, thin, crispy, and topped with a multitude of fresh ingredients. Our only warning: Just like in New York, get ready to wait.
Sign up here for our daily DC email and be the first to get all the food/drink/fun in town.