There comes a time when one needs to know precisely which pizza places are the best pizza places in one's general vicinity. And so we took it upon ourselves to scour the District, where we ate, like, infinity pies, and faced the humiliation of having to wear elastic-waisted jeans, all in an effort to find the DC area's absolute best pizzas. Yeah, it's a hard life.
Kensington, MD
This weirdly named joint started as a food truck that would make appearances at local farmer's markets, and finally got a brick & mortar restaurant in 2014. But that doesn't mean it's added more to the menu: the tiny kitchen here does one thing and one thing only... great, oak-fired pizza. The farmers market gigs clearly rubbed off, though, as this shop is truly hyper-local: its pigs are from PA, its produce is from the District, its beer & wine is from the DC area, and it makes all its own, seasonal sodas. Good thing, too -- you'll probably need one of those to wash down the Hot Mess, a spicy, tomatoless pie topped with pickled jalapeños, caramelized onions, bacon, mozzarella, Gruyere, and romano cheese. Owner Frank Linn cures that bacon in the restaurant; the result is a scattering of smoky, salty, amazing pork, perfect for cutting through the rich cheese and onions.
Trust us, there's probably one near you
And speaking of strange naming practices, &pizza is one hell of a DC original. Started by Michael Lastoria and Steve Salis in 2010, the conveyor-belt style pizza consistently kills hunger pangs (and hangovers) at numerous locations across the city. Little known fact: the pair came up with the idea in New York, but made the conscious decision to travel down to DC to start their project. "We were blown away by the city, how emerging it was, both culturally and economically," Michael says. "The best decision we made was to come here." Funny... DC residents think the same thing, especially when stuffing their faces with &pizza's top pie, the Farmer's Daughter, which combines a spicy tomato sauce, spinach, fennel sausage, fresh mozzarella, Parmigiano-Reggiano... all topped with red pepper chili oil and a freshly cracked egg.
Cleveland Park
Vace is an old-school Italian deli. Since 1976, it's been slinging sliced meats & cheeses, olives, artichokes, mushrooms, sun-dried tomatoes, pine nuts, pasta... you get the picture. Its outstanding pizza is often overlooked, however. This place is home to some of the cheapest slices in the city (seriously -- $2.50 a pop is absurd), and pumps out authentic Italian pies. The white pizza with onions is a thing of beauty; the rich, creamy sauce only heightens the sweetness of the caramelized onions piled on top, and offsets the dense chew of the crust. Of course, while you're here, you should probably add some of the stellar cold cuts. A medium white onion pizza with a few pieces of fat-slicked prosciutto fresh off the slicer is our go-to, but you do you.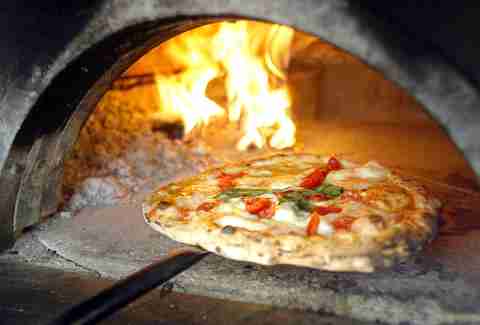 Georgetown
Georgetown's il Canale specializes in Southern Italian cuisine, relying on imported Italian ingredients, including mozzarella di bufala, San Marzano tomatoes, and 00 flour. Its gourmet pizzas get blasted in a wood-fired oven imported straight from Naples, and the result is a crispy, chewy, yeasty crust with perfect bubbly char. Keep in mind this is true Napoletana style, so if you're not a folder, these are definitely knife and fork affairs. Here's what you want to go with: the Diavola. A sweet tomato sauce melds with imported bufala mozzarella (the good stuff), fresh basil, and the kicker: a soppressata that's sweet, salty, and (mostly) spicy, all at once.
Arlington
Tomato sauce is, frankly, delicious. It takes a lot to get us away from red sauce pizzas, but one that does it every time is the Burrata pizza from Pupatella. "No sauce? Heresy!" you may say. But check it out: Pupatella's Burrata is astonishingly good. Think of the most delicious mozzarella you've ever had... then make the center creamy. Now put that on a pizza, where it melts down into its own sauce, covering the chewy dough base, which is charred in a custom, oak-burning oven that cooks a pizza in one minute at 900 degrees and is made of bricks that were actually built using volcanic ash from goddamn Mount Vesuvius, NO BIG DEAL. Legit, right? Like almost cartoonishly legit? Yeah. It's made even better with the addition of scattered cherry tomatoes, basil, and pine nuts. This is one of the best white pizzas in and around DC... hell, it might be one of the best white pizzas, full stop. Bonus: you don't feel bad housing the whole thing -- at 11in, they're made for one.
Logan Square
Ghibellina is an outstanding gastropub... and it happens to serve some of DC's best pizza. It combines two stand-out techniques: an atypical mix of flours, and a longer, lower-temperature cooking time (usually three to three-and-a-half minutes in a 500-600 degree oven). These factors prevent this from being boxed in as a "true Neapolitan" pizza; instead, it's the restaurant's own take on the style. A little crispier on the bottom, with a little less char, these pizzas are given time to develop that deep, yeasty flavor in the crust, best exemplified in Ghibellina's Salsicce e Cippola pizza, which comes with tomato, roasted onions, sharp provolone, and an ever-so-faint bitterness, lent by the fennel sausage. Still not convinced? During the daily happy hour, it's $8.50. So yeah, worth a shot.
Mt. Vernon Triangle
New York-style pizza is its own animal, and here in DC, only Wiseguy NY Pizza manages to replicate it. It imports its Parmigiano-Reggiano and olive oil from Italy; makes its own marinara sauce from canned tomatoes imported from Italy; and, best of all, uses a specialized filtration process (seriously) to replicate New York water, which serious pizza aficionados consider essential to the New York slice. Fold, devour, repeat.
Brookland
A true Neapolitan pizza should never come sliced. Some scissors, sure, but pre-cut? Nah. Menomale knows this... though it'll slice a pizza for you if you ask nicely. These guys use ingredients specifically sourced from the Campania region of Italy and are DOP certified (DOP is short for "Protected Designation of Origin," and serves as a guarantee that the food was made by local farmers and artisans, using traditional methods). In keeping with tradition, Menomale's pizza uses only 00 flour, fior di latte mozzarella, San Marzano tomatoes, and extra virgin olive oil. Go for the Di Ettore (the Chef's Special, natch): fior di latte mozzarella, cherry tomatoes, arugula, prosciutto di parma, grana padano, and extra virgin olive oil... as Italian as it gets. Bonus points for a great beer selection!
1541 14th Street NW
Many pizza connoisseurs consider 2Amys the best pizza in DC, so it should come as no surprise then that Etto (owned by the same group) also pumps out some truly delicious pies. The crew here uses an in-house grain mill to grind its own flour every day, which gives a whole new meaning to "fresh" and "house-made." It really has the effect of making an insanely good crust, slightly sweet and slightly charred. There are usually around 10 pizzas on the menu, but don't even bother looking at it. They're great, but the pro move here is to go straight for the Daily Special pizza, whatever it is. Designed to highlight local, seasonal produce, one recent pie combined roasted asparagus and ramps with goat cheese, tomato puree, and garlic. Just yes.
Cleveland Park
Any ranking of DC pizza that doesn't end with 2Amys is flat-out wrong. The restaurant itself is one of DC's true dining treasures, and arguably one of the most consistently excellent restaurants in DC's history, full stop. When in the presence of greatness, one keeps it simple: the Margherita Extra, with its precise balance of tangy, acidic tomatoes; rich, creamy buffalo mozzarella; and fresh, aromatic basil. (Insider tip: the buffalo mozzarella can be a little wet, so always order your pizzas "well done." The extra oven time means more char and durability.) This is pizza perfection.
Sign up here for our daily DC email and be the first to get all the food/drink/fun in town.
Logan Hollers is an environmental lawyer in DC who also contributes food and booze articles to Thrillist and BrightestYoungThings.com. His favorite Ninja Turtle is Michelangelo, which helps explain his addiction to pizza. Follow @lhollers on Twitter and Instagram.