DC may not have a style of pizza to call its own, per se, but that just means it gets the best of everywhere else. From classic NY slices, to myriad Neapolitan pies, to the ignominious Jumbo slice, these are the best pizza joints in 11 DC neighborhoods, ensuring your next great slice is never far away:
Cleveland Park
2AMYS (address and info)
2AMYS hardly needs an introduction, given that it's one of DC's longest standing favorites, and one of the founding members of the Neapolitan renaissance in the district. One of four VPN-certified pizzeria's in town (three of which are on this list; requisite apologies to Pupatella devotees, since it lies outside city limits), 2AMYS churns out near-perfect, delicate pies with bubbly crusts, fresh mozzarella, and basil. The Margherita is the baseline against which all Neapolitan pies in DC are judged, but a wide range of other concoctions, arancini, and an impressive Italian wine list have helped 2AMYS endure as a mainstay in Capitol's culinary conversation.
Capitol Hill
7th Hill (address and info)
A charming little nook of a restaurant just steps from Eastern Market, 7th Hill isn't shy about its love for its city. Each pie is named for a DC neighborhood, like the Navy Yard with smoky Toulouse sausage, oregano and pecorino or the Barracks Row with red onions and spinach. How exactly each of these combinations embody their respective neighborhoods is not immediately apparent, but they're tasty and there are plenty to choose from, so focus more on the eating and not the logic.
U Street
&Pizza (address and info)
&Pizza has taken off in the past year, with expansion after expansion. It's because their model works; especially in a neighborhood like the U Street corridor. Fast, quality, customizable pies like the meat-packed "Maverick", the vegetarian "Moonstruck" (covered in mushroom truffle sauce and goat cheese), or one you designed yourself from the dough up, are a godsend after one too many beers out on U. And since &Pizza is open well into the AM on weekends, it's designed for just that.
Adams Morgan
Duccini's (address and info)
Look, we all know the phrase "jumbo slice" is not necessarily synonymous with quality pizza. It's an exercise in overindulgence and hangover prevention, but that doesn't mean all Jumbo slices are equally flavorless, cardboard grease-shovels. At Duccini's, at the bottom of the AdMo strip, the jumbo slice is one that you could actually eat sober and not hate yourself afterward for. Less of a floppy, unrecognizable mess of cheese, Duccini's slice is actually nicely crisped on the bottom, with real flavor in the sauce (on the sweet side) and in the bubbly cheese. If you absolutely must eat a slice of pizza that's bigger than your face, Duccini's is the place to do that.
14th Street
Etto (address and info)
It's important to note that Etto is the brainchild of the minds behind both 2AMYS and the Garden District (which will always be remembered as The Standard). That in mind, it's easy to see it as a marriage of the two -- thoughtful artisan quality pies, with an intimate-neighborhood-feel. Etto's pies are made with un-aged, house milled flour, which lends a slightly sweeter and nuttier flavor to the dough. Throw on some of their signature touches like roast cauliflower and capers, and you've got pies that have an identity beyond the classic Neapolitan milieu. Bonus tip: go on a night when they have the Piedmontese-style rabbit, and order 10 of them. Seriously.
Georgetown
Il Canale (address and info)
Giant, Italian-made wood burning oven; rotating, fork dough mixer; fresh buffalo mozzarella. All of the hallmarks of a true Neapolitan pie, which earn Il Canale the distinction of being another of DC's VPN pizzerias (and one of less than 400 in the world). Il Canale boasts a full Italian menu as well, but if you're after the pie, the Margherita is a little taste of Naples.
Brookland
Menomale (address and info)
The little-traveled neighborhood of Brookland houses one of the city's hidden gems. Menomale (the third of the VPN-certified pizzerias -- though technically it is chef Ettore Rusciano who is certified, not the establishment) serves one of the best pies in town. Every bite of every pie tastes fresh and flavorful to the highest order. The dough is fired to the perfect state of a thin crisp shell with a mouth watering-ly moist and chewy interior. The Margherita is impeccable, and the Chef's Special is not only an unequaled balance of flavors and textures with its layered arugula, prosciutto, and Grana Padano... it's also one of the prettiest pies you're likely to ever eat.
Columbia Heights
Pete's New Haven Style Apizza (address and info)
Those homesick for New England-style pizza can find themselves at home at Pete's. New Haven-style pies have been slowly gaining ground in DC, and Pete's is the frontrunner: producing the large, thin, crisp crusts with a healthy char of its regional namesake. Of course, Pete's couldn't claim its New Haven pedigree without the requisite white clam pie. Fresh clams, garlic, olive oil, and Romano recall memories of that time you waited in line at Sally's (or Frank's, depending on which side of that feud you come down on).
H Street
Pizza Parts and Service (address and info)
An offshoot of the ever-expanding Taylor Gourmet empire, Pizza Parts and Service seems, at first glance, like just another quick slice. What sets PPS apart is the quality of ingredients: fresh and house-made. Set inside an industrial chic, biker garage-inspired den, each NYish-style pie is expertly crafted. The crowd favorite is #1 on the menu, and tosses together richly flavored meatballs, generously distributed globs of ricotta, and pepper flakes for heat. And don't sleep on the garlic knots. Or the Sriracha wings.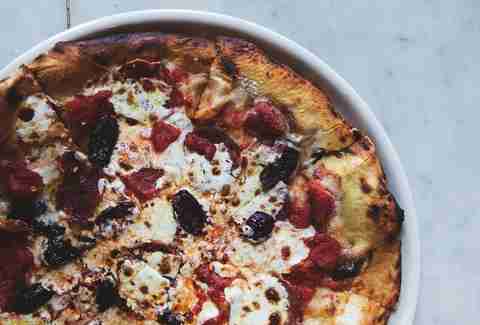 Dupont Circle
Pizzeria Paradiso (address and info)
Another of DC's oldest pizzerias, Paradiso has been around for over two decades and has expanded to three locations. Its success is due to a couple of factors. The first being slinging quality Neapolitan-style pies, like the ever popular Atomica -- spicy salami, pepper flakes, and sweet pickled olives crafting a potent mix of sweet and heat. The second reason is that Paradiso is also a killer beer bar, with dozens of crafts from around the world to choose from. Delicious pizza. Delicious beer. Done.
Downtown
Wiseguy NY Pizza (address and info)
Wiseguy's claim to fame is being one of the few places to get a real NY slice in DC. The shop is emblazoned with NY kitsch, like exit wound splatter from a shotgun blast to a piñata filled by the NY tourism board -- but that's secondary to the pizza. Crisp-but-foldable crusts with the telltale saltiness characteristic of all the corner slice shops from our neighbor to the north, rounded out with a mildly sweet sauce & creamy mozzarella, a Wiseguys slice kind of makes you wish they were as ubiquitous as Starbucks in our city. Wiseguy also gets bonus points for being one of the few spots in town to get a Sicilian square slice. Thick, chewy, and deliciously charred around the edges -- DC pizzerias, take note and start making more Grandma slices!
Sign up here for our daily DC email and be the first to get all the food/drink/fun in town.