The Best Places to Eat Chesapeake Oysters in DC This Fall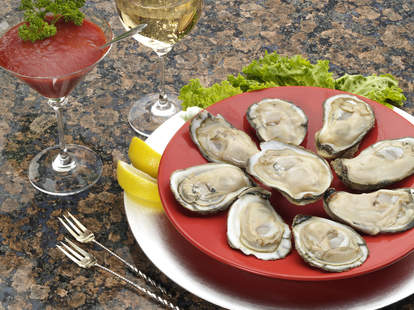 While anytime is a good time to eat oysters, the BEST time happens to be fall, when they're in peak season and places all over the DMV are deep with fresh, briny bivalves. Here's your guide to getting your oyster on this season (not to be confused with a guide to getting it on, which oysters may or may not help with, depending on who you choose to believe).

Union Market
Obviously there are plenty of good excuses to get yourself to Union Market. Here's another one: at happy hour, these bivalves are a bargain -- $1 each every Tuesday through Friday from 4-7pm.
Courtesy of Blackwall Hitch
Alexandria
Blackwall Hitch is one of the latest seafood outposts to open on the Alexandria waterfront. You'll find Potomac views, live music nightly, and eastern oysters from the Chesapeake Bay for $3.25 apiece.
Logan Circle
Chef Kyle Bailey uses Eagle Flat oysters from Anderson's Neck in Virginia. He shucks oysters and combines them with seared Atlantic hake and chopped vegetables to make a Belgian stew, called waterzooi, which doubles as one of the most fun things you'll order in DC this fall.
14th Street
The happy hour at Pearl Dive Oyster Palace and upstairs at Black Jack is called "oyster mania." Every Monday night at Pearl Dive and Tuesday night at Black Jack, oysters are half price. And, oyster hot plates go for $7 each.
Shaw
Eat the Rich's Derek Brown and Travis Croxton feature Rappahannock oysters alongside pitcher cocktails and oyster shooters. The "Locals Only!" happy hour is every Tuesday to Friday from 5-7pm with $1 oysters. And for October, the restaurant is serving broiled oysters with knockwurst, tarragon, and pickled cabbage.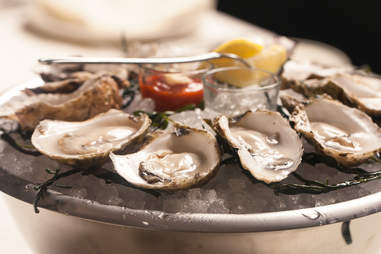 Courtesy of Joe's Seafood
Downtown
Slurp down oysters from Sewansecott Clams & Oysters in Hog Island Bay, Virginia, at Joe's Seafood. The price per half-dozen is $16.50, but during happy hour (2:30-6:30pm daily) oysters are half off, perfect for those Sundays when your football team is being blown out and you need to drown your sorrows in shellfish.
Capitol Hill
The Capitol Hill crowd heads to Johnny's Half Shell at happy hour (4:30 to 7:30pm daily) for specials on local oysters. A half-dozen are served for $12, down from $2.50 apiece during normal non-happy hours. If you're math-challenged, that's a deal!
Dupont Circle
The late-night menu (after 10pm) is a prime opportunity to try local oysters at Hank's. The bar serves up fried oyster po-boys, half-off oysters on the half shell, and sake oyster shooters. And, during happy hour, (Monday to Friday, 3-7pm) oysters are half off. Basically, if you're here, there is a good chance you're getting a deal on some oysters.
National Harbor
Chef Edward Lee's first foray into DC not only gives you a taste of Kentucky, but also the briny flavors of the Chesapeake Bay. The restaurant sources from Rappahannock Oyster Company and oysters are $15 per half-dozen and $1.50 each during happy hour (Monday to Friday, 4-7pm).
Merrifield
During the month of October, Brine, is serving oysters from 3:30-6:30pm at the steeply discounted rate of 75 cents, and the owner boasts four generations of oyster experience, so you know he knows what he's doing.
Takoma
Jeff Black's Republic serves local Chesapeake Bay oysters on the half shell for $1 every Monday to Friday from 3-7pm. It's a deal that you can wash down with a local beer for $3. Put them together and that's a beer and a half dozen oysters for less than a Hamilton. Again, math!
Sign up here for our daily DC email and be the first to get all the food/drink/fun in town.
Tim Ebner is a food writer based in Washington, DC. You can slurp down more delicious food tips by following him on Twitter.