Order From These DC Oyster Bars to Help Keep the Industry Afloat
Slurp down a dozen and support local oyster farms.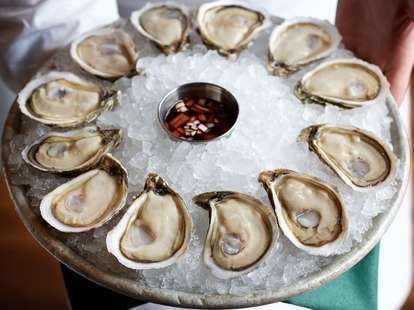 This summer, slurping down an oyster is not only extremely tasty, but it's also your duty to help sustain regional farmers struggling under the pressures of the COVID-19 pandemic.
Tom Perry is the founder of White Stone Oyster Company in Virginia and, prior to COVID-19, he was easily selling between 40,000 to 50,000 oysters per week across a distribution network that served DC restaurants. But now with many restaurants operating at half-capacity or in a takeout-only mode -- his weekly sales have plummeted, and in late March and early April, his oyster sales ground to a halt.
"It was like if someone turned off the spigot," he says. "Now, we're in this sort of a ticking time bomb scenario with a limited volume in sales. We're trying to keep our oyster growing densities low so that there's room for them to grow in the cage for just a few more months."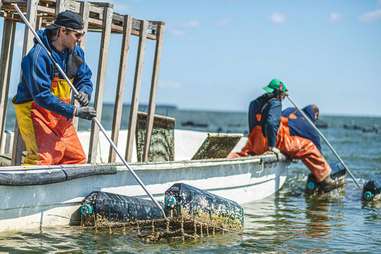 But at some point, Perry says, his oysters will get too big, which means he might be forced to dump his bivalves back into the Chesapeake Bay. So far, he's avoided dumping excess supply by selling direct-to-consumers and working with a network of chefs, including Alex Pasco, executive chef of the Tides Inn, a waterside resort located just a few miles downriver from Perry's farm.
"Where we're located on Virginia's Northern Neck, you'll find a treasure trove of oyster options," Pasco says. "It's one a great place for doing an oyster tasting, and if you're in DC, you're likely ordering an oyster that originated from here. And truly every oyster has its own story to tell by where it was grown."
Pasco runs an oyster academy and can not only teach you how to shuck an oyster properly, but he also knows the subtle flavors found in regional Chesapeake oysters: "In a shallow creek, an oyster can be crisp, light and refreshing, or if it's closer to say the mouth of the bay, it might be bolder and creamier and full of that briny taste."
You can certainly take a trip to the bay to learn from Pasco firsthand, but there are also several restaurants now open in DC, where you can safely social distance and enjoy a dozen oysters on the half-shell from various farms around the region.
The Wharf
This oyster company is located just across the Rappahannock River from Virginia's Northern Neck, and while you can't beat the water views and seafood spreads at Merroir in Topping, Virginia, there's a closer-to-home, waterfront option at DC's The Wharf with plenty of outdoor seating, too. At the oyster bar, there are three varieties of oysters, Olde Salts, grown off the coast of Chincoteague, Virginia with a full-on briny finish; Rappahannock River Oysters, known for being buttery sweet with a crisp after taste; and Rochambeau Oysters, grown in Yorktown, Virginia's mildly salty waters, which means these are slightly sweet and slightly briny bivalves.
14th Street
While Pearl Diver Oyster Palace remains closed to dine-in traffic, it's an easy and contactless option for oysters-to-go on 14th Street, NW. The restaurant serves up Sea Stones from War Shore Oyster Company in Chincoteague Island, Virginia. Like other briny oysters farmed near the mouth of the Chesapeake Bay, these bivalves are surprisingly smooth in body but have a salty and robust finish.
Dupont Circle, The Wharf, and Alexandria
Here, freshly shucked oysters by the half-dozen are available for dine-in, takeout, or delivery for $18. Hank's also has the added benefit of an extended patio that now stretches into the street for outdoor dining whether its weekend brunch, lunch, or dinner. And with its latest patio party package, groups of 10 or less can gather for a "Real Deal Raw Bar" priced at $45 per person for two hours of service with family-style service. The spread includes oysters with classic mignonette, cocktail sauce, lemon wedges, and assorted crackers, as well as Middleneck clams, chilled and peel-and-eat shrimp, seafood ceviche, and chilled and halved Maine lobster.
Downtown DC
If it's an oyster happy hour you're looking for, you can't beat the deals at Old Ebbitt Grill, which recently reopened its atrium and has ample dining space. A dozen oysters on the half-shell are $24 from 4-5pm daily and a half-dozen are $12. Old Ebbitt's oysters come from up and down the East Coast, including Moondance oysters from Maine, Blish Point oysters from Massachusetts, and Standish Shore oysters from New York.
Takoma Park, Maryland
This neighborhood favorite recently reopened its backyard patio with an oyster happy hour that runs until 7pm weekdays and restarts late in the night from 10pm to close. During these times, oysters are $1.50 each. The happy hour fun also continues on Sundays at the Takoma Park Farmers' Market, where a trio of local oysters costs $5 and Orange Crush cocktails go for $8 each.
Silver Spring, Maryland
This nautical-themed restaurant is a Black-owned small business that specializes in oyster shucking on the patio. Chef Edward Reavis also recently debuted his aptly named "shelter-in-place" menu, which is available for takeout, delivery or dine-in. The menu features oysters three ways -- as a tasting trio on the half-shell for $9, fried oysters and served with Old Bay tartar sauce for $17, or served on a po'boy with lettuce, tomato, and tartar sauce.
Alexandria, Virginia
In Virginia, the best place to score local oysters by the Potomac River is a place that also takes its whiskey menu very seriously. There are Chesapeake oysters aplenty, including varieties from War Shore, like Battle Creek and Sea Stone, as well as local Virginia whiskeys from distilleries like Catoctin Creek and Filibuster. And best of all, for every oyster sold, 10 cents goes to a local nonprofit called Alive!, which dedicates itself to providing emergency and basic needs support to children, families, and individuals living in poverty and hunger in Alexandria.
NoMa and Northern Virginia
King Street Oyster bar is one of the latest additions to the NoMa neighborhood, but this restaurant and taphouse also has a dedicated following in Northern Virginia at its two locations in Middleburg and Leesburg. The seafood bar specializes in more than a dozen oyster varieties on any given day from both the East and West Coasts. Local varieties include briny-rich oysters from Hog Island in Virginia, sweet and creamy oysters from Maryland's Patuxent River, and full-on salty oysters from Chincoteague Bay, Virginia.
Shaw and Navy Yard
With two locations near Nationals Park and in the center of U Street and Shaw's nightlife, it's hard not to find a reason to feast on some fried chicken and oysters at Roy Boys. The spot serves oysters four ways: oysters Rockefeller, barbecued oysters, oyster sliders, and oysters on the half-shell. During COVID-19, both locations are open for takeout and delivery orders.
Shaw
This Michelin-starred restaurant works exclusively with regional oyster farmers, including Virginia's White Stone Oysters. Even though the raw bar inside the Dabney Cellar remains closed, this summer, the restaurant is taking advantage of its Blagden Alley location, converting the alleyway into an outdoor pop-up restaurant on Sunday evenings. The Dabney Summer Rental, as it's known, is a good social-distancing option inspired by the coastal cuisines of the Mid-Atlantic and New England regions. Recent menus have included varieties of local oysters on the half-shell, including Velvet Cover Oysters from Long Island, served with a peach mignonette. Keep in mind that this outdoor dining option is a limited-run, limited-seating experience with online reservations required.
Sign up here for our daily DC email and be the first to get all the food/drink/fun in town.