As recently as five years ago, finding solid ramen in DC was a difficult task -- you were almost better off boiling some store-bought noodles yourself. That changed dramatically in 2011, when Toki Underground opened in the H Street NE Corridor. Their Taiwanese ramen quickly racked up rave reviews and hour-long lines, and the city's ramen scene has seen significant growth since then. Here are the most essential spots in the District for when you want to slurp down some A+ ramen.
Recommended Video
It's Worth Getting Sloppy For This Grilled Cheese Taco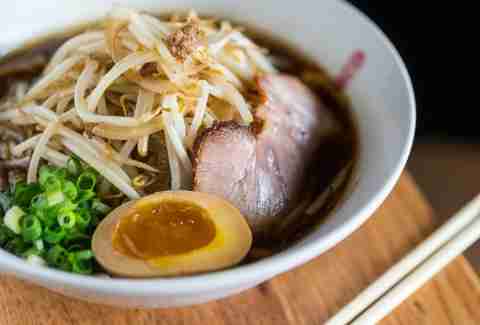 Chinatown
The crowds can get large at this Chinatown ramen joint, forcing hungry guests to wait patiently for a seat in the small downstairs dining room. This spot offers five kinds of Sapporo-style ramen, and they take authenticity seriously: their noodles are imported from Japan, made from a recipe developed specially by Daikaya, and the nuanced chintan stock takes more than 16 hours to make.
Chinatown
Chicken ramen is the star of the menu at Bantam King, which is housed in a renovated Burger King (there are plenty of nods to the original design, like fast-food booths and cafeteria trays on the walls). There are several possible combinations of broths and flavors, including the cloudy paitan and clear chintan, both available in limited quantities each day, as well as vegetarian ramen. Each broth is flavored with salt (shio), soy (shoyu), or miso tare. Bowls start at just under $12, although you may want to add on items like a seasoned egg, corn, or extra meat. Also, guys, it's basically impossible to ignore the restaurant's extremely shareable fried chicken platter, which is great for soaking up Bantam King's very solid Japanese drink list, including sake, beer, and several varieties of shochu (although the ramen does that job pretty solidly, too).
CityCenter
Chef David Chang's uber-popular New York ramen joint arrived in DC in late 2015 at the posh CityCenter development, and his classic Momofuku ramen ($17) incorporates such delicious elements as pork belly, pork shoulder, and poached egg. The menu also features several other varieties, including the nontraditional-but-still-delicious Baltimore-influenced chilled crab ramen ($22), flavored with Old Bay, yuzu, and chive.
Dupont Circle
Oki Bowl occupies a small, quirky space along busy M Street, just south of Dupont Circle. From the moment you walk in, it's clear that this restaurant is a little different from the typical ramen joint: the dining room is doused in ambient blue light and decked out with all kinds of decor, from birdhouses to old computer parts. The menu breaks from the standard mold a bit as well -- alongside miso and kimchi ramen bowls, there's also a spicy Tom Yum option ($12) with jumbo prawns, mushrooms, and lemongrass. Pork belly, fried chicken, eggs, and vegetables are all available as add-ons (and when there is an option to add pork belly to anything, you should probably take it).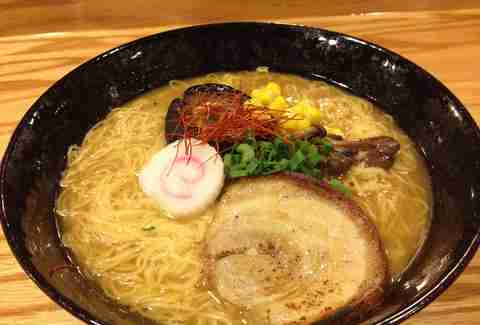 Adams Morgan
Sakuramen is an affordable spot to take refuge from the Adams Morgan madness. To start, don't miss out on the large selection of steamed buns, which come in everything from bulgogi beef to mushroom. For the ramen, the shoyu gojiramen ($11) is the most traditional and affordable choice, with chasu pork, scallions, nori, and sprouts. The shoki bowl ($15) is worth going for if you're feeling especially carnivorous, however: it's loaded with meat, like bulgogi beef, a heap of chasu pork, and comes with a seasoned egg. Sakuramen serves choices of vegetarian and spicy recipes too.
Georgetown
Georgetown is sorely lacking in restaurants that are both affordable and tourist-free. Enter Kintaro, which has a large sushi and small plates selection, but also serves a simple menu of shoyu, miso, and tonkotsu ramen for $10 each. You can avoid the fanny packs and keep your wallet intact all at once -- win-win.
H Street
Despite opening just five years ago, Toki Underground was in many ways DC's original ramen hot spot, attracting rave reviews and long lines and laying the groundwork for other businesses to follow suit. Wait times regularly balloon to two or three hours (sometimes even more) for a bowl of Chef Erik Bruner-Yang's Taiwanese ramen, so going for a late-night or off-peak bite can be a good strategy. Once you make it upstairs to the small dining room (sorry, the restaurant isn't actually underground), grab a cocktail -- the beverage program here rocks -- and an appetizer, like fried chicken steam buns. For ramen, the Toki classic, which comes with pulled pork and soft egg, is a popular option, and the spicy and savory red miso and kimchi choices are other good bets.
Shaw
Chaplin's may be best-known for cocktails and dumplings, but they also have a completely decent ramen selection. The standard-issue bowl ($14) is made with pork belly and tonkotsu, but vegetarians and vegans have choices as well, like miso and shio broths. We're in favor of the Chaplin A.S.S. bowl, which combines Asian spicy sour chicken, scallions, lemongrass, coconut milk, red chili paste, and pork butt. There's also the option to add extra ingredients like pork butt and even gyoza... and who has the power to say no to dumplings on top of ramen?
Fairfax
Jinya may be a chain restaurant, but it takes ramen seriously. They offer tons of combinations, though the restaurant's "flagship" is the Jinya No. 1 tonkotsu black, a classic ramen mix of pork broth, chasu, nori, green onions, egg, and garnishes. If that seems old hat, consider adding spicy ground chicken or pork. There are plenty of other directions, too: heat seekers will likely dig the spicy chicken ramen, while the Cha Cha Cha is designed for garlic lovers.
Ballston
Exposed wood interior and tables provide Jonah Kim's Arlington spot with a sleek, modern Japanese feel. The menu is tasty and concise, and it's hard to do better than his Miso Porky creation ($15), a rich pork miso broth -- what else? -- topped with pork, mushroom, kimchi, nori, bamboo shoot, and a soft egg. For a splurge, try the king crab ramen ($26) served with uni butter. If you still have room, order a few selections from hot and cold appetizers, especially the dry-fried wings or the tuna poke.
Sign up here for our daily DC email and be the first to get all the food/drink/fun in town.