12 restaurants guaranteed to make you leave the District
Laura Hayes
Laura Hayes
Got a car, a friend with a car, or at least a SmarTrip card? Good, now use it to check out these game-changing eats in Maryland and Virginia. Everything from ethic food to seafood is covered here, complete with some pro tips. One programming note: in the interest of protecting your wallet, we've omitted some fine, higher-end outposts like The Inn at Little Washington and Volt.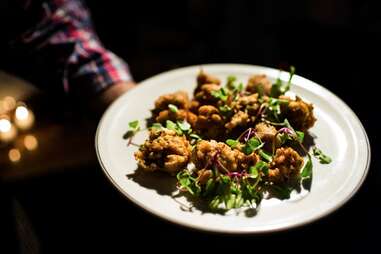 Baltimore, MD
This super-seasonal, farm-fresh restaurant is full of plaid-clad waiters serving supper in an old clipper mill. The mac & cheese and pork chop are can't-misses, and the whiskey-forward cocktail program keeps up with what's coming out of the kitchen. They have standout hard cider and mead menus, too. Also, if you find yourself waking up in Baltimore, know that their brunch is bomb. Then do some more eating and drinking.
Eden Center, VA
Stamp your passport to Vietnam as you cruise through the entrance of Eden Center. You're met with a bevvy of restaurants beckoning you with neon signs, but, as with all things ethnic, you should go where the line is. Dare to order something other than pho, like one of Huong Viet's many bún (vermicelli noodle) dishes topped with smoky grilled meat and golden fried Spring rolls. Warning: DO NOT spill fish sauce on your clothes or you'll rock that scent for centuries.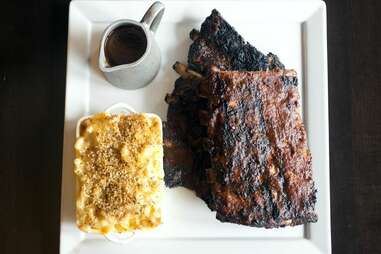 Old Town Alexandria
The menu at this pork-centric tavern is packed with man treats like chile-lime cracklins and a cocktail called The Virginia Gentleman, but the ribs alone are worth a trip. Chef Brian McPherson brines them for 24 hours, smokes them for eight, and then cools and cooks them for an additional three days. That's DEDICATION. Tag yourself on Facebook with Jackson 20's mascot, Bessy, to win an order of BBQ pork sliders.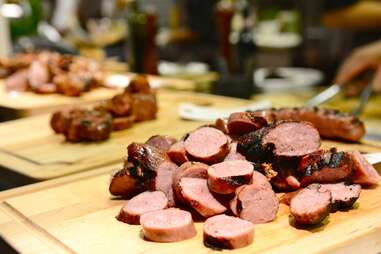 Silver Spring, MD
The charcuterie craze in DC is undeniable, and it expands beyond District borders. Build a board at Urban Butcher, choosing from 23 different kinds of charcuterie like smoked lamb bacon or venison salami. Those looking for a more traditional meal can try a 48-hour ox brisket, steak frites, or a selection of sausages paired with cocktails that're $10 or less. Bonus: the restaurant doubles as a butcher shop and meat cellar, so load up on meaty treats before you roll home.
Falls Church, VA
Is there good pizza in the District? Sure, but Pizzeria Orso is something special. Piping hot Neapolitan pizza exits a volcanic brick oven in flavors like The Smashing Pumpkin, with cream sauce, bufala mozzarella, smoked blue cheese, roasted pumpkin, pear, garlic, arugula, and shaved Grana. Also try Chef Will Artley's smoked potato puree tater tots, lamb bacon sliders, or BLT gnocchi. Affordable wine and beer add to the experience.
Bowie, MD & Lanham, MD
There are crab cakes, and then there are CRAB BOMBS. This dish is so good that Jerry's went ahead and trademarked it. 10 whole ounces of jumbo lump crab are seasoned with Old Bay (duh!) and baked until golden brown. No additional ingredients required. Before you disable your crab bomb, start your crabventure with crab bisque, crabs casino, crab balls, or crab dip at either the original Lanham location or new Bowie location right off of Route 50.
Vienna, VA
Go fancy pants at this charm-tastic French/Asian restaurant from Tim Ma with roasted bone marrow and scallops topped with melting basil ice cream. Or, opt for the refined college approach to dinner by ordering gooey baked mac, fried green tomatoes, and crème fraîche wings. All of these items come from the same eclectic menu. Make a reservation though -- there are about as many tables as appetizers, adding to the restaurant's cozy charm.
Rockville, MD
A & J is a slice of Chinese authenticity in the burbs boasting a menu full of must-try comfort food like spicy sesame peanut noodles. The noodles are made in house -- a nice touch. Also try the scallion pancake, spicy wonton with hot red sauce, and Szechuan-style spicy beef noodle soup. Pro tip: bring cash and and spice-tolerant friends.
Baltimore, MD
Restaurants housed in Four Seasons Hotels are notorious wallet-bleeders, but not Wit & Wisdom. Four mind-blowing burgers are on offer, like the Bourbon Steak Burger, which comes with a foie gras slider, just 'cause. Then there are ample under-$30, wood-grilled meats and seafood. But if you're feeling fancy, take on the Maryland blue crab tasting featuring a crab cake, crispy soft shell crab, and a spicy tomato crab stew.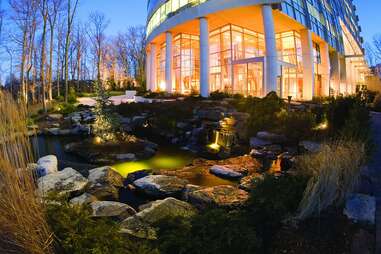 Falls Church, VA
Want to try a duck- and foie gras-loaded burger from a chef who cooked alongside Daniel Boulud? Yeah, we thought so. Head to 2941 Restaurant, an eye-catching, enchanting dining destination with gardens and koi ponds to gaze at. It used to be out of reach for those of us who aren't lobbyists or lawyers. But, they recently morphed into an upscale casual restaurant you can head to regularly -- especially the bar area. Save room for RAMMY winner Caitlin Dysart's Never Say Never sweets.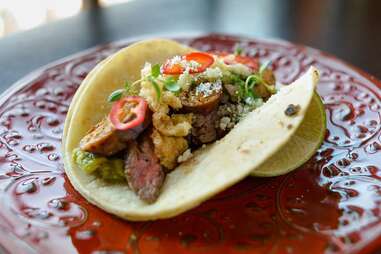 Falls Church, VA
What happens when a chef adept at grilling meats (Del Campo!) sets up a taco shop? Tortillas topped with pure magic. Victor Albisu's take on Mexican street food includes adventurous tacos like El Beso, with crispy pork and beef tongue, along with staples like carne asada, barbacoa, and carnitas. Then there are tamales, tortas, sopes, burgers, and all-day breakfast to boot. For those who believe DC struggles from a dearth of kickass Mexican food, Taco Bamba's a short drive of a solution.
Annapolis, MD
Calling all crab fans -- Cantler's hauls in live crabs on a daily basis, ranging from medium sized (6in) to supers (7in or more), for your consumption. There's also a strong selection of steamed and raw seafood including clams, jumbo shrimp, and mussels, plus stone and snow crab legs. Make a day of it by bringing down a group of buds to take advantage of one of their all-you-can-eat/all-you-can-drink packages right on Mill Creek.
This list -- and all the rest -- look even sexier in our iPhone app. Get it now!