Thanksgiving kicks off the most predictably tumultuous season: the holidays. For the next six weeks, we're going to be overcommitted with office get-togethers, family parties, and more hosting duties than we take on the rest of the year combined. Cooking a Thanksgiving feast at home means dealing with an endless stream of prying family members, oven-tetris debacles, stacks of dirty dishes, and political conversations that are not so easily escaped. So unless your mom is Ina Garten, it's probably just easier to leave the hosting to the professionals this year. If you're looking for a holiday spread the Barefoot Contessa herself would endorse, look no further. Here are 10 great options for dining out on Thanksgiving day.
Recommended Video
Mustard Pizza: Can Mustard Replace Tomato Sauce?
Capitol Hill
You don't have to don white gloves or a floofy hat for dinner at this Southern charmer. Art and Soul is serving their homestyle feast from 11am to 9pm. The buffet includes holiday classics like roasted turkey with gravy, scallion mashed potatoes, roasted butternut squash, and maple Brussels sprouts, but it also has Southern influences, with maple ham, cornbread stuffing, grits, collards, and mac & cheese. There are four types of pie to choose from, and you'll probably going to need a bite of each. ($70 per adult, $30 per child)
West End
A crowd favorite every year, Blue Duck Tavern recreates the feeling of a big holiday affair at home... without actually forcing you to interact with your less-than-desirable relatives. From 12-8:30pm, a three-course meal will be served family-style in the open-air kitchen. Guests help themselves to the first course of starters (seasonal salads, meats, and cheeses), followed by plated entrees and sides. Choose from options like apple cider-glazed roasted turkey leg, roasted pumpkin cavatelli, cornbread stuffing, and celeriac onion gratin. Finish off by diving into the selection of desserts on display in the Pastry Pantry. ($110 per adult, $55 per child)
Georgetown
Bourbon Steak puts an upscale spin on Thanksgiving must-haves for their three-course prix-fixe dinner. The roasted pumpkin bisque benefits from truffled chestnut croutons and a cranberry ginger chutney, while the roasted turkey sides get a little more sophisticated (black pepper gravy or potato purée). There are also enticing options for non-traditionalists, from the lobster pot pie (with root veggies and black truffle) and the caviar carbonara (with créme fraîche, quail egg, bacon, and Petrossian caviar). Save room for dessert, because there are there are pecan pie donuts. ($115 per adult, $50 per child)
Penn Quarter
Francophiles can get the best of France and America in one meal with Central Michel Richard's Thanksgiving prix-fixe menu, served from noon to 8pm. Staying true to tradition, there will be pumpkin soup, turkey, mushroom stuffing, cranberry sauce, and potato gratin. You can also opt to embrace French cuisine with steak frites and peppercorn sauce. Of course, the Central's chocolate bar will be on the docket for dessert, along with pumpkin pie and cranberry almond bread pudding. ($55 per adult, $27 per child)
Penn Quarter
If you don't want to break the bank on Thanksgiving, head to City Tap House from noon to 9pm for a three-course menu that's only $30. Along with an appetizer and dessert, you'll score a full turkey dinner with chestnut-apple stuffing, candied yams, and sautéed green beans. This way, you don't have to choose your favorite side, which is the only thing worse than choosing a favorite child. You will have to pick a dessert, however, and the choice is going to be tough -- maple bourbon pecan tart or pumpkin pie.
Downtown
Since Thanksgiving is all about togetherness, Equinox is ensuring that vegetarians/vegans and carnivores can exist in harmony, at least during dinner. The feast kicks off with an oyster roast -- 500 Rappahannock oysters, plus oyster mushrooms for the veg crowd. The three-course menu features plenty of options to accommodate any dietary restrictions. There's a truffled white bean soup, a grilled wild mushroom tart, or rosemary roasted duck sausage to start, and then butternut squash and cauliflower tempura, chestnut and porcini mushroom risotto, or cider-brined turkey for the main event. Dessert selections range from granny smith apple cake with sage gelato to heirloom pumpkin semifreddo. ($70 per adult)
Penn Quarter
Can we all admit that we've dreamed of being invited to the Trabocchis' home for a family holiday? Their luxe Thanksgiving celebration at Fiola will have to do. From 1-8pm, guests can choose an app, entrée, and dessert from the special Italy-meets-America menu. Appetizers include a chestnut cappuccino, hand-cut pasta with a ham hock ragu, and an Ahi tuna crudo with sea trout caviar. Roast turkey is an option for your entrée, but there's also lobster ravioli and a rosemary-roasted rack of lamb giving it a run for its money. Desserts like ginger spice cake with pumpkin ricotta mousse, chocolate and pecan crostata, and apple terrine wrap things up. ($90 per adult, $45 per child)
Downtown
The Hay-Adams is offering Thanksgiving brunch with a view in their Top of the Hay dining room overlooking the White House and Lafayette Square. You get a free glass of Champagne when you arrive, ensuring that things kick off pretty much perfectly. Seatings for the buffet are available from 11am-4pm. The spread features classics like turkey, chestnut, and onion stuffing, sweet potato purée, and turkey gravy, but there's a whole host of other options as well, from truffle Parmesan and ricotta ravioli to seared sea scallops. It's a buffet after all, so why not try all the desserts: sweet potato layer cake, old-fashioned Granny Smith apple pie, chocolate pilgrim shortbread hats, pumpkin tiramisu, and pecan tassies. ($120 per adult, $60 per child)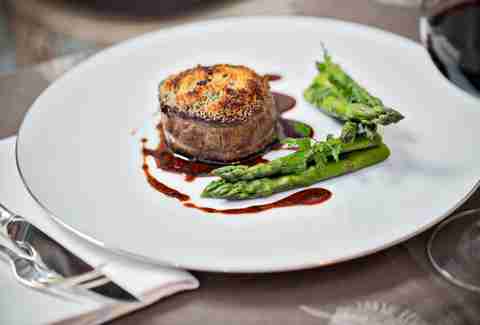 Downtown
Served from 11am-7pm, Plume's three-course Thanksgiving meal has the obligatory turkey dinner with all the trimmings, but the rest of the menu swings non-traditional; there's black salsify velouté, seared foie gras, roasted rainbow beets, seared bronzino, dry-aged ribeye, and poached globe artichoke. On the sweet side, there's a pumpkin pie for the purists, plus butterscotch pudding and speculoos triangle cake. ($105 per adult, $48 per child)
Clifton, VA
It's more than worth the drive out of the city to spend Thanksgiving in the bucolic town of Clifton. When you arrive, the welcome at Trummer's on Main might even be better than at your grandma's. Their three-course holiday menu will be served from noon to 6pm, and the bounty includes roasted heirloom pumpkin soup, local fall greens, sweet potato agnolotti, and pan-roasted halibut. The star selection is the traditional Thanksgiving dinner entrée, which includes foie gras- and pecan-stuffed leg, maple wrapped breast, fried skin, cornbread stuffing, cranberry gel, and sage jus. For dessert, there's an apple crisp, a take on pumpkin pie, and a chocolate pecan pie. ($64 for adults, $25 for kids)
Sign up here for our daily DC email and be the first to get all the food/drink/fun in town.