Restaurants Open For Thanksgiving Dinner in DC
If you can't take the heat this Thanksgiving, you know what they say. Between family squabbles and that giant bird you have to roast for hours, Thanksgiving provides plenty of stress (and heat). DC restaurants know that and they're around to keep you out of the kitchen by doing all the work for you. Whether you want to feast in their dining room or take home all the fixings to eat at your own table, these DC spots are primed and ready for Thanksgiving.
Dupont Circle
The oldest continuously running hotel in all of the District seems like the ideal place to spend Thanksgiving. Surrounded by rustic fireplaces and old school decor, you'll feast on a traditional holiday spread that consists of options like a warm Brussels sprout salad, maple herb-roasted turkey breast or sweet potato gnocchi, and a classic slice of pie with the fruit filling of your choosing to top it all off.
Cost: $85 per person
Union Market
If you can secure the seat closest to your favorite side, you'll be set up for this family-style feast. Bidwell is offering diners a choice of butternut squash soup or a mixed greens salad, before covering the table in everything you need to share a perfect Thanksgiving meal. You'll get an oven-roasted heritage turkey, sourdough stuffing, sweet and mashed potatoes, caramelized Brussels sprouts, cranberry sauce, and a pie to share with your family or friends.
Cost: $55 per person; $25 for children under 12
Courtesy of The Smith
U Street, Penn Quarter
The biggest turkey decision you usually have to make is between white or dark meat, but The Smith is offering the Thanksgiving staple three ways. You can go with the classic breast, try it in a pot pie, or have it prepared osso buco style atop wild rice and drizzled with a jus. The Smith's three-course meal also has fall-inspired starters like butternut squash and goat cheese salad, and desserts like a slice of apple pie with caramelized apples, almond-brown butter crust, and spiced whipped cream. You can add on raw bar items that this New York-started spot is famous for, and you'll also get complimentary sides for the table to share like stuffing, crispy Brussels sprouts, and that mac and cheese you've seen all over Instagram.
Cost: $53 per person; $26.50 for kids under 12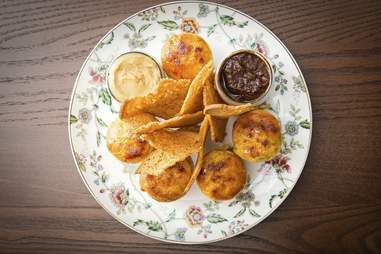 Cornbread Cakes from Succotash

| Courtesy of Scott Suchman
Penn Quarter
Choose Succotash for your dinner, and you'll be treated to savory Southern-style classics. The family-style meal doesn't skimp on the main course. The menu features a variety of side dishes to accompany both turkey and ham, and you'll also enjoy appetizers like cornbread cakes and bibb salad and dig into pumpkin cheesecake and chocolate bourbon pecan pie for dessert.
Cost: $65 per person; $32.50 for children 12 and under
Steak Frites on Le Diplomate's All-Day Menu

| Courtesy of Jason Varney
Logan Circle
If Thanksgiving rolls around and you want anything but turkey, Le Diplomate is your spot. The French favorite will open early for brunch and offer an all-day menu of its signature dishes like steak frites and beef bourguignon for diners to order just like any other day. Starting at noon, the restaurant will also allow you to opt into a Thanksgiving dinner of turkey breast and leg confit, a sampling of sides, plus an appetizer and dessert.
Cost: $56 per person for the three-course Thanksgiving menu, all other dishes a la carte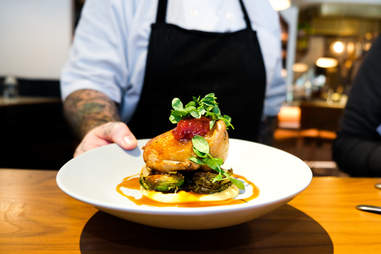 American Son

| Courtesy of Mignon Hemsley
Downtown
Any restaurant in a hotel is a sure bet for Thanksgiving, as most are open 365 days a year for guests. The lobby of the modern Eaton Hotel gives way to American Son, a gorgeous restaurant serving up inventive takes on classic dishes for Thanksgiving. You may immediately be distracted by the sweet potato panna cotta dessert, but redirect your eyes because American Son also has great first and second course options like a pork chop with smoked bacon marmalade or seared sea scallops with a cherry gastrique.
Cost: $45 per person
Downtown
Also inside a hotel, Cherry is hosting a Friendsgiving event on November 21 where a portion of the proceeds go to Children's Miracle Network Hospitals, before opening up for Thanksgiving dinner as well. Both meals are served family style with a traditional Thanksgiving dinner and appetizers like smoked salmon rillettes and baked brie covering the table. To finish, you'll have embered sweet potato pie topped with charred marshmallow meringue and homemade vanilla ice cream.
Cost: Both events are $65 per person, and a limited a la carte menu will also be available
Navy Yard
Sure, you can order the turkey -- but let's be real, you're here for the homemade pasta. So start with prosciutto and Mortadella meatballs or burrata with pumpkin seed crumble and granny smith apples to stay on the holiday theme, and order a feast of homemade ravioli with butternut squash, sage, and brown butter for your main course. The restaurant has a few more classic meal options as well, and a holiday cocktail dubbed the cranberry sauce (or a mocktail called the cornucopia) will be flowing all night.
Cost: $68 per person; $35 for children 10 and under
Mi Vida

| Courtesy of Rey Lopez
The Wharf
You can swap your turkey for tequila (or take it on the side) while overlooking gorgeous riverfront views at Mi Vida. On Thanksgiving Day, the Mexican restaurant will be sticking to its regular menu of dishes like carne asada and a twist on guacamole that pairs avocado with blue cheese, grapes, and smoked almonds. Holiday menu additions include butternut squash soup, and bacon-wrapped turkey breast stuffed with kale and ricotta alongside chipotle sauce, cornbread, and Brussels sprouts. Think of it as thanks-fusion.
Cost: A la carte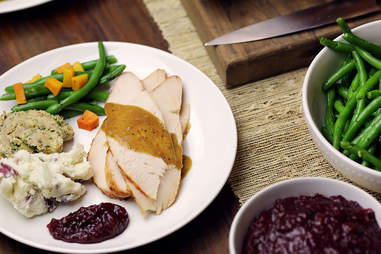 Farmers Restaurant Group

| Courtesy of Ken Fletcher
Foggy Bottom, Mount Vernon Triangle, Georgetown
All three locations of this beloved restaurant group will offer up similar versions of a pre-fixe menu. It will kick off with brioche rolls and the chain's famous skillet cornbread with honey butter. Diners can then choose from two soups as a starter (or a salad at Founding Farmers), options like a classic turkey or Impossible Burger meatloaf, and a variety of Thanksgiving sides (you had us at sweet potatoes with pecan-fig butter). For dessert, there's a variety of pie slices or housemade donuts at Farmers & Distillers or Farmers Fishers Bakers. For some, Thanksgiving is all about dodging family drama in the comfort of your own home. If that's the case, you can pick up a complete dinner for four at Founding Farmers' Reston, Virginia and Potomac, Maryland locations for $150 (and tack on a "leftover kit" so you have something to munch on for your second or third dinner).
Cost: $39.99 per person; $20 for children 12 and under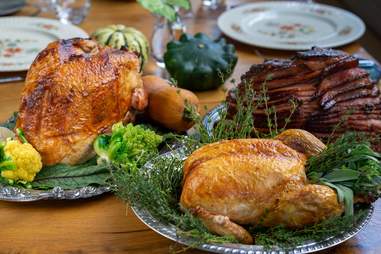 Gravitas

| Courtesy of LeadingDC
Ivy City
If you don't want to stray too far from the couch where you'll take your tryptophan-induced nap, this newly Michelin-starred spot has you covered. Known for its locally sourced tasting menu, Gravitas won't be open on Thanksgiving Day, but it's offering take-home options. The Classic Thanksgiving Dinner package serves six to eight and comes with a whole roasted turkey, choice of butternut squash soup or a variety of salad options, and two classic sides. Plus, tack on a breakfast platter and cheese or a Charcuterie board to cover all the day's needs. Upgrade to the Baller Thanksgiving Dinner and double the number of appetizers, sides, sauces, and breads, choose how your two turkeys are prepared, and pick two desserts from options like pies and cookies. No matter what you choose, you'll have a bountiful spread for turkey day.
Cost: $185 for the Classic Thanksgiving Dinner package; $350 for the Baller Thanksgiving Dinner package
Sign up here for our daily DC email and be the first to get all the food/drink/fun in town.
Liz Provencher is an editorial assistant at Thrillist and a former DC dweller. She's convinced any of these options would show up her family's feast (sorry, Mom!). You can email her or follow her on Twitter.