Your Nationals Park eating and drinking guide
Baseball's back! And just as the Nationals are aiming to cross home plate, you should be aiming to fill yours (get it?!) -- and thanks to the slew of fantastic new spots that've cut the ribbon in the Navy Yard over the past few months (or will be cutting it soon), that particular task has never been easier. Here's where to get your eat (or drink) on around the park.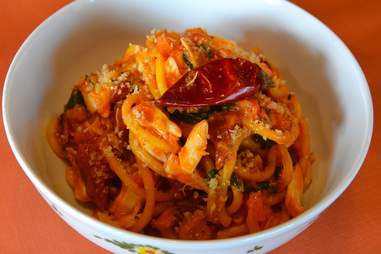 Laura Hayes
Osteria Morini (click here for info and address)
Does this bucatini dotted with crab and sea urchin look luxurious to you? Because it is. And if you're a ticket holder arriving after 9pm, you can get it (or nine other pasta dishes) for just $12. Pre-game, a happy hour menu boasts meatball sliders, crispy ravioli, fancy mozz sticks, and other off-menu snacks for a mere $8 or less, and if you hit the terrace, you can get one of the finest pitchers not named Strasburg courtesy of their cocktail menu. 
Laura Hayes
Bluejacket (click here for info and address)
Sure, the inside of Bluejacket's upscale brewpub is impressive, and yes, they do have plasmas showing the ballpark action -- but outside is where you're going to want to be on game days. Home games equate to patio tailgate parties with Chef Kyle Bailey manning the grill, aided by some freshly tapped house kegs. In fact, they brew some 20+ beers, ranging from a bitter Belgian blonde to a robust porter, and you can get tasters of all of 'em. 
Laura Hayes
Agua 301 (click here for info and address)
The bartenders at this colorful, cactus-laden Mexi outpost will be checking the score, and if the Nats win, salt-rimmed drinks are $5 in the bar area for two hours after the last pitch. Tough loss? Cheer up, Margs (made from one of their 50+ tequilas) are suddenly $6. Their happy hour will also be helpful to game goers who can grab $5 carnitas sopes and other reduced-price comida Monday-Friday from 3:30-7pm. Also, keep an eye out for the guacamole del día -- it's ever-changing, but frequently involves goat cheese and bacon.
100 Montaditos
100 Montaditos (Coming Soon)
Just in case you haven't been to their Bethesda location, a Montadito is basically a delicious, tapas-sized Spanish sando, and these guys literally serve 100 different kinds of 'em (hence the name!). When this Yard spot opens in the Spring/Summer, you can score an entire tray of the suckers to yourself, w/ fillings that range from the traditional, like tortilla Española with chorizo, to the more American BBQ pulled pork with crispy onion and chipotle aioli. And the kicker? No Montadito costs more than $3 and the beer is about the same.
Laura Hayes
TaKorean (Coming Soon)
DC's favorite mobile Kor-exican fusion is getting it first brick-and-mortar this Summer, and baseball fans are the beneficiaries. Both before and after games, you'll be able to devour bulgogi beef, chicken, tofu, and ssamjang-roasted pork tacos topped w/ fire extinguishing cool lime crèma and fresh herbs. If you want a preview, head to their truck, or their Union Market stand.
G by Mike Isabella
Nationals Park (click here for info and address)
To add some glorious icing to the cake, there are even some new options once you've scanned your ticket: there are now sandwiches from G by Mike Isabella (behind section 136),  two more District Draughts stands (making four total) will be pouring local suds from 3 Stars, Port City, DC Brau, and others, and don't be shocked if you see girls carrying trays of sushi or stir-fry, or Orioles-turned-Nats-fans getting jumbo lump crab cakes. Crab cakes! In the ballpark! Of course, if all that's too fancy, you can always fall back on a half smoke from Ben's.