The MC and host of Hip Hop for the Rest of Us, Blackliq once sang about "a new restaurant" opening up every week in Richmond, and there are days in the city when that line feels entirely true. That means that there are a lot of places to choose from when it's time to head out the door to grab a bite to eat.
This list is obviously intended as a series of suggestions. After that, it's up to you. (Perhaps consider watching a series of video interviews Helen Holmes of Ms. Girlee's Kitchen did for CW Richmond.) From soul food tacos and expert Ethiopian to Greek mezze and quintessential Virginia barbecue, Richmond has it all. Though new restaurants are popping up every day, pay a visit to the old standbys, too. Now is the time to go.
JUMP TO: NEW & NOTEWORTHY | ALL-TIME BEST
Recommended Video
Birria + Ramen = Birriamen
The Fan
Expect home-run pupusas for an outstanding price ($2.50 a pop) in an uncomplicated cozy space. How can you go wrong with that? (Hint: you can't.) The name of the restaurant comes from the nickname given to the chef-owner, Mario Albanes. The restaurant has flown somewhat under the radar during its first year of operation, which is something of a stroke of good luck, because the quality of what's on offer isn't something to be ignored.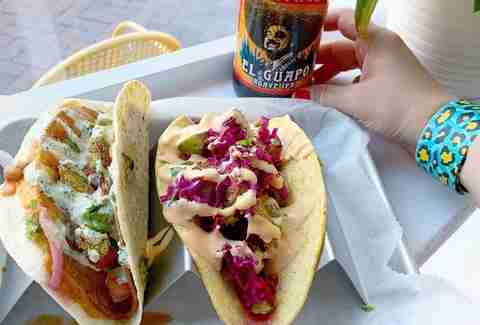 Jackson Ward
One of the striking things about digging into the menu at Soul Taco is how conscientious it is about specific flavors. If you get the roasted sweet potato and black-eyed peas taco, you will taste the sweet potato, avocado, cilantro cream, and more. While there's certainly something to be said for a taco filled with a Jenga Tower's worth of ingredients and the cascading effect that will follow when you take a bite, Soul Taco makes a strong and persuasive case of how good something can be when it sets a target and hits the mark. (And then does it again. And again.)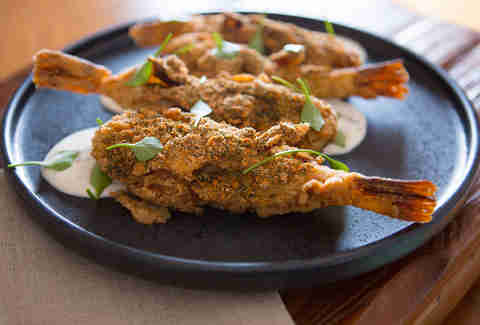 Church Hill
Alewife may occasionally come across as a little self-consciously "experimental" in its presentation. But Alewife isn't pretentious, and the things it cooks up are genuinely interesting and nice (take a look at its Instagram feed). The restaurant is also environmentally thoughtful, too, given its willingness to use fish without catch limits, heads, tails, and more. Recently, Mackerel with surry sausage, charred cabbage, and mustard vinaigrette left was one of the most satisfying winter meals we've had in years.
Est. 2014 | Oregon Hill
How can you not want to root for a restaurant that lists Fee Fi Foe, Fee Fi Faux Pho on its menu? Or a filet mignon of beef 'Swellington?' Voted the best restaurant in the south by Southern Living Magazine in 2018, L'Opossum is a place that frequently leaves diners feeling like they're -- in the words of David Shannon, the owner and chef -- "somewhere else."
Est. 2013 | Jackson Ward
The food at Saison is seasonally inspired and often changes, which means that there's always a reason to come back: grilled chicken hearts served with butternut squash and oxtail jus and basil may be there one night, but -- when you return -- it might be something else altogether.
Est. 2012 | The Fan
Heritage is one of those restaurants where you're not sure whether to be more impressed with the kitchen or the bar. Why not appreciate both equally? Chef Joe Sparatta provides diners with approachable yet sophisticated seafood dishes like an addictive smoked fish dip, pimento croquettes, fried Rappohannock oysters, and local fluke and rockfish preparations that make the fish sing. Bar Manager Lindsey Scheer slings some of the most innovative -- and downright -- beautiful cocktails in town. We especially appreciate the Japanese-influenced cocktail, Does This Spark Joy? Heritage certainly does.
Est. 2012 | Church Hill
There are few things nicer in the city than having a breakfast sandwich or a homemade pie and a cup of coffee at the corner of East Marshall and West 27th as neighborhood dogs and locals quietly come and go. You should absolutely go to Early Bird Biscuit Co., Sugar Shack Doughnuts, and Sub Rosa Bakery, too, but if you want a comprehensively fresh-tasting pie in a great location, then this is the place for you.
Est. 2009 | Jackson Ward
Go to Mama J's to relish some soul food -- catfish, mac and cheese, pork chops, and more -- but make sure to take the whole of the place in, too. It's a popular neighborhood spot, and the founder Velma Johnson learned to cook when she had to cook for her 13 brothers and sisters. If you can take care of a family that large, then there's a more than decent chance you can take care of a restaurant, too.
Est. 2006 | Church Hill
Go to Nile if you want to have manifestly fantastic Ethiopian food in a casual, genuinely relaxed setting. So much so that the prospect of chopping it up a bit with the folks who run the place doesn't come across as a huge faux pas. Keep an eye out for the salmon tibs, the Gomen, the Doro Wat, and the Siga Wat, amongst other items.
Est. 1992 | Arthur Ashe Boulevard
While we can't say anything bad about ZZQ BBQ or Alamo BBQ, Buz and Ned's is quintessential Richmond barbecue. It comes awfully close to being prime "first meal after landing back at the airport" food. Buz and Ned's has been around for nearly 30 years. The brisket meat is ample, tender, and flavorful. The fried okra lands just right. The cuke and onion salad is a refreshing, tangy counterpoint to the barbecue. The atmosphere is terrific, and Scott's Addition is right across the street.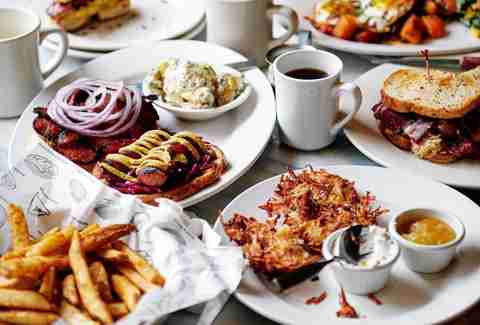 Est. 1961 | Monroe Ward
There's a rare moment of zen that a diner can experience when a food spot hits the trifecta: nailing the food, prices, and atmosphere. Enter Perly's, a Jewish diner that's been a mainstay in Richmond for nearly 60 years. The waitstaff recognizes and embraces its regulars, this is also an ideal spot for visitors to appreciate Richmond's charm. Have a hearty sandwich -- the pastrami, the reuben, perhaps one of the handmade sodas (apricot, pomegranate, and more). But don't leave without paying proper respect to the pickle case. It's a thing of beauty.
Est. 1960s | Malvern Gardens
Greek meze restaurant created by one of the longest-tenured chefs in the city in Stella Dikos. ("Meze" is the Greek equivalent of Tapas.) This spot serves as a reminder as to why -- when the Greek Festival rolls around at the Saints Constantine & Helen Greek Orthodox Cathedral and traffic slows and lines wind around the block -- good Greek food is so valued by the city. You can tell the filo dough is homemade. You can taste how there's a certain extra weight to the meat when good Greek lamb is cooked well. And you are surprised at small, subtle things, too, like the act of taking a piece of feta, wrapping it in filo, baking it, and topping it with honey, lemon, and toasted sesame seeds.
Sign up here for our daily DC email and be the first to get all the food/drink/fun in town.