Washington DC We've rounded up the best diet busters in the District -- unless you weren't really on much of a diet to begin with, in which case you can just consider these "amazing snacks". Some you can pop in your mouth and pretend it didn't happen, while others are so messy, it's impossible to dig in discreetly.
Recommended Video
This Car Wash Serves Up Some of NYC's Best Donuts
Pot Pie Fritters
Boss Shepherd's, Penn Quarter
These balls of nostalgia catapulted to nearly instant fame when Boss Shepherd's opened this Summer. Everything you'd find inside a chicken pot pie is encased in fried awesomeness in this uber-comforting dish. And it gets better -- the fritters sit atop homey sage sausage gravy. Continue Reading
Ice Cream Grilled Cheese
GCDC, Downtown
DC's top-notch grilled cheese joint went a little overboard, but in a very good way -- they're now serving ice cream grilled cheese sandwiches for dessert. Initial skepticism gives way to supreme satisfaction after just one bite. The "ice cream" is actually constructed from cream cheese and has the texture of a semifreddo. Pictured is the cinnamon-apple version served on brioche French toast. Get them from 4-9pm.


Fried Potato Tots
Food Wine & Co., Bethesda
We've found the best tater tots in the DMV. They're in Bethesda, and well worth the trip. Tiny pillows of mashed potatoes are boosted by Gruyere cheese, giving them a little funk before they hit the fryer. The spicy ketchup makes them all the more addictive.
Kill it Skillet
Nage, Logan Circle
When you're hangry and hungover, reach for this decadent dish come brunch: the Kill it Skillet, loaded with orecchiette mac n cheese, chorizo, bacon, truffle frites, and a giant fried egg. If this doesn't cure what ails you, nothing will. For best results, bust that egg open immediately and repeat to yourself -- just this once.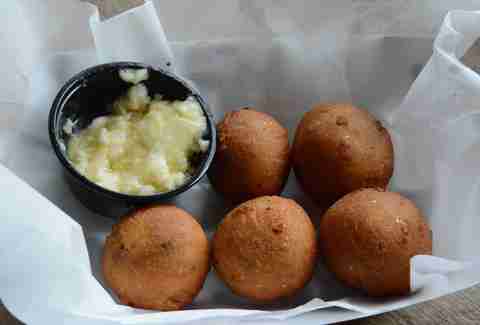 Hush Puppies With Goat Cheese
Fat Pete's BBQ, Cleveland Park
So many restaurants have their version of these dog-quieting snacks, but to date, Fat Pete's BBQ does them the best. That's because they're stuffed with goat cheese and smoked poblano peppers. Be sure to dip 'em into the accompanying apple honey butter to get that hush puppy sweetness.