Vietnamese Chefs in DC Share Their Lunar New Year Traditions
And the best places around DC to try Vietnamese dishes.
Lunar New Year is celebrated by myriad cultures around the world and, for Vietnamese families, it means three things: family, tradition, and a huge feast.
"Tet Nguyen Dan" or "Tet" takes place from the first day of the first month of the Lunar calendar to the third day (this year, February 12-15). The days leading up to Tet are full of bustle—people shopping, traveling to return home, cleaning their homes, and cooking traditional food meant to bring prosperity. Expect to see a lot of red and yellow flowers around this time, as Vietnamese believe the colors will bring good fortune.
You can get a taste for it all at Huong Binh, a bakery and deli that has called the Vietnamese hub Eden Center home since the early 1990s. "It is a very festive time of year in Vietnam," says Huong Binh owner. Quong Le. "There's lots of open-air markets for flowers, paper, and other typical items that are purchased at this time. We try to capture that spirit in the store with flowers and gift envelopes and other items families purchase for the New Year."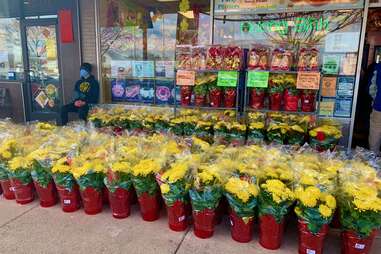 Typically, Eden Center hosts a large celebration with fireworks and dancers to recreate the atmosphere of Vietnam. But things look a little bit different with the COVID-19 pandemic and the center will be featuring a much more scaled-down version. Of course, food plays a very important role, too.
"Bánh chưng is a traditional food that we typically eat during this time, which is basically sweetened rice with mung beans and pork," Le says. "Typically, this takes many hours to cook and we eat it with pickled radish. They are wrapped in banana leaves and look like beautiful packages." Le also mentions that candied fruit (coconut, mango, ginger), known as "mut" is also served to guests. At Huong Binh, they import these candies from Vietnam and are one of the few places in the area to carry this special treat.
For a true Vietnamese experience, it helps to know what ingredients to shop for, traditional dishes to make, and maybe have a friend in the know help you along the way.
"Because these dishes are traditionally ingrained in almost all Vietnamese families for a long time, we either make them at home or know of a relative/friend who would provide them per request before Tet," says Khuong Nguyen, manager at 1914 by Kolben, a Vietnamese restaurant in Shaw that is offering a set menu for Tet. "These can be commonly found at most Vietnamese markets in the Eden Center. This is the reason for families to come together during this time, to provide these edible offerings as a form of blessings to each other."
Family gatherings and an overabundance of food seem to be the throughlines when chefs share memories about Tet.
"There is always too much food," says Chef Kevin Tien of The Wharf's contemporary Vietnamese restaurant Moon Rabbit. "My grandmother usually makes a whole steamed fish with lots of aromatics, and my mother fries up a lot of spring rolls."
A special tasting menu created for the New Year celebration at Moon Rabbit includes a version of his grandma's fish—whole roasted Branzino with sautéed snow pea leaves, scallions, garlic chili soy, and forbidden black rice. And diners are in for a special treat, too.
"Typically, the elders of the family give out red envelopes with money to the kids," Tien says. "We are recreating this at the restaurant with a little something for every diner." Giveaways include $100 gift certificates, an overnight stay at the hotel with a private Moon Rabbit dinner for up to four guests. "In addition, traditionally moon cakes filled with bean paste are eaten for New Year, but I'll be giving guests egg tarts. I love them."
While you may not be able to pack your bags and have a real deal experience in Vietnam, here are spots where you can get a taste for it right here in DC.
The Wharf
Chef Kevin Tien has prepared a special tasting menu available February 11-14. The tasting menu includes Hamachi Crudo to start, whole roasted Branzino with sautéed snow pea leaves, scallions, garlic chili soy and forbidden black rice, followed by salt and pepper churros with tamarind caramel and miso cremeux for dessert.
How to order: Book a table via Resy.
Shaw
Although closed on Lunar New Year, look out for Tet specials that will be offered on the website. A relative newcomer, 1914 is popular for its rice and noodle dishes, barbecued pork, and Vietnamese egg coffee.
How to order: Make reservations online.
Falls Church, Virginia
Pick up traditional rice cakes, flowers, and candies for a home celebration. The bakery inside Eden Center also serves up a full menu of Vietnamese specialties, so pick up platters of spring rolls, fried rice, barbecued pork and more. This would be the perfect spot to experience some of the festivities around the New Year.
How to order: Visit the bakery, and 125 other eateries, at Eden Center. Masks required.
Falls Church, Virginia
Four Sisters was one of the pioneers of the Vietnamese restaurant scene in the city, and now has a standing location inside Merrifield's Mosaic District. Crispy spring rolls, a plethora of rice and noodle dishes, and tasting menus that are family-style feasts are popular.
How to order: Order takeout and delivery online.
Wheaton, Maryland
Mi La Cay is the spot to go for Maryland folks—the beef noodle soup (bun bo hue) is one of the best around. Other noodle and grilled dishes and traditional Vietnamese fare like banh mis are on point here as well. If you like duck, you'll love the duck soup with egg noodles.
How to order: Open for takeout and outdoor seating.
Vienna, Virginia
Popular with suburbanites in Vienna, this family-run establishment has a loyal following for its famed pho and summer rolls.
How to order: Order takeout online.
Falls Church, Virginia
A family-friendly Eden Center standout, Hai Duong excels at clay pot rice, shaky beef, and pho.
How to order: Visit Hai Duong, and 125 other eateries, at Eden Center. Masks required.
Multiple locations
With multiple locations around the DMV, this is easily the most well-known pho shop around here. The spot specializes in pho and it's pretty much all it does.
How to order: No frills, cash only.
Falls Church, Virginia
Another Eden center standout, Rice Paper's extensive menu is solid end to end, but the broken rice dishes and the hot pot is a crowd favorite.
How to order: Visit Rice Paper, and 125 other eateries, at Eden Center. Masks required.
Falls Church, Virginia
Long lines are the norm here inside this Eden Center café that specializes in homemade tofu. The deep-fried lemongrass version is especially popular and has converted many a tofu skeptic.
How to order: Visit Thanh Son Tofu, and 125 other eateries, at Eden Center. Masks required.
Aparna Krishnamoorthy is a freelance food and travel writer based in Washington DC. You can generally find her obsessing over the next meal or planning the next getaway. Follow her on Instagram and Twitter for more dining and wanderlust adventures.