The Best International Eats in the DMV
Laura Hayes/Thrillist
Laura Hayes/Thrillist
Restaurants like Rasika, Little Serow, Makoto, and Ethiopic are wedding day versions of the ethnic cuisines they serve -- they're toned, polished, best-ever iterations instead of the real thing. That's not what you'll find here. Instead, we give you the real thing. You may have to navigate a language barrier, suck on a faucet of water to combat explosive spice, fight traffic on I-66, or mess with off-cuts of meat, but it will be worth it. These are the 18 best budget ethnic eats in the DMV, broken down by cuisine.
El Salvadorian: <a href="http://www.thrillist.com/venues/eat/washington-dc/restaurants/el-rinconcito-cafe" target="_blank">El Rinconcito Café
Mt. Vernon Square
This small corner cafe (see we can use Google translate) brings the pupusas. So many pupusas, and none cost more than $3. But you'd have to be a gringo to think masa formed into a flying saucer and stuffed with meat and cheese is the only pinnacle of El Salvadorian food. Tostones, chicharrones, ropa vieja, and chimichangas make for fine chow, too. But if you want to experience the best of the best, go with a group and get the Super Boca Mixta with fried pork, chicken wings, taquitos sonora, mixed pupusas, fried calamari, and Salvadoran sausage for $32.95. And, don't forget they serve breakfast.
Ethiopian: <a href="http://www.thrillist.com/venues/eat/washington-dc/restaurants/zenebech-injera" target="_blank">Zenebech Restaurant
U Street/Shaw
Zenebech began as a bakery in 1993, so you know the injera is good. The husband and wife team of Zenebech Dessu and Gebrehanna Demissie were distributing the spongy, sour bread to markets and restaurants throughout town until their success dictated a larger location (where they are today). In 2000, they began to serve food little by little until they got to the robust menu they offer today. Try as much as possible in one visit by ordering the $14 mehaberawi sampler platter with four veggie and four meat dishes including kitfo and doro wot. Then there's gored gored for more adventurous eaters. It's similar to kitfo in that the beef is raw and blessed with butter, but instead of being ground fine, the rare meat is served in cube form. Most people see Zenebech as a carry-out, but there are a handful of tables to dine in.
Taiwanese: <a href="http://www.thrillist.com/venue/eat/washington-dc/restaurants/a-j-restaurant" target="_blank">A &amp; J Restaurant
Annandale & Rockville
To experience the deep bench of pleasures A&J Restaurant offers, you'll need several visits. But start with the greatest hits: a thousand layer pancake that doesn't exaggerate; pan fried pork dumplings verging on perfection; and the pièce de résistance spicy beef noodle soup starring the restaurant's signature rustic, hand-cut noodles so springy you'll think about that trampoline mom never bought for the backyard. On subsequent visits, dive deeper into the dim sum menu or consider a breakfast of Chinese churros.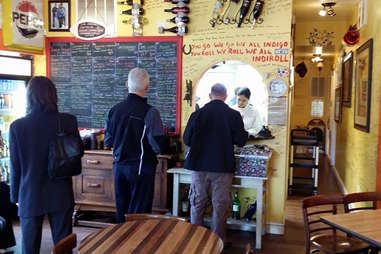 Indian: <a href="http://www.thrillist.com/venues/eat/washington-dc/restaurants/indigo" target="_blank">Indigo
NoMa/H Street NE
Yes, Rasika brings it with their truffle naan, lobster hot pot, and James Beard nods for their esteemed chef, but we're looking for is everyday, authentic eats that don't require a blazer, remember? For that, there's Indigo's enormous blackboard of home-style Indian cuisine ranging from mild to I-don't-care-I'd-drink-the-Potomac-right-now heat. Adding to Indigo's charm: The thali comes out on cafeteria trays; there are painted picnic tables resembling a beer garden; and a quaint outdoor bar. Don't overlook the vegetarian options, especially the kadhu pumpkin -- a dish so spicy it'll likely come with a warning.
Greek: <a href="http://www.thrillist.com/venue/eat/washington-dc/restaurants/greek-deli" target="_blank">Greek Deli &amp; Catering
Dupont Circle
Kostas Fostieris is a household name if your career has ever taken you through a stint in a Farragut or Dupont office building. The take-out counter has been drawing lines since 1990. That's the year The Simpsons first aired, so you can trust that Kostas has perfected his stick-to-your-ribs recipes by now. You're getting the avgolemono soup if you're sick or sad; the moussaka is you're ravenous; a gyro if you have an impending conference call; and a loaf of homemade bread if you know what's good for you. Gain employee of the month status by bringing some rizogalo (Greek rice pudding) back to the office with you.
German: <a href="http://www.thrillist.com/venues/eat/washington-dc/restaurants/cafe-mozart" target="_blank">Cafe Mozart
Downtown
The best way to experience this sausage party is with a sampler platter. That's how you'll get to try a selection of Cafe Mozart's 11 different franks along with German potato salad, red cabbage, and sauerkraut. Other top picks at this old standby include stick-to-your-ribs plates like chicken schnitzel, sauerbraten, and beef goulash. You should feel like you're in a real beer hall thanks to German brews and the live music. Just push past the deli to find the seated restaurant, and don't skip dessert.
Korean: <a href="http://www.thrillist.com/venues/eat/washington-dc/restaurants/yechon-korean-japanese-restaurant" target="_blank">Yechon Restaurant
Annandale
Short of your Korean grandmother's house or your buddy's Korean grandmother's house, Yechon is your best bet for Korean because they're open 24hr and have a bevvy of Korean dishes that go beyond BBQ. Play it safe with bibimbap or bulgogi, or just drop a finger down onto the menu and see what shows up. We're partial to the cold buckwheat noodle dishes, pajeon pancakes, and kimchi jeongol. Another plus? They go balls out with banchan.
Dominican: <a href="http://www.thrillist.com/venues/eat/washington-dc/restaurants/los-hermanos" target="_blank">Los Hermanos
Columbia Heights
Ignore the set up at Los Hermanos because it might give you flashbacks to college dorm cafeteria days. We guarantee that the hearty mounds of mofongo and tender piles of meat will make up for the fact that it gets scooped in front of you. Choose a rice preparation, a side, and a meat dish for a meal that should take you straight to the Dominican Republic. The restaurant started as a small bodega in 1995 but then the owners started to cook, and BOOM a business requiring 300-400lb of rice a week was born. Be brave and try the oxtail or goat, you'll be rewarded, and never leave without an order of tostones.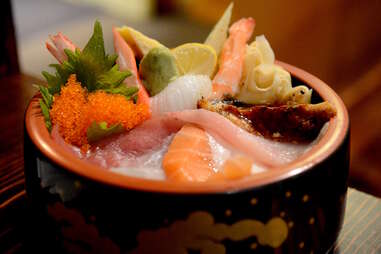 Japanese: <a href="http://www.thrillist.com/venue/eat/washington-dc/restaurants/kintaro" target="_blank">Kintaro
Georgetown
Don't expect ornate kaiseki cuisine here. Leave that showmanship to the Sushi Taros and Makotos of the world, and get to Kintaro for fast, affordable sushi that is precisely the kind of spot you'd pound a meal of before boarding a high-speed train in Tokyo. The lunch bento boxes are homey, the ramen is satisfying, and the sushi selection is standard but fresh. Order it chirashi style and wait for a jewel box to arrive at your tiny table.
Lebanese: <a href="http://www.thrillist.com/venues/eat/washington-dc/restaurants/me-jana" target="_blank">Me Jana
Arlington
Watch me whip at Me Jana, where your best bet is any dish that comes with the restaurant's signature garlic whip, which is like mayo on speed. This includes sujok -- the spiciest dish on the menu comprised of beef and lamb sausages that need the obligatory cooling bath the garlic whip provides. Other must-orders at this Lebanese eatery, named for a folk ballad about welcoming friends to reminisce, include the freakishly tender lamb shank, fried kebbeh, and lahem de ajeen (baked pita with ground lamb on top).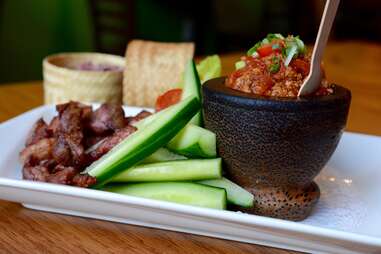 Thai: <a href="https://www.thrillist.com/venue/eat/washington-dc/restaurants/baan-thai" target="_blank">Baan Thai
Logan Circle
The best thing to happen Logan Circle since ChurchKey jumpstarted the neighborhood's cool-factor was when Tsunami Sushi decided to rebrand a bit and serve the Thai dishes the staff would eat together during family meal. Chef P'Boom is a major force in the kitchen when preparing food from her home region of Isaan. Each seasonal menu release pushes the envelope a little more, adding heat and tang. Take out is tempting, but be sure to dine in every once in a while to experience the stunning presentation of dishes like this Northern Thailand pork and tomato chili dip. Other can't misses: chicken stuffed in tapioca skin, tom yum noodle soup with roasted pork & ground chicken, and the coconut milk griddle snack.
Mexican: <a href="http://www.thrillist.com/venues/eat/washington-dc/restaurants/taqueria-nacional" target="_blank">Taqueria Nacional
14th Street
Things that are challenging: not hitting the drink during presidential debates, parking in Georgetown, and finding a Mexican restaurant that has both cheap food and decent drinks. We can only solve one of these. Taqueria Nacional will fill you up on food for a cool $10 in the form of tacos, quesadillas, and tostadas without skimping on the drinks. Boldly colored margaritas flow, so too do spiked agua frescas and drafts of Mexican beer. You might remember the taco shop from its Capitol Hill days, but now Taqueria Nacional fills an old post office on T Street NW in a space that's as sexy as Salma Hayek. Hit them for "prime time happy hour" during the week when drinks are deeply discounted from 7pm-close.
Yemeni: <a href="http://www.thrillist.com/venues/eat/washington-dc/restaurants/saba-restaurant" target="_blank">Saba' Restaurant
Fairfax
Lost and want to know where to start exploring Yemeni cuisine? Try Saltah, which some consider the national dish. It's a brown-meat stew that will fill you up with good feelings, along with cooked veggies and a fenugreek scented whipped froth that serves the same purpose as sour cream atop black bean soup. Though filling, it's crucial that you leave room for dessert because that's where Saba really shines. The bint as-sahn is bready, layered heaven, and the areekah uniquely combines bananas, fresh cream, purified butter, cheddar cheese, and honey. Adding authenticity are the various forms of seating at Saba'.
Lao: <a href="http://www.thrillist.com/venue/eat/washington-dc/restaurants/thip-khao" target="_blank">Thip Khao
Columbia Heights
"What should we get for dinner tonight, pizza, Chinese or Lao?" Chances are this question has never rolled off your tongue, but maybe it should. Thip Khao is helping put Laotian cuisine on the map, even scoring a spot on Bon Appétit's "50 Best New Restaurants." Ease into Lao with laab—a minced meat dish with explosive flavor thanks to toasted rice, scallion, cilantro, and mint. Or, try one of the curries or noodle soups whose flavors aren't a far off from Thai food (which, let's face it, you order weekly). Once you're ready to take on Chef Seng's "Let's Go to the Jungle Menu," laden with heat and offal, don't miss the spicy pig's blood sausage.
Peruvian: <a href="http://www.thrillist.com/venue/eat/washington-dc/restaurants/el-chalan" target="_blank">El Chalan
Foggy Bottom
What started as a carry-out in Arlington is now DC's oldest Peruvian restaurant. Pedro and Elsa Espinoza first opened the doors at their full-service restaurant on I Street NW in 1975, and they've been cranking out zingy ceviche, textbook lomo saltado, and cinnamon dusted pisco sours ever since. Get your grub on in the underground bunker decorated with black and white scenes from Peru and take in the service that's a warm embrace. As an added bonus, only three dishes will cost you more than a Jackson.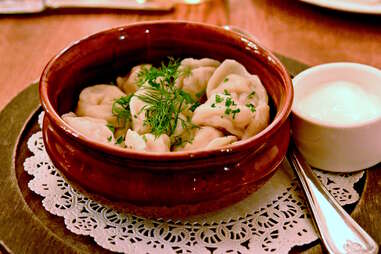 Russian: <a href="http://www.thrillist.com/venue/eat/washington-dc/restaurants/mari-vanna" target="_blank">Mari Vanna
Dupont Circle
Alex Ovechkin has a booth here. Enough said. Okay, okay, there's more to Mari Vanna's legitimacy than a devoted Russian hockey player and none have to do with pouty Putin. Namely: enough flavored vodkas to keep you tipsy for a year, warm meat pockets called pelmeni, brightly colored borsch, and an arsenal of smoked fish. As you chow down and drink up, be sure to take in your pink-hued surroundings because Mari Vanna kills it in the kitsch department. We shouldn't have to tell you, but the caviar service puts this meal outside the affordable eats realm. Fur coats encouraged.
Vietnamese: <a href="http://www.thrillist.com/venue/eat/washington-dc/restaurants/huong-viet" target="_blank">Huong Viet
Falls Church
Although we always deduct points for restaurants whose websites come with sound, Huong Viet is the undisputed Vietnamese champion (worth the drive). This boisterous, no frills fish sauce authority has been bringing the authenticity for more than 20 years and boasts a menu with 180 selections in Eden Center. Play it safe with spring rolls and pho or get something you can't find in DC proper like pork, shrimp & jellyfish salad; fried shrimp cakes and pork pate over steamed rice crepes; or a perfectly executed bún topped with grilled sugarcane shrimp rolls. Wash everything down with "33" Vietnamese beer or a creamy avocado boba.
Moroccan: <a href="http://www.thrillist.com/venues/eat/washington-dc/restaurants/fettoosh" target="_blank">Fettoosh
Ballston
Fettoosh hits all the mom & pop marks, the most important being that the soul satisfying food tastes like someone's Moroccan Jiddah made it. Though the restaurant also dabbles in Lebanese, you're sticking to the Moroccan menu full of flaky bastilla, warming tagines, and filling couscous dishes. Order a full pot of Moroccan mint tea (often poured from high above your head) and stay a while, or take your food to-go and enjoy it alongside your favorite bottle of wine at home.
Sign up here for our daily DC email and be the first to get all the food/drink/fun in town.

Laura Hayes is a DC-based food, drink & travel writer who also contributes to Washington City Paper, Food Network, Arlington Magazine, and others. She believes plastic utensils signify a good meal. Follow her on Twitter @BTMenu.