Watch our editor drink 8 "Choctails" and go insane
The new Max Brenner Chocolate Bar on Bethesda Row has eight different frozen chocolate elixirs, aka "Choctails". And because of journalism (and our duty to you, the reader), we sent our editor to taste his way through every single one of them, even if it meant slowly going insane in the brain (freeze). The tasting notes and gradually crazier pictures are below: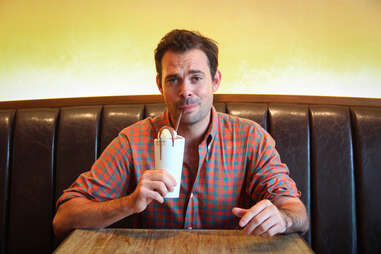 #1. Eighties Milkshake
A smooth blend of milk chocolate ganache, vanilla ice cream, and Molly Ringwald freckles a nostalgic crunchy chocolate shell. This is easy. I could drink these things all day.
#2. Salted Caramel Milkshake
Also with milk chocolate ganache, vanilla ice cream, and caramel, the SCM gets a bit more robust with sea salt and whipped cream for that salty-sweet kick all the kids are craving these days. Oh, look at that: they also have chocolate fondue on the menu.
#3. The Cookieshake
The awe-inspiring, great Cookieshake is white chocolate ganache, Oreo cookies, and ice. Delicious? Yes, but it's looking at me weird, right? You guys see that?
#4. Chocolate Hazelnut Milkshake
You're never going to guess, but this one has milk chocolate ganache (!!), vanilla ice cream, and chocolate-hazelnut, making it almost like sipping a frozen Nutella sandwich. Wait, am I sipping a frozen Nutella sandw-- oh sh*t, I think I see Barbara Mikulski on her way to lunch!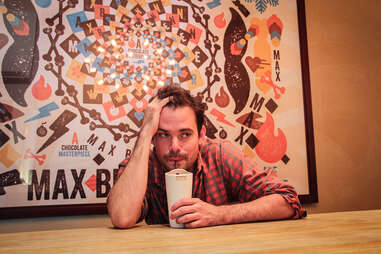 #5. Pure Chocolate Granita
It's just pure chocolate granita and ice. Brain feels like an oyster served up on a plate of shaved ice. And pure chocolate granita.
#6. Chocolate Espresso Milkshake
Need the espresso to kick in. I'm having daydreams that I'm riding down a highway filled with signs for diabetes medicine. Tom Cochrane is also there.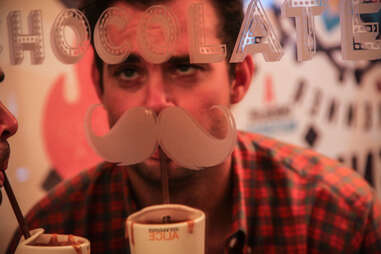 #7. Peanut Butter Granita
Peanut butter chocolate delight ice frozen mustache funny inner sadness life choices.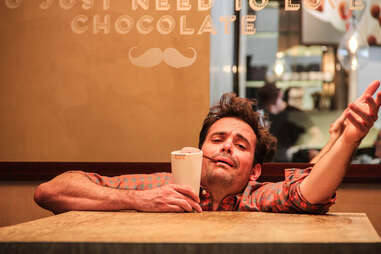 #8. Strawberry White Chocolate Smoothie
Editor's Note: Shortly after consuming the strawberry and yogurt number you see here, we cut him off and called both his mother and Barbara Mikulski to pick him up and take him home.