This boxing-happy joint's stuffing burgers with mac and cheese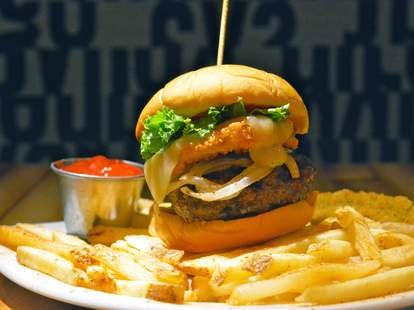 George Foreman proved that combining boxing and food can be a winning move, but thankfully there's no calorie cutting at TKO Burger, blending the sweet science with juicy burgers, beers, and booths with built-in flat-screens. Here are some other reasons why it's sure to be a... waitforit... knockout!
Owner Lance London is so boxing obsessed that the May 3rd grand opening will coincide with the Floyd Mayweather Jr. vs. Marcos Maidana matchup. London amassed an arsenal of boxing memorabilia for the restaurant, and even had a model of Mike Tyson custom made in Australia. The Baddest Man on the Planet is in a locked display case, so don't try to take him!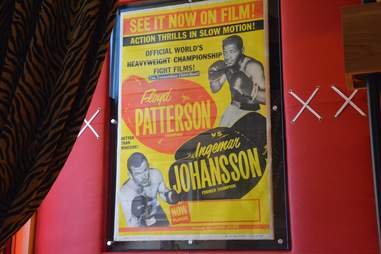 London may like Floyd "Money" Mayweather Jr., but he also digs Floyd Patterson. Why else would he pay $3,800 for a poster and then surround it like a shrine with an enormous custom-made boxing glove? Yea, that's real leather.
As you're waiting in line to order, look left to study the history of boxing. London's got everyone from Don King and Manny Pacquiao to local female boxing legend (and attractive person) Isra Girgrah Wynn lined up on a wall of fame. You might learn a thing or two (like what Robert De Niro used to look like).
Once you choose from 14 between-the-bun options and sides typically found at a cookout, TKO Burger will announce your order over an old-school ring announcer mic.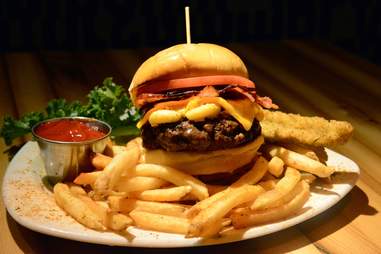 What you're ordering: The Mac 'N Cheese Burger
This haymaker has cheddar, jalapeño bacon, tomato, BBQ sauce, and mac and cheese oozing its way out. This isn't just any mac and cheese. TKO Burger benefits from having Carolina Kitchen, also from Lance London, as their next-door neighbor. They're nice enough to share their Southern, soulful mac for the benefit of this burger.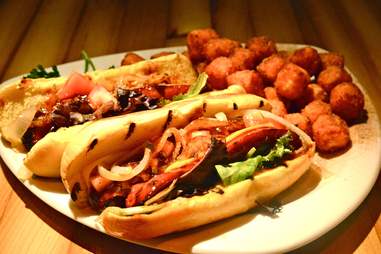 What you're ordering: The Spanky's BBQ-Cheddar Hot Dog
It will be the best processed meat you've ever had, so it's a good thing an order comes with two. But more importantly: SWEET POTATO TOTS DUSTED WITH CINNAMON AND SUGAR. They're more donut than tot, so prepare to make a regular pilgrimage to TKO Burger just for these addicting one-bite wonders.
What you're ordering: The Jerk Burger
You don't have to be channeling Steve Martin to order this 8oz Angus patty topped with arugula, grilled pineapple, red onion, sautéed red peppers, and mango habañero sauce. It's like a vacation, only you're still in Northeast, DC.
What you're ordering: The Soft-Shell Crab Burger
This undercard is worthy of some serious attention. Yeah, Black Angus is bomb, but TKO Burger has put a deftly fried delicacy from the sea between two pieces of bread and served it up with coleslaw, sweet potato fries, and potato salad.
Chances are you've made a complete mess trying all these overstuffed burgers and burying your face in an endless supply of fries. Not to worry, you can straight up wash your hands right in the middle of the restaurant while looking at a model of a ship.
Visit TKO Burger at 2350 Washington Place NE next to the Rhode Island Ave-Brentwood Metro stop. They'll be open Sun-Thurs 11am-10pm and Friday-Sat 11am-Midnight.