Breakfast is the most important meal of the day, but all too often it gets upstaged by its flashier half-sibling, brunch. While that hybrid meal has its charms, there's something to be said for hot black coffee and a sensible power breakfast to fuel a day of productivity instead of the pomp and circumstance of a two-hour date with a pitcher of mimosas. Maybe that's wishful thinking, but either way, these 12 DC spots prove that breakfast is worth waking up for every day of the week.
Mt. Vernon Triangle
As its cheeky name implies, the sister store to Baked & Wired has got baked goods covered. The diverse breakfast menu features morning sandwiches like the biscuit sammie with meat and cheese, toast with spreads of your choosing, quiche, oatmeal, and, of course, baked goods galore. Pastries are only available while they last, so you'll have to wake up early to secure your croissants, cinnamon rolls, coffee cakes, and scones. With a tea list as elaborate as the coffee selection, leaf lovers aren't marginalized here.

Breakfast served: All day, weekdays from 7am, weekends from 8am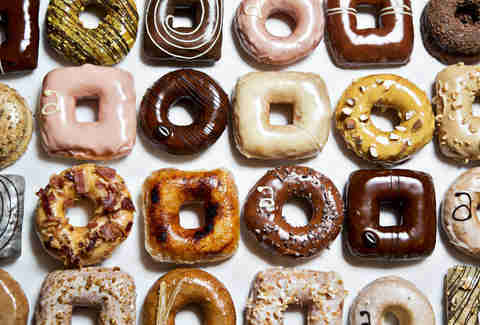 Downtown and Falls Church
The obvious choice at Astro is one of the eatery's namesake donuts, decked out in vanilla glaze, maple syrup, and bacon, or peanut butter and jelly. Even once you become a regular here, you can still keep things interesting with the rotating monthly flavors that are creative as heck. But if you're not in the mood for sweets, there's always fried chicken or wings to give your arteries a nice jolt/clog to start the day.

Breakfast served: All day, weekdays from 7am, weekends from 8am
Arlington
Chef David Guas brings his New Orleans heritage to town with Southern comfort fare at Bayou Bakery. At his Court House shop, you'll find NOLA puns, pastries, and plates. It's basically a requirement to down a couple (OK, 12) beignets, which are available all day. Then complete your balanced breakfast with buttermilk biscuits with any fixin's you please.

Breakfast served: Weekdays from 7-11am, weekends all day from 8am
West End
For a breakfast to remember, splurge on the Michelin-starred Blue Duck Tavern's over-the-top morning spread. You might be sitting next to Washington's power players, but don't let that stop you from ordering something from every category of the comprehensive menu. There's the sensible section of balanced fare, fruit, and yogurt, as well as omelets, hashes, and Benedicts, but the true pleasure lies with the batters. Can you even call a coconut macaroon waffle or s'mores French toast breakfast? We can, and we will.

Breakfast served: Daily from 6:30-10:30am
H St NE
Despite their decades-long dominance over the New York breakfast scene, bagels have only started to take root in DC. At the forefront of the movement are bakeries like Bullfrog Bagels, a New York-style bagel pop-up located inside Star & Shamrock from 7am-1pm, every day but Monday. Bullfrog's bagels are everything a proper NYC bagel should be: hot, chewy, and eaten with a thick layer of cream cheese, lox, pastrami, and whitefish salad.

Breakfast served: All day, weekdays from 7am, weekends from 8am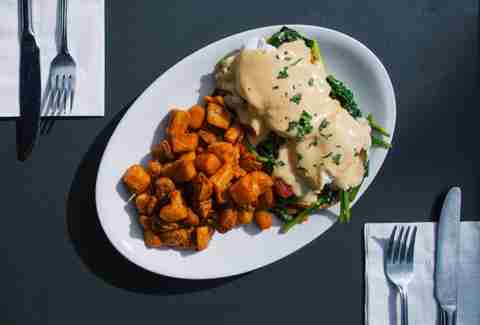 Adams Morgan
Sometimes, you want breakfast for dinner, and that's OK, because you're an adult. At The Diner, you can get breakfast whenever you damn well feel like it, day or night. The eatery's chefs serve up heaping helpings of pancakes, French toast, and vegetarian-friendly omelets and scrambles like IHOP, but without the cheesy photo menus.

Breakfast served: 24-7
Columbia Heights
This no-frills soul food joint is an institution for a reason. It's been slinging hot cakes and eggs since before you were born, so it's safe to say these folks know their way around a griddle. Don't ask questions, just order Miss Bertha's Breakfast Special and prepare for your dining dreams to come true. Choose hot cakes or French toast, eggs any style, a breakfast meat, and a side of apples, home fries, or grits.

Breakfast served: All day, Tuesday-Sunday from 8am
Penn Quarter
Was Abraham Lincoln into waffles? We're not sure, but if he was, and had access to a time machine, he'd probably dine at Lincoln's Waffle Shop, a short-order diner located across the street from Ford's Theatre. Like many classic diners, the menu is short and the food is filling. In addition to the usual egg-and-pancake fare, this diner's cooks whip up crispy fried chicken and waffles the size of frisbees, both ready to be drowned in a sea of maple syrup.

Breakfast served: All day, from 5:30am daily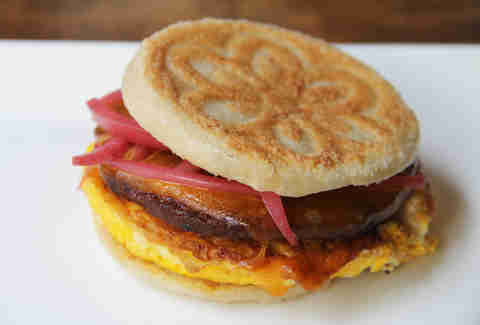 Penn Quarter
Red Apron's breakfast sandwiches pack a powerful protein punch. Combinations like the Buenos Dias -- made of egg, chorizo, pickled onion, and sour cream -- will leave you stuffed all morning. Other choices include the aptly named Patriot: a star-spangled banner of bacon or sausage, egg, and American cheese, and the house-made scrapple sandwich served on a toasted baguette and dripping with maple hot sauce.

Breakfast served: Weekdays from 8:30-11am, weekends from 9am
14th St NW
Avocado toast may still seem trendy to some, but these open-faced creations aren't just for the bougie among us. Slipstream's thick-sliced toasts come coated in toppings like harissa hummus, smoked salmon, and, of course, avocado with goat cheese mousse. It also has breakfast sandwiches, including poached egg on brioche and frittata on baguette. Wash them all down with a hot cup of Madcap Coffee.

Breakfast served: Weekdays from 7am
Falls Church and Vienna
Breakfast tacos can be enjoyed any hour of the day, but they're arguably best before noon. Chef Victor Albisu makes a mean version with chorizo, egg, cheese, crema, guacamole, and pico de gallo, but don't sleep on his other Mexican morning creations. Chilaquiles, huevos rancheros, or a breakfast sope will keep you going all day -- until your next taco craving, that is.

Breakfast served: All day, from 8:30am daily
LeDroit Park
The Royal received a Michelin Bib Gourmand award last year, but it didn't go to its head. This coffee shop-bar-restaurant hybrid is still a laid-back neighborhood hang that can be anything you want it to be, depending on the time of day. In the morning, you can grab a quick latte, post up with pastries, and take advantage of free Wi-Fi, or stuff your face with breakfast sandwiches, arepas, bagels, and more.

Breakfast served: Weekdays from 8am-12pm, weekends from 8am-1pm
Sign up here for our daily DC email and be the first to get all the food/drink/fun in town.