Breakfast is the most important meal of the day, but all too often it gets ignored thanks to its flashier half-sibling, brunch. While brunch is not without its charms, there's something to be said for seeking out some hot, black coffee and the opportunity to eat your own weight and eggs and bacon without the commotion that is hour-plus table waits and excessive mimosa consumption. These nine DC joints prove breakfast is a meal worth waking up for all week long.
Florida Ave NW
Plenty of cafes get breakfast wrong. Sure, there's always coffee. And most cafes serve pastries and bagels in the early hours. But where's the breakfast? The eggs, the sausage, the bacon! Luckily, Blind Dog Cafe gets that part right. Each weekday until 11am (and all day on weekends), the cafe's kitchen serves up legit breakfast sandwiches bedecked in eggs, bacon, chorizo, and mushrooms on buttery, flaky croissants. And it's a purchase you can feel good about, as almost all of the kitchen's ingredients come from local farms and purveyors.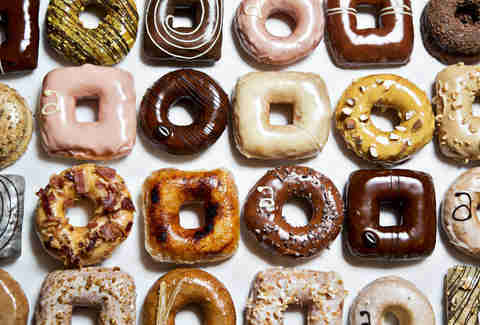 G Street NW
The obvious breakfast choice at Astro Doughnuts & Fried Chicken is one of the eatery's namesake donuts, bedecked in vanilla glaze, maple syrup & bacon, and peanut butter & jelly. But if you're sick of sweets, Astro has a trump card in its donut deck: the honey butter fried chicken breakfast sandwich. "For breakfast?!" asked the doubter. "Absolutely," answered the rational person.

Capitol Hill
Despite being located on Capitol Hill, Jimmy T's place is still sort of a secret. The eatery is a classic greasy spoon complete with a lunch counter and generous diner portions. Eggs and bacon and coffee and creamer rule the day here. Despite the no-frills appearance, Jimmy T's does offer one gimmick: the coffee arrives hot and fresh in eclectic, mismatched thrift store mugs.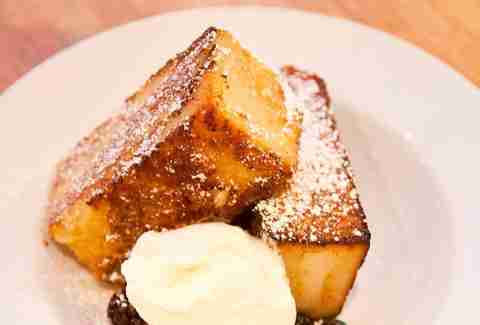 Adams Morgan
Sometimes, you want breakfast for dinner. And that's okay, because you're an adult. At The Diner, you can get breakfast whenever you damn feel like it. Day and night, 24/7, the eatery's chefs sling heaping helpings of pancakes, French toast, and vegetarian-friendly omelets and scrambles. It's like IHOP, but without the waitresses who smell like cigarettes and the creepy 2am truckers.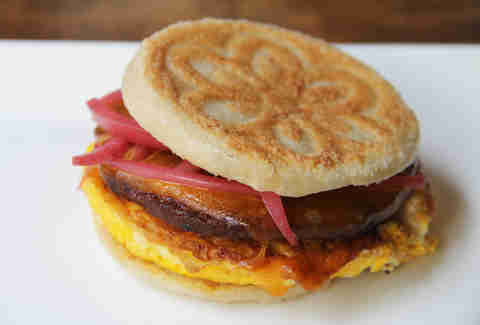 Penn Quarter
Red Apron Butchery's regular breakfast menu has but seven items on it, all sandwiches. But each of the shop's seven sandwiches pack a powerful protein punch. Combinations like the Buenos Dias -- made of egg, chorizo, pickled onion, and sour cream -- wage war on early morning hunger. Other choices include the aptly named Patriot: a star spangled banner of bacon or sausage, egg, and American cheese, and the house-made scrapple sandwich served on a toasted baguette and dripping with maple hot sauce.
14th St NW
When Slipstream and its artisanal toasts landed in DC last October, critics proclaimed it the end of the world. But that was before they actually tried the toast. Once the initial shock wore off, some local eaters proclaimed the coffee shop's toast the biggest thing since, well, sliced bread. The thick-sliced pieces of toasted bread come coated in toppings like house-made apple butter, goat cheese, and poached eggs, and can be washed down with a hot cup of the shop's farm-sourced coffee.

Multiple locations
District Taco's breakfast tacos, despite being served all day, are best eaten at breakfast. Flour tortillas serve as vessels for eggs, cheese, potatoes, and an unlimited amount of toppings like garlic-lime rice, black or pinto beans, and pico de gallo. With meal in hand, diners can dress their own tacos at a salsa bar stocked with four different salsas.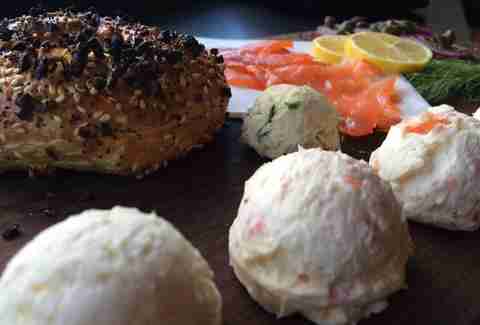 H St NE
Despite its decades-long dominance over the New York breakfast scene, bagels have only started to take root in DC. At the forefront of the movement are bakeries like Bullfrog Bagels, a New York-style bagel pop-up located inside Star & Shamrock from 7am-1pm, every day but Monday. Bullfrog's bagels are everything a proper NYC bagel should be: hot, chewy, and eaten with a thick layer of cream cheese, lox, pastrami, and whitefish salad.
Penn Quarter
Was Abraham Lincoln into waffles? The question may haunt historians for years to come. But if he was, and if he had access to a time machine, Lincoln might dine at Lincoln's Waffle Shop, a short-order diner located across the street from Ford's Theater. Like many classic diners, the menu is short, and the food is filling. In addition to the usual egg-and-pancake fare, this diner's cooks sling crispy fried chicken and waffles the size of frisbees, both ready to be washed away in a sea of maple syrup.
Sign up here for our daily DC email and be the first to get all the food/drink/fun in town.