Want to eat brunch like an expert? We thought so. That's why we asked 10 DC-area chefs to dish on where they throw down food come Saturday and Sunday morning. The big takeaway? Chefs love dim sum. But if that's not your thing, there are plenty more chef-approved morning-eats to be had.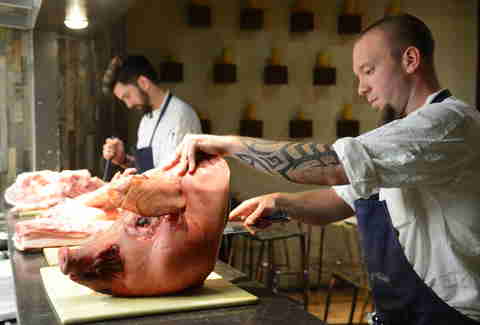 His pick: Estadio (address and info)
Logan Circle
Come the weekend, Kyle Bailey is "throwing down tomato bread" at Estadio. We don't blame him -- a slice or two is the perfect way to start a Sunday. Drink-wise, he starts with a slushito (a recent recipe featured cranberry, rye, and fernet). Another high point for the chef is the Spanish restaurant's soft scrambled eggs. They're served with goat cheese, mushrooms, and scallions -- a surprisingly light pick for someone who lives for pork.
His pick: Brasserie Beck (address and info)
McPherson Square
The king of PorKorn and Louisiana hospitality heads to Brasserie Beck for brunch, especially during patio season, because the outside area has that rare European breed of charm. David Guas is ordering their 8oz hanger steak served with scrambled eggs and Belgian frites, claiming it's perfectly marinated. Also, don't forget about the crab cakes Benedict (pictured). There's something balls-to-the-wall about their Béarnaise.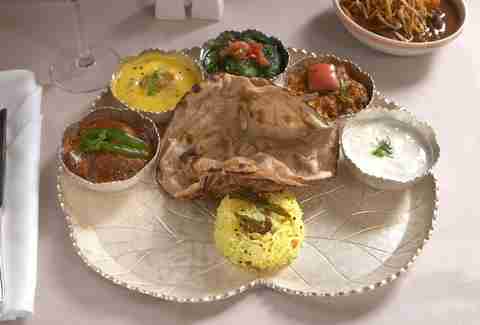 Chef Scott Drewno of The Source
His pick: Bombay Club (address and info)
Downtown
DC's dean of dumplings hits up Bombay Club's Sunday brunch buffet on the regular. "About $25 [$27.95] gets you all-you-can-drink sparkling wine, crazy good food, and there's a piano player," he tells us. Brunch is available from 11:30am-2:30pm, and you can expect to dip into seven main-course dishes, plus rice and naan.
His other pick: Hong Kong Pearl Seafood Restaurant (address and info)
Falls Church, VA
In case you're wondering, when Scott's not the one serving dim sum at The Source's Saturday dim sum brunch, he likes Hong Kong Pearl Seafood Restaurant in Seven Corners.
Chef Amy Brandwein of Centrolina
Her pick: Del Campo (address and info)
Penn Quarter
Amy Brandwein, of the forthcoming Centrolina (going into CityCenterDC this spring), digs Del Campo for brunch. "The flavors are just something you can't find anywhere else," she says. It happens to be the perfect brunch place if you like to get the meat sweats going in the morning. Case in point, Amy is ordering the omelette, laced with provolone, pork chicharrones, sweet potatoes, and spring onions. Her second pick? The polenta with morcilla, poached egg, manchego cheese, and salsa verde.
His pick: Oriental East (address and info)
Silver Spring, MD
Oddly enough, Nathan Beauchamp doesn't love breakfast food. So, it's all about dim sum, and his pick is Oriental East in Silver Spring. He snatches chicken feet, turnip cakes, and dumplings of all kinds off the roving carts. "Lots of Tsingtao and chrysanthemum tea" are also in order. Oriental East serves dim sum daily from 11am-3pm, but for cart-action you have to visit on the weekend (or holidays).
Chef Victor Albisu of Del Campo
His pick: Mintwood Place (address and info)
Adams Morgan
Mintwood Place is Victor Albisu's pick because it can swing both ways -- casual enough to bring the fam, or a solid special-occasion selection. He's ordering the breakfast sandwich with ham and scrambled eggs on a croissant, or Chef Cedric Maupillier's epic creation: the bacon and onion flammekueche (pictured). During brunch, you can get an egg on top for bonus excitement. It's basically a thin pizza, flavor-blasted with bacon. "I order both because it's a tough choice," Victor says. You should, too.
Chef Danny Lee of Mandu
His pick: Sok Jip (address and info)
Annandale, VA
"The heat and spice clears you up and makes you sweat," Danny Lee says. He's talking about the Daegoo Maewuntang at To Sok Jip in Annandale. The spicy codfish stew is served in a hot pot.
His other pick: The Source (address and info)
Penn Quarter
When he's not blasting his belly with fire in the suburbs, he's headed to The Source. Danny says the dim sum brunch is particularly memorable because of the bao buns and creative Bloody Mary cocktails.
His pick: Bread Furst (address and info)
Van Ness/Forest Hills
The perfect brunch for Cedric Maupillier means a trip to Bread Furst, the Van Ness bakery that pumps amazing smells out to the street. "We pick up everything to-go and drive to a sunny spot around DC to enjoy a picnic brunch," he says. A typical meal for the chef includes "a nice buttery croissant with crunchy ends, a toasted English muffin with succulent seasonal jam, a couple of those ham and cheese scones, and always a jambon beurre with cornichon." Plus, a cappuccino.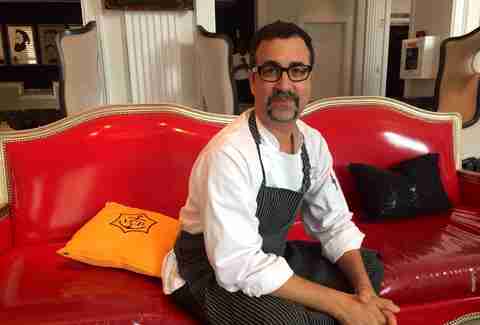 Chef Barry Koslow of Pinea
His pick: Mark's Duck House (address and info)
Falls Church, VA
"Skip the eggs Benedict and bring on Mark's Duck House dim sum," Barry Koslow implores. He and his wife try to toss back as much dim sum as they can, and they named Mark's as their favorite. The Falls Church spot is always jam-packed and bustling with energy. "The food never stops flowing and I'm a sucker for dumplings, any dumplings." As a precursor to an afternoon nap, he also recommends the honey-glazed crispy duck, Chinese broccoli, and noodle soups. They've been at it for 20 years, so you can trust them.
His pick: The Coupe (address and info)
Columbia Heights
Like Chef Barry Koslow, Matt Adler can't get enough Mark's Duck House dim sum. But when he's not tearing into dumplings, he heads to The Coupe in Columbia Heights for Bloody Marys and hash browns. He admits an amorous advantage -- his wife serves as The Coupe's pastry chef. As a big bonus, brunch there is weekends from 6am-6pm. That's 12 hours of ordering the hash brown bowl with sautéed onions, mushrooms, bacon, cheddar, jalapeños, and egg.
Sign up here for our daily DC email and be the first to get all the food/drink/fun in town.