Washington DC Any plans you had to get in shape this Summer might as well be abandoned at this point, as the season is rapidly drawing to a close. Might as well go the complete opposite direction. Your weapon of choice? The best burger and shake combos this city has to offer. See if you can work your way through these five.
Recommended Video
Make This Apple Brandy Elderflower Sparkler for Your Next Fancy Party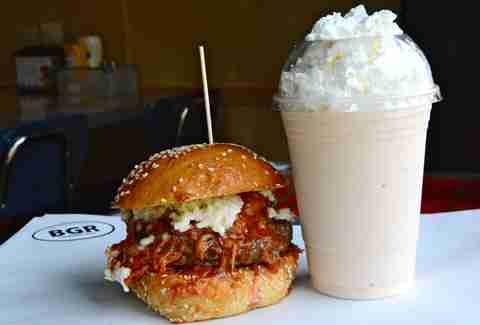 BGR: The Burger Joint
Dupont Circle/Bethesda/Alexandria/Arlington and Beyond
Wanna feel like Summer just punched you straight in the gut, but in the best possible way? Get in on these BGR monthly specials: a BBQ pulled pork and creamy coleslaw-topped prime, dry-aged beef patty paired with a super-thick peach shake. Whipped cream is optional. So, yeah, it's topped with whipped cream. Continue Reading
Shake Shack
Dupont Circle/Union Station/F Street and Beyond
This combo goes out to the King of Rock and Roll. Order the SmokeShack Cheeseburger topped with all-natural applewood-smoked bacon, chopped cherry peppers, and ShackSauce. Then, if you haven't guessed, tack on a peanut butter shake. It tastes like a REESE'S Peanut Butter Cup got hot and melty with some milk. Elvis loved his bacon & peanut butter. This is BYO banana, though.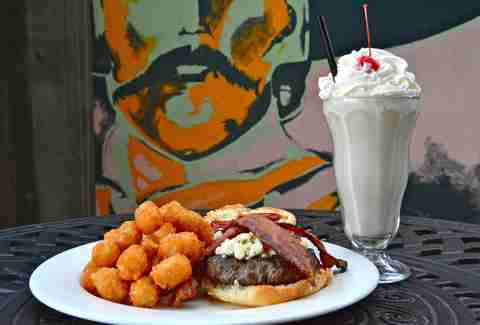 Satellite Room
U Street
The Satellite Room kicks the previous shake up a notch by adding alcohol. The Linus Van Pelt at The Satellite Room combines peanut butter with George Dickel No. 12 Tennessee whisky. It's unreal when sipped alongside their Smoke Stack Burger. The patty is dressed in chipotle BBQ sauce, smoked bacon, and blue cheese. They have a mean patty melt too, if you're sick of all this bacon business.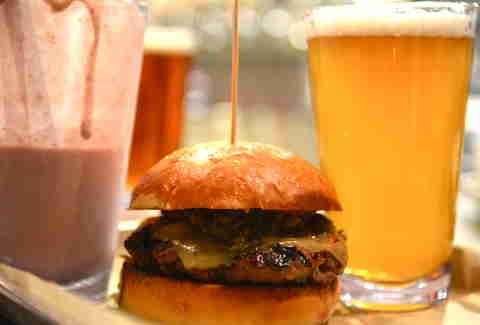 Burger Tap & Shake
Foggy Bottom
You want the Apache Sweat Lodge when you come here, trust us. It'll clear the Summer haze right from your head with its fire-roasted green chilies, pepper jack cheese, smoked onions, and spicy XXX sauce. Cool down with the Stag Party, a boozy shake made with Jim Beam Red Stag bourbon, Leopold's Michigan Tart Cherry liqueur, and vanilla ice cream. This is one of those instances where it's completely encouraged to drink pink drinks.


Good Stuff Eatery
Capitol Hill/Georgetown/Crystal City
This burger and shake is spiked in a different sense, thanks to Chef Spike Mendelsohn. His burgers are bomb -- especially the Prez Obama burger, because it's a night out at a fancy steakhouse between buns. A hockey puck-sized patty is topped with applewood bacon, onion marmalade, Roquefort cheese, and horseradish mayo. Try it with their signature toasted marshmallow shake.