Steak frites and boozy smashes at Spike Mendelsohn's new Cap Hill joint
You know Spike Mendelsohn from his being on TV, and your being a social butterfly and often rubbing elbows with people termed "big-wigs". But what you may not know is that his new steak frites spot, Béarnaise, is a bit more upscale than his other two Penn Ave joints. Lest you be intimidated by places with real napkins, don't be, as we've got you covered on everything to order based on what you dig at his other joints.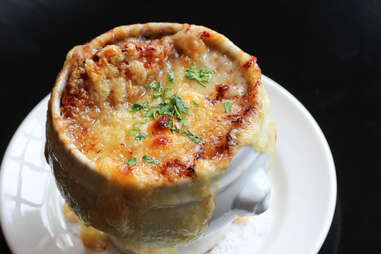 If You Like: The cheddar-covered Uncle D's Famous Chili w/ cornbread
Order: The French onion soup, because a) it's also covered in cheese (but, like, fancier Gruyere); b) it, too, comes with bread (but an artisanal baguette); and c) well, look at that damn picture.
If You Like: Eating down to the bone on the Sticky Asian We, Tossed Wings at We, The Pizza
Order: The roasted bone marrow sprinkled with gremolata, as it should sate your inner Fred Flintstone.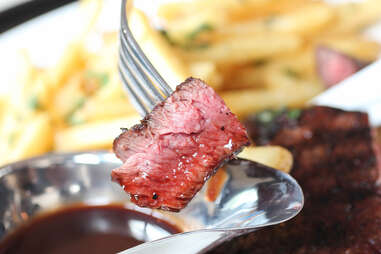 If You Like: The Good Stuff Steakhouse Burger w/ onion straws and a tangy steakhouse mayo
Order: Its older, classier brother: the 8oz flat iron Steak Maison w/ caramelized shallots. And, like weirdly connected siblings, they both have similar tastes in side-pieces; in this case, French fries.
If You Like: The house-made sodas at We, The Pizza
Order: The Brandy Smash w/ muddled mint, Martell cognac, and simple syrup, served over crushed ice. Why? Because, while those sodas are good stuff, the Smash actually has the good stuff in it.