Washington DC In case you've been too busy taking selfies in front of beautiful trees to notice, time is running out to cash in on cherry blossom-inspired food and drink specials in the District. Before the pinkest party of the year is over, be sure to visit these eight places and earn a cavity or two.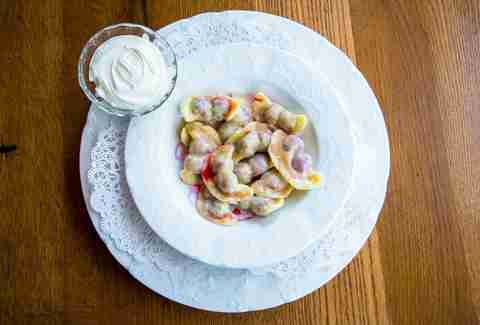 Mari Vanna (info and address)
Dupont Circle
Because they embrace any excuse to give away vodka, this kitschy-cool Dupont Circle spot will throw you a free shot from 5-8pm daily through April 20th. While you're cashing in on free alcohol, try a slice of $6 cherry pie and an order of cherry vareniki ($14) -- they're like dumplings, only sweet and Slavic. Continue Reading
Carmine's (info and address)
Penn Quarter
Carmine's might have the perfect blossom-inspired bite: lemon-powdered Italian zeppole with cherry dipping sauce ($9.95). Get an order before they disappear on April 20th. Our only grievance is that the portion size isn't quite as crushing as their lasagna's. Pair the zeppole with a cherry blossom cocktail made with Absolut Cherrykran and Mandarin vodkas ($11.50).


Astro Doughnuts & Fried Chicken (info and address)
Metro Center
Astro has a doughnut for every occasion, including sakura season. The Cherry Blossom weekend special is a vanilla doughnut with sour cherry filling and cream cheese frosting. Pro-tip: since they're only $2.85, get two and build a fried chicken sandwich when no one's looking.
DC Coast (info and address)
McPherson Square
To say "domo arigato" for the trees Japan gave us over a century ago, DC Coast is serving up a special tasting menu ($55) with equally special drink pairings ($30 extra), like a Japanese whisky highball made with Yamazaki 12 Year. Dishes include duck confit gyoza with tart cherry ponzu, hamachi udon, and a matcha green tea cake with cherry mousse and sesame seed brittle.
Co Co. Sala (info and address)
Chinatown
Clafoutis is only a dirty word if you want it to be. At Co Co. Sala, it's a cherry blossom dessert special called My Cherry Amore: a tart-like concoction served with Sicilian pistachio gelato, dark chocolate streusel, sour cherry caramel, and the Cherry Bon Arabeschi you'd normally find on a child's ice cream sundae ($14).


Commissary (info and address)
Logan Circle
Commissary is tossing a Green Hat Gin cocktail into the ring called the Spring Blossom. It's made with the local producer's very limited-edition Spring Gin plus liqueur de violette, lemon juice, and bubbles ($9). If you want something that tastes a little more like Triaminic, order the Sparkling Cherry with Luxardo Cherry Liqueur, cava, and a Luxardo Cherry.
Vinoteca (info and address)
U Street
By now you're thoroughly sugar-filled, so try something savory in between epic games of bocce ball and wine flights on U Street. Chef Lonnie Zoeller has created a smoky chicken dish with yellow lentils, quinoa, smoked sour cherry, and cashews ($16).
Entertainment Cruises
This weekend is also your last chance to see cherry blossoms on a boat. Whether you're cruising on the Odyssey or the Spirit of Washington, you'll have a great view with your meal. Dinner aboard the Odyssey, for example, means blue corn-crusted crab cakes, short ribs, and bread pudding drizzled with Maker's Mark salted caramel sauce. Pricing, dates, and times are available through Entertainment Cruises. Cruises this weekend will likely lean less tourist and more local.