Washington DC Cinco de Mayo is looming, and while there are plenty of margaritas awaiting you, it's also fitting to leave room for new surprises. Like a bacon taco. Although, if you're reading about it now, is it still a surprise? You have no time for such philosophical questions, there are bacon tacos to be had! El Rey (info and address)
U Street
That shipping container taco spot on U Street will help you celebrate Cinco de Mayo by packing as much pork product as possible into a taco. Specifically, it has a woven bacon taco shell, pork loin, pork al pastor, carnitas, and pork fat mayo. Keeping with the theme, this taco will sell for $5. Try it with a Short Mexican Stiffy, made with reposado tequila, mezcal, agave nectar, bitters, and orange.
Recommended Video
Pizza Acrobatics Is a Real Sport, and You're Going to Love Watching It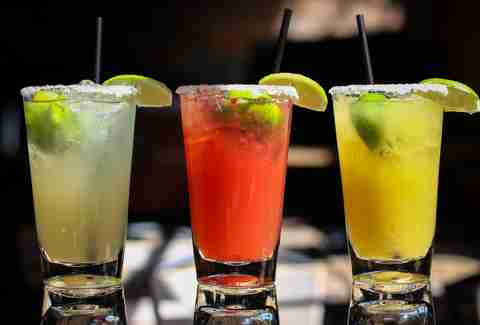 Masa 14 (info and address)
14th Street
It's all about margs at Masa 14 on Cinco de Mayo. They will be serving classic, fresh strawberry, and mango margaritas all night long for $5. Also try five small plates new to the Masa 14 lineup, like octopus ceviche tostadas and chicken chalupas. They're $5 (notice a theme?) in the bar and lounge area. DJs will spin from 7pm-close. Note: you can also get in on the margarita deal at both El Centro D.F. locations and Zengo in Chinatown.

Continue Reading
El Centro D.F.
14th St / Georgetown
Try a little bit of everything at El Centro's Cinco de Mayo buffet. Who doesn't love a good buffet? For $10, SERIOUSLY $10, you can fill up on brisket tacos, carnitas, chorizo empanadas, chicken tinga flautas, and a lot more. Buffet hours are 5-11pm and the DJ will start spinning at 7pm.
Mission (info and address)
Dupont Circle
Because they just opened their doors, this is Mission's first go-round for Cinco. Things bode well taco-wise, because the man slinging tacos is Chef Rod from the much-craved R&R Taqueria. Try his tacos de pescado, made with fried mahi mahi. And, with 50+ types of tequila and mezcal, we're sure they won't run dry.
Agua 301 (info and address)
Navy Yard
Be one of the first to experience the Agua 301 patio on Cinco de Mayo. They'll be offering a countdown of sorts throughout the weekend: margs cost $7 on Sat, May 3rd, $6 on Sun, May 4th, and $5 on Monday for Cinco de Mayo. An endless supply of tacos will keep your mouth busy as you take in the waterfront views.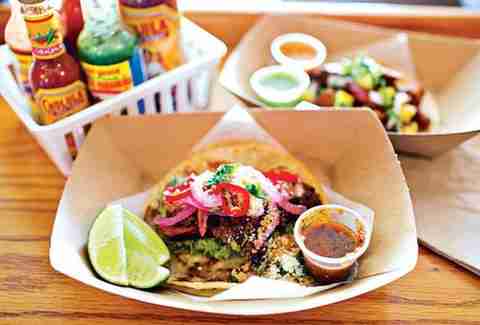 Special Events:
Bamba Bowl at Del Campo (info and address)
Penn Quarter
Del Campo's sister restaurant, Taco Bamba, is hosting a taco extravaganza from 12-3pm on May 3rd. Taste tacos from some of DC's best Mexican spots, then help pick a winner by casting your vote. Tickets are $30, inclusive of food and beverages. Get them here.
May Industry Takeover Night at Graffiato (info and address)
Chinatown
May's Industry Night happens to coincide with Cinco de Mayo, so the Graffiato team invited out-of-town chefs to showcase their Latin cuisine. Louisville's Anthony Lamas, Chef/owner of Seviche, Boston's Michael Schlow, Chef/Owner of Tico, and Philadelphia's TJ Torres will be there firing up some Mexican fare. All you need is the $10 cash-only cover fee and a willingness to party from 10pm-1am.