10 reasons you're going to be addicted to Fat Pete's Barbecue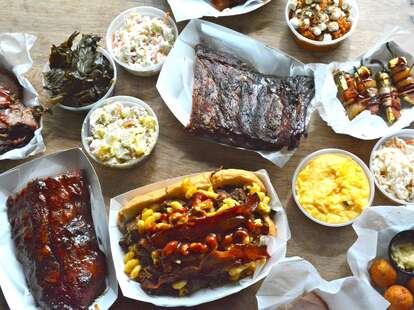 Laura Hayes
Laura Hayes
Those who spend their days complaining that there simply isn't enough 'cue in these parts, hear this: Fat Pete's Barbecue is now open in Cleveland Park, offering 10 different types of BBQ by the pound -- not to mention beer and small-batch bourbon -- in a flat-screen-studded joint, meaning you'll likely want to consume some pig here during pigskin season. Here are 10 reasons we promise you'll be craving it year-round: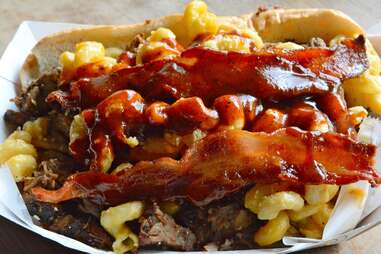 1. The Belly Buster
Set up a donation page because, like you're about to run a marathon, you're going to need some motivation to cross the finish line of eating this epic sandwich. The mound starts with smoked bologna, then a half-pound of pulled pork, a half-pound of chopped brisket, candied bacon, and mac & cheese all join the party. It's finished off with spicy BBQ sauce. Finish it and you win a doctor's appointment.
2. They have some serious smoke machinery
The entire front window of the restaurant had to be removed so the construction crane (!) could move this authentic Texas smoker to its final resting place in the kitchen. That's because it can hold 1,000lbs of meat. Pitmaster Brendan Woody (whom they nabbed from Hill Country BBQ) isn't about to cut any corners smoking with gas. As his name suggests, they're all about the wood.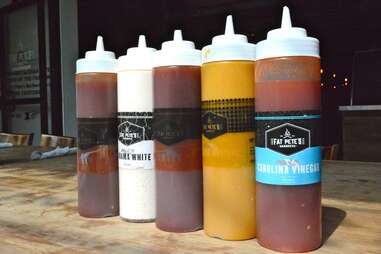 3. They spread the love
Fat Pete's doesn't discriminate. In a world with a lot of regional purists, it's comforting to find a BBQ joint that honors styles from around the country. Woody and his team make six different sauces in house: Kansas City Spicy, Memphis Sweet, North Carolina Vinegar, South Carolina Mustard, Texas Mop Sauce, and Alabama White Sauce.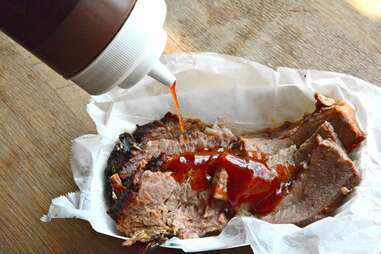 4. Patience
The number one ingredient at Fat Pete's Barbecue is Father Time. The heavenly Texas-style brisket hitting your table has been smoked for 18 hours -- pretty much the time it would take to make four round trips to Austin. You can also go extra innings by ordering the burnt ends. Woody takes the brisket point and smokes it for an additional four hours. The burnt ends are in the appetizer section, but note their limited availability.
5. They don't stop at one
Instead of offering one type of pulled pork, Fat Pete's swings for two. In addition to regular pulled pork, they serve up North Carolina-style chopped pork -- a recipe involving a pork shoulder (pictured) that's been chopped, sauced with something bursting with vinegar, and topped with coleslaw. Same goes for ribs; both baby back and St. Louis-style are on the menu and ready to fall off the bone for you.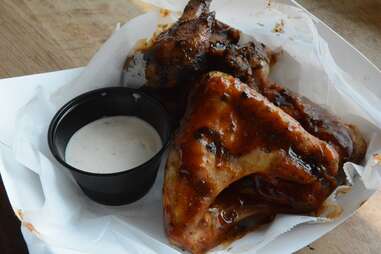 6. Their wings have some sneaky heat
The Voodoo Wings were a delicious accident. Woody was playing around while perfecting BBQ sauces and made one that was deemed "way too spicy". So as not to waste it, he threw it on some wings and a winning recipe was born. Wings come four to an order because they're JUMBO. Woody smokes them before finishing them on the wood-burning grill.
7. These ABT's are amazing
These tricked-up jalapeño poppers are also called "BBQ Crack". Here's why: jalapeños are stuffed with cream cheese, topped with a lil smokie sausage, and wrapped with bacon before being smoked and drizzled with balsamic glaze. Do not consume near Rob Ford.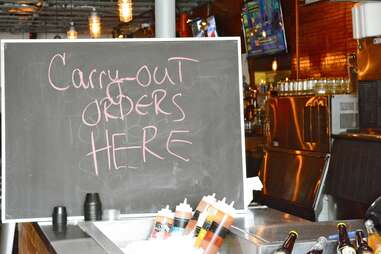 8. You can take it with you
Not only can you load up on BBQ to go, but soon Fat Pete's will offer curbside takeaway... much like a certain Aussie establishment that rhymes with Shoutback. You don't even have to get out of your car to bring home a dinner that will win you many PG-13 favors.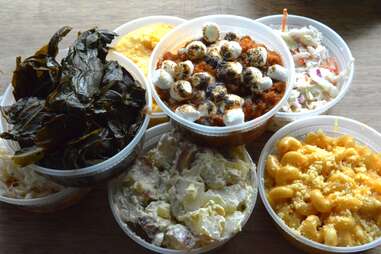 9. They don't skimp on sides
You won't find any sad-looking sides at Fat Pete's -- like coleslaw that's been sitting out so long it's an intestinal gamble, or old folks home mac & cheese. Rather, you'll dive into hush puppies that're stuffed with goat cheese and smoked poblano peppers and served with apple honey butter, or candied yams adorably topped with tiny toasted marshmallows. There's coleslaw too (two types!), but it doesn't suck.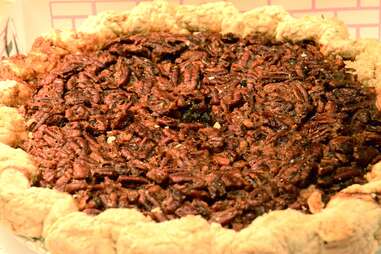 10. Dessert from "that pie guy"
Woody has many talents, but also knows when to call in reinforcements. His pick is Chef Sol Schott of Acme Pie Co., a small but mighty pie operation based in Arlington, VA. Woody says pies from "that pie guy" arrive at Fat Pete's still warm. The flavors are like a hug of Americana: pecan, apple, and blueberry with lemon curd.
Fat Pete's Barbecue is open Sun-Thur 11:30am-1am and Fri-Sat 11:30am-2am. Visit them at 3407 Connecticut Ave NW.