RIP: 16 shuttered DC bars and restaurants that we'll miss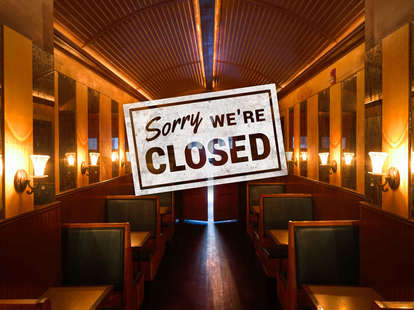 Pour one out for these 16 places that closed their doors in 2014. Maybe you met a special someone there, or maybe you fondly remember falling asleep in a bowl of mac & cheese while Journey was playing. Maybe you remember very little, but whatever your memory — we'll toast to it.
The Passenger & Columbia Room
Mt Vernon Square
The promise of relocating is the only thing keeping The Passenger/Columbia Room loyalists off the ledge. People are so freaked about getting in their last tipples that someone made this gem. For some, it was a make-or-break kind of place. "I knew if a girl didn't like The Passenger, then she wouldn't be the right one for me," regular Justin Cook says. In some ways, The Passenger and The Columbia are where DC's cocktail renaissance began, in the capable hands of Derek Brown and his team. Chin up folks, The Columbia Room will reopen in Shaw in 2015 and The Passenger is working on it.
Palena
Cleveland Park
The April closure of this culinary cornerstone was a punch in the gut, and not just because we lost one of the best burgers this city has ever seen. The restaurant/café combo was an important part of the community, and Frank Ruta's cooking had earned the respect of notable chefs and restaurateurs near and far. Goodbye special occasion place that always left a good impression. The good news is, Ruta will lead a kitchen once again — at Georgetown's Capella Hotel.
Hogo
Mt Vernon Square
There's a special kind of pain that comes from bidding farewell to volcano bowl cocktails and Bill Murray murals. It. Hurts. So. Bad. The bar that brought us a taste of vacation year-round with its Tiki drinks, laid-back island attitude, cool snacks, and good music closed in August.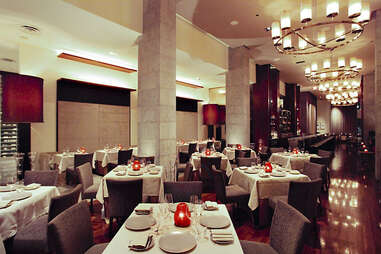 CityZen
SW Waterfront
One of DC's last standing formal dining restaurants bid adieu in December. So long shoat-, truffle- and foie gras-embellished dishes. Washingtonians will have to look elsewhere for decadence. Fortunately, its star Chef, Eric Ziebold, will open a pair of his own ventures in Mt Vernon Square.
Duffy's Irish Pub
U Street Corridor
On November 4, Duffy's sent a bat signal to wing lovers announcing it would be their last night of operation, warranting free wings 'til they ran out. The wings were more famous than some politicians in this town — getting nods from Food & Wine and just about every local publication. Russell Warnick says, "It was accessible, and I assumed it would always be there; I took it for granted." Goodbye Monday Wing Nights. Goodbye post-9:30 Club snack attacks. Goodbye spicy mango.
Chadwicks
Georgetown
Chadwicks got bought out by Mr. Smith's in August, ending its long run of providing cheap food and drinks in Georgetown. Actually, a really important perk is going away — the ability to buy a shot, a beer, and a movie ticket for the theatre down the street (at a bargain!). Something at Chadwicks was always half-off, and the nachos weren't half-bad. The $22 bottomless Champagne brunch, however, always induced the kind of headache you thought only Skrillex could provide.
Veritas Wine Bar
Dupont Circle
This dead sexy date spot poured its last glass of luscious vino in August. The bar's heart and soul — Jamie Smith — returned to his home land of England, and it was just time to move on. Let's pause to think of how many first dates turned into forever dates during its seven years of operation.
The Mighty Pint
Dupont Circle
Penn State and Steelers fans said see ya to their favorite sports bar this year when The Mighty Pint closed to morph into something a little fancier — Second State. In fact, Steelers fans lost a lot of spots in 2014. The NEW Pennsylvania-themed bar and restaurant at 1831 M St still has pierogies, but gone are the days of getting sloppy over pitchers during trivia. We don't envy the folks that had to erase five years of dirt-cheap happy hours.
Murphy's of DC
Woodley Park
They poured perfect pints for nearly 30 years at this Woodley Park Irish pub that closed its doors in November after numerous, outrageous St. Paddy's Day parties. Not sure those bathrooms will be missed, but the reliable watering hole certainly will. Even worse, where are people going to seek respite from their monotonous conferences at nearby hotels?
Old Dominion Brewhouse
Shaw
Something never quite added up about eating sushi at a sports bar. Though, the ultra-cheap beer towers were a win at this split-personality sports bar/brew pub that had the unfortunate fate of a strange location. It was a welcome home to many on Saturdays for college football and Sundays for the NFL.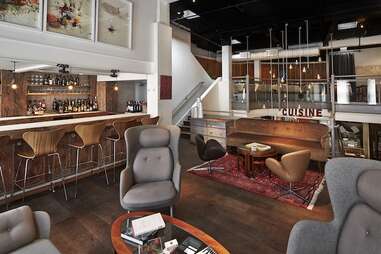 Menu MBK
Penn Quarter
Menu MBK was full of promise with its sweet first floor market, Mad Men tasting menu, and culinary prowess of Chef Frederik de Pue. Unfortunately, the three-floor concept didn't work out, and the restaurant closed in October with little (okay no) warning.
The Pour House
Capitol Hill
The Pour House poured its last pint in April after 11 years of dive bar glory. You're definitely going to miss their downstairs (basement of bad skeecisions) off-menu special: A pitcher full of shots that came with straws. Sometimes the best of friendships are forged at the dingiest of bars. Jamie Smith, who we mentioned earlier, met his wife at Pour House. We're going to miss Top of the Hill bar, too.
Kushi Izakaya & Sushi
Mt Vernon Square
People were pumped when this sprawling sushi and robata grill restaurant opened in 2010. It was sleek and sexy, the sake list was long, and the smell of grilled meat filled the air. But as time went on, the fish seemed less fresh and the excitement simmered on low. Fortunately, Japanese pub food restaurants, known as izakayas, have become a thing. Visit Izakaya Seki or Daikaya to get your fix. Kushi closed in September.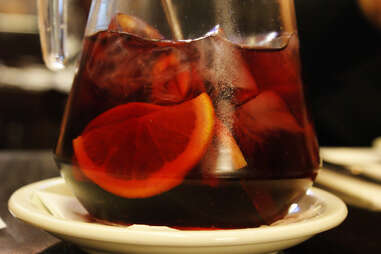 Pulpo
Cleveland Park
It was generally a rough year for Cleveland Park, with Palena's farewell and Dino's move to Shaw. In fact, only the Redskins had a worse year. Add Pulpo to the list of Cleveland Park no-longers. The Spanish tapas restaurant powered down in February, leaving folks with a lot less sangria. Now it's Fat Pete's Barbecue, which we dig.
Ceiba
Downtown
Ceviche slinger Ceiba called it quits after 11 years in September. Their long happy hour, strong Latin cocktails, and nearly perfect guacamole are gone for good. We wonder what they did with all of those little plastic bulls?
Editor's Note: Outside the District, we lost Eventide, Song Que, Roof Bethesda, Ratsie's Pizza, Tallula & EatBar, TNT, and others.
Sign up here for our daily DC email and be the first to get all the food/drink/fun in town.