10 Under-The-Radar DC Sandwiches You Need to Be Eating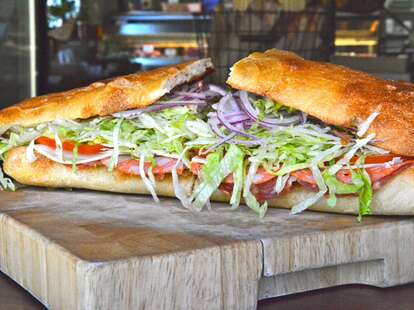 G by Mike Isabella's Spiced Baby Goat and this monster 4 Meat Grinder from Stachowski's (pictured above) get a whole lot of airtime in these parts. So do all of these sandwiches and these. But what about those undiscovered examples of sandwich artistry? We've got 10 for you. Try these under-the-radar sandwiches and note that burgers need not apply.
Fried Peanut Butter & Jelly
Bub & Pop's (address and info)
Golden Triangle
One bite of this deep-fried beauty will take you back to a state fair first date or a very happy childhood filled with fried things. Sandwich chef extraordinaire Jonathan Taub hand grinds the peanuts and makes his own jelly. The only thing that's not house-made is the classic Pepperidge Farm cinnamon toast. Once assembled, the whole PB&J sandwich is doused in funnel cake batter, fried, and served with a crème anglaise.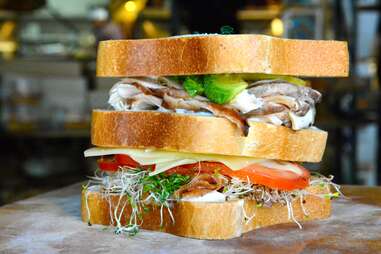 Club Sandwich
Stachowski Market (address and info)
Georgetown
You've probably had a friend brag to you about finishing off a famed Stachowski pastrami sandwich or that grinder we mentioned. Both are built to feed a family of four. But don't rule out a lesser known option: a humble, yet life-changing club sandwich piled high with bacon, sprouts, avocado, Swiss, and mayo. The turkey's sliced nice and thick, like Thanksgiving.
Goat Sausage Sandwich
The Fainting Goat (address and info)
U Street
Goat's getting a lot of attention these days, and for good reason. At The Fainting Goat, they serve the protein in numerous forms -- including raw -- but the sausage sandwich is the standout. It comes with the same trimmings as a ballpark sausage (peppers and onions), but also raises the bar with ingredients like eggplant. Look for it in the "Chomp" section of the small but bold menu.
Duck Reuben
Zentan (address and info)
Thomas Circle
If a Jewish deli owner and a Korean grandmother made sweet, sweet... sandwiches, they would look and taste like this. Thin slices of duck sit atop Korean sauerkraut that's akin to kimchi, giving it more tang and spice than a regular Reuben. Then, there's Gruyere cheese, Asian Thousand Island dressing and mizuna (a leafy green veggie). Obviously, it's served on rye. The sandwich is available at lunch.
Pork and Fries
Earl's Sandwiches (address and info)
Clarendon/Ballston
You don't have to crawl along 70 West to Pittsburgh to try a fry-stuffed sandwich. Earl's has it covered at their Clarendon and Ballston locations. The Pork and Fries sub is filled with juicy roasted pork plus French fries, chipotle mayo, roasted red peppers, sweet pickles, and chopped onions on ciabatta. For best results, wait a few minutes before diving in so the fries can reach their maximum sauce-soaked soggitude.
Gyro
DGS Delicatessen (address and info)
Dupont Circle
Lamb is lame… or at least status quo when it comes to gyros. That's why DGS changes up this traditional pita sandwich by substituting slow-cooked beef tongue. It falls apart on your tongue (META) and is nicely complimented by all the Mediterranean fixings: tzatziki, feta, lettuce, tomato, and red onion. You'll find it on the lunch menu.
Choripan
Del Campo (address and info)
Downtown/Mt. Vernon Square
There are technically only two requisite ingredients in this sandwich and if you passed 7th grade Spanish (instead of flirting with Manuela) you'd guess that they're chorizo and bread. This street food sandwich is sold in Argentina, Bolivia, and beyond. But at Del Campo, Victor Albisu goes above and beyond by lovingly wrapping the chorizo in pulled pork and burnt rapini for a South-Philly-meets-South-American surprise. It's served with yucca fries and a mini crock of sauce.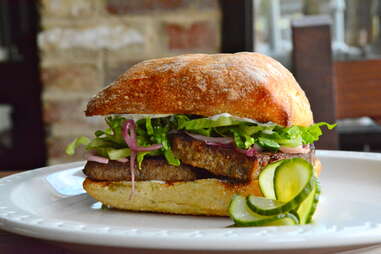 Lamb Meatloaf Sandwich
The Red Hen (address and info)
Bloomingdale
Everyone heads to The Red Hen for the pasta, especially that addictive rigatoni. But don't overlook the one bready option on the menu: an over-the-top lamb meatloaf sandwich that's got game. No literally, the lamb gives the sandwich a real gamey flavor that's complimented by smoked onions, crisp Romaine lettuce, dill yogurt, and marinated cucumbers.
Kentucky Sandwich
G Street Food (address and info)
McPherson Square (& Dupont Circle/White House)
This fried chicken sandwich may be called "Kentucky", but it has nothing in common with Colonel Sanders or anything that comes in bucket form. The G Street Food sandwich is stuffed with fried bits of chicken, rather than a whole breast, giving it more of a po' boy feel. They add on garlic-roasted mushrooms, fresh spinach, "Angry Mayo", and bacon bits. Don't let the sub roll shape fool you, this baby's on brioche.
Pulled Duck Sandwich
Kangaroo Boxing Club (address and info)
Columbia Heights
Sorry, no 'roo meat in this sandwich… just a whole lot of pulled duck that's been rolled around in tangy sauce. Also on the French baguette: blackberry caramelized onions and bacon jam. Try it perhaps with a rye flight of four one-ounce pours. That'll keep your mouth busy between bites of Daffy.
Sign up here for our daily DC email and be the first to get all the food/drink/fun in town.