Great Scott... Circle restaurant!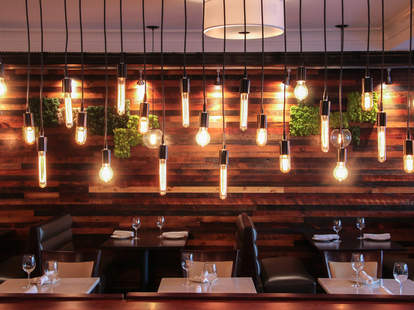 Scott Circle's Nage translates to "while swimming", so it's fitting that they sank a ton of cash into a remodel of their dining room, including a beautiful Edison bulb centerpiece, refurbished barn wood wall from Kentuck, and wall tiles of live moss to provide an "organic tone"
They've also brought in a chef from Beard Award-winning Fiola, whose revamped menu includes this phyllo dough baklava: savory not sweet, covered in blueberry compote, and filled w/ roasted shiitake, oyster & Royal Trumpet mushrooms
Pan seared and oven roasted, this NY-raised duck is drizzled with an orange gastrique, and served with blanched bok choy and a bed of "wild dirty" rice, or as Christina Aguilera calls it, "rice.
The crispy skin on this Chesapeake rockfish comes from a nice oven-roasting before it's placed on spaghetti squash
The remodeled Corian bar top looks almost as nice as the cocktails served from it (left to right): the gin-based "Taj Maholic", the apple/ butter puree & Scotch "William Tell", and a grapefruit/ Grand Marnier/ Grenadine & rye joint they named the "RGIII", presumably hoping it'll make an equally big splash.