6 things you need to know about District Doughnut
Barracks Row is heating up. And that's not just because it's where one of the hottest restaurants in the country is (ahem, Rose's Luxury), but also because District Doughnut is frying up something good. From a home kitchen, to a space in Alexandria, to a short stint in Gaithersburg, followed by a tenure at Union Kitchen, and now at its own storefront on Barracks Row, District Doughnut has been cooking up their brand for a few years now, and their new digs will undoubtedly be drawing people from all over DMV. Here's why: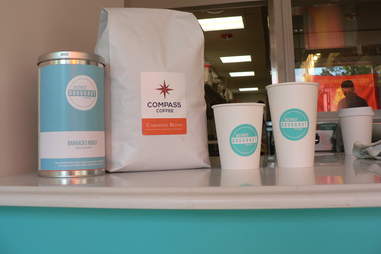 George Perkins
1. The US Marine Corps connection goes beyond the location
District Doughnut is located on 8th St SE along Barracks Row, literally across the street from the US Marine Corps Barracks. But the support for our guys in uniform is found in the store's drip coffee as well. Compass Coffee is a coffee shop coming to Shaw that was started by two US Marines, which will be providing the caffeinated accompaniment to all the doughnut creations.
2. No, there aren't any "cake" doughnuts
Chef Christine is the mastermind behind District Doughnut's recipes and, for a while, she tested cake doughnuts. But in the end, those cake doughnuts were scrapped for her yeast-based doughnuts that are fried to golden perfection. And that yeast recipe took 18 months to get right.
3. You'll be dealing with half a dozen at a time
District Doughnut wants to focus on getting everything right, so don't expect a Dunkin' Donuts array of flavors to choose from. Two of DD's signature flavors will be mainstays: dulce de leche and brown butter. Also making their way through the rotation will be delicious flavors like chai tea crème brûlée, cannoli (vanilla bean dough dusted with cocoa and powdered sugar, filled with ricotta and chocolate curls), and (officially in the rotation for their grand opening) Nutella bacon!
4. They're working on something big. Like, next Cronut big.
Whether their next concoction actually captures Cronut-level craziness remains to be seen, but District Doughnut seems to think it will. They are partnering with another local chain to launch what they say just might be "this city's next Cronut". Understandably, they're staying mum on the exact details of their sweet new creation. Hopefully the lines aren't too bad when it debuts.
5. District Donuts: NOT THE SAME!
Yeah, it may sound like the same name, but mind the spelling. District Donuts is actually District Donuts Sliders Brew, and it is in New Orleans. Just want to make sure a Google maps snafu doesn't take you all the way to The Big Easy. Whole different doughnut game there. Actually, it's more of a beignet game...
George Perkins
6. They aren't afraid of a little wordplay
Wait, does "doughface" mean you're really happy, or you've sprouted an extra chin? Or both?
Sign up here for our daily DC email and be the first to get all the food/drink/fun in town.