Here are DC's hardest-partying dinner destinations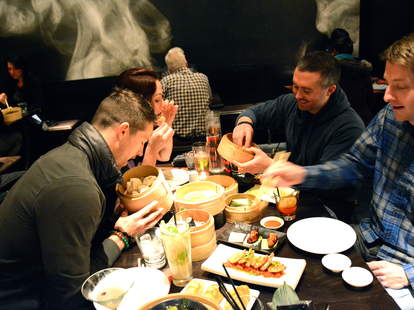 You're going out on the town, and at some point, you'll need to eat dinner, so we've rounded up DC's best spots for a party-filled meal that won't put a dent in your momentum.
Laura Hayes
Ping Pong Dim Sum
Chinatown
There's something insanely competitive about seeing how many dumplings you can throw down as a collective group. So do it (and make sure you put the other tables to shame) -- at Ping Pong Dim Sum in Chinatown (or Dupont Circle). Alternating between sips of stiff tropical drinks and bites of fluffy char sui buns will keep you busy for a while, but save room for chocolate banana Spring rolls.
Robert Wiedmaier Restaurant Group
Brasserie Beck
Mt. Vernon
It's the perfect place to party if you're dealing with a combo platter of beer AND wine lovers, because they crush it at both. With a glass to match every Belgian beer and a wine program that requires its own room, it's a lock that you'll find the perfect pairing for steaming bowls of mussels and platters full of charcuterie. Reserve a cozy little alcove and get down to business.

Greg Powers & Audrey Crewe
Zaytinya
Metro Center
Pass around plate after plate of Jose Andres' addictive Mediterranean mezzes, and don't worry about rationing their possibly even MORE addictive bread, it just keeps coming. Also, get out of your comfort zone when it comes to wine. This is not a cab sav kind of joint. Points to anyone who attempts to order Ökügözü.
Hill Country
Penn Quarter
If you like to party protein-style, get sauced with two kinds of brisket, beef ribs, pork ribs, beer can game hen, and every appropriate side (that onion-topped green bean casserole doesn't have to be reserved for Thanksgiving). Also saucy: the pitchers of Shiner you'll wash everything down with. 
The Hamilton
Downtown
If you like dinner to come with more booze than you know what to do with (five different bars!) and a side of live music, hit The Hamilton (don't hit George Hamilton, even if he's randomly there) and lay a base with a menu that spans from snackage like cheese tots and arancini to sushi to grass-fed burgers.
Founding Farmers
Downtown
Make your way from apps you can grab like brown sugar-glazed bacon lollies to comfort-ness like Low Country shrimp & grits, but it's with making some room at the end the best damn red velvet cake in the District. Actually, before you go cake, get a set of three "Dogs and Rolls" with options like crab rolls, balsamic onion bacon dogs and pastrami rolls. This is why you brought friends.
Lisa Shapiro<br />
Carmine's
Penn Quarter
Nothing says party more than a little mafia-esque ambiance and a pile of spaghetti bigger than Bobby Bacala. They've got room for 700 carbo-loading mobsters (or just like, regular folk) who are sick and tired of small plates. After scarfing down family-style Italian classics, have them stick your birthday candle in a cannoli, whether it's your birthday or not.