This celebrity chef wants to make you beer-battered fish tacos and lobster guac
"English was inspired by Mexico" is the type of statement that will send some 'Muricans into a furious, sign-wielding rage, but when they find out it's just celebrity chef and man-about-town Todd English being inspired by a trip to Mexico for his joint MXDC on 14th St downtown, they'll likely grumble a little, wiggle into a seat underneath a fancy copper chandelier, and shovel delicious tacos into their non-Spanish-speaking mouths.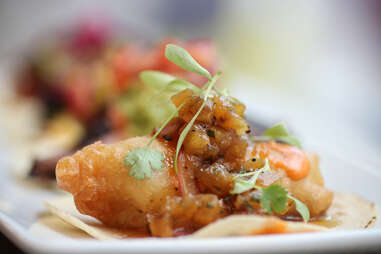 Get YOUR taco bell rung with this beer-battered mahi-mahi con* pineapple & jalapeno chutney. *Yep, that's Spanish!
That's JP Caceres. You may remember him from such films as Del Campo, Masters of Staring Contests, and Baja Breeze: The Story of Pouring Gin, Housemade Simple Syrup, and Cucumber Infused Water Into a Glass Through a Strainer.
Even if you don't speak Spanish, you probably speak guacamole, and they've got three: Tradicional, Azul (blue cheese/ bacon), and Lobster (smoked chilies/ queso fresco).
The Margarita de Casa is a fresh blend of blanco tequila, Cointreau, fresh lime, and agave. It's one of JP's lesser-known movies.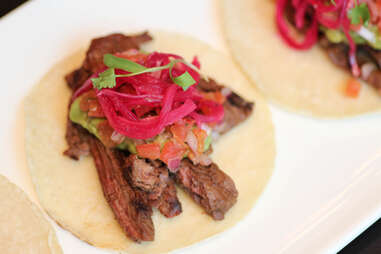 Tortilla kings, like this soy-ginger skirt steak w/ pico de gallo, may be Mexican but definitely will have people speaking highly of English.