The Definitive Guide to DC's Best Donuts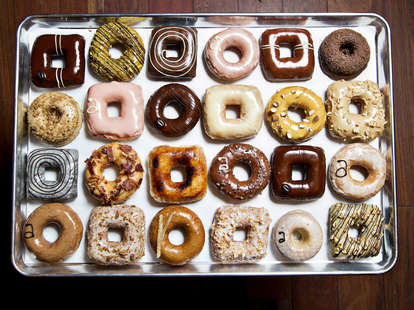 Courtesy of Scott Suchman
Disks of fried dough can jumpstart even the gloomiest of mornings. They can absorb the most tortured breakups, or even lessen the sting of a day sitting in jury duty or the DMV. When you're not eating your feelings, you should be chowing down on the city's best donuts anyway because they're damn delicious. New openings over the past two years have made DC's donut game better than ever -- but you will have to visit the 'burbs to try some of the leading contenders. These are the DC area's eight best donut shops.
Alexandria
Sugar Shack (the Richmond original) hits you with all the options: handmade yeast and cake donuts, plus fritters and cinnamon rolls for good measure. At any given time, the Alexandria shop that continues to lasso accolades will have 30 flavors that change throughout the day. You better hope Sugar Shack has the Samoa donut when you walk through the door because it's the undisputed champion -- if only the fee went to the Girl Scouts. Other addictive flavors include mixed berry glazed, red velvet cake, and maple bacon. It's even glazing donuts with local beer (Port City Porter and Port City Optimal Wit). Here comes the best part: tucked inside Sugar Shack is a speakeasy.
Barracks Row
Whatever your second and third donut pick is at District Doughnut, you're starting with the Argentine-inspired salted dulce de leche. It's so impressive that it even got a nod from the gourmet bible, Food & Wine Magazine. If you brought your appetite, also sample The Goodfellow. The dough ring named after a CrossFit coach gets dipped in Nutella and cream before being topped with applewood-smoked bacon. The Barracks Row spot serves a mix of yeast and cake donuts made from real ingredients like vanilla beans and fresh blueberries -- that's because the donut maker has Le Cordon Bleu training.
Arlington
This Outer Banks cult classic landed in the DC area in 2015, meaning you don't need to outfit yourself in Vineyard Vines and Reef sandals and drive down 95 to get them anymore. Duck Donuts keeps it fun by selling the vanilla cake-based donuts made-to-order so you can watch 'em being made from start to finish. Find the Arlington location in the Lee Harrison Shopping Center and don't skip these flavors: maple bacon, cinnamon sugar, and vanilla with coconut. Go big by ordering by the bucket. You'll get enough donuts to feed a beach house of hangry college kids (18).
Downtown (& other locations)
There are two big decisions to make at Astro. Do you go sweet or savory? Cake or yeast? Say 'fuck it,' and get both. Start your two-part guilty pleasure meal with an Old Bay fried chicken sandwich on a savory donut bun before moving onto dessert. Choose from this trifecta of best-selling sweet treats: crème brûlée, PB&J, and maple bacon. You betcha the crème brûlée has an audible crunch just like the real thing. The yeast donuts were the OG of Astro Doughnuts & Fried Chicken, but it ushered in cake rings in the New Year.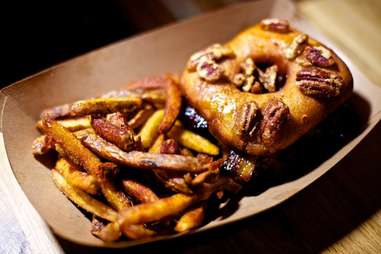 Dupont Circle
By now, you've caught on that maple bacon is trending as hard as videos of Bei Bei and Bao Bao. But, Gold Brown Delicious ups the ante by spiking the already-perfect flavor with bourbon. Maple bacon bourbon is one of the classics, along with hot vanilla glaze and espresso with chocolate drizzle. The best time to visit is brunch because The Luther deserves a spot in the gluttony hall of fame: a fried brioche donut is glazed with a maple-chicken jus and buttered pecans before serving as the vehicle for fried chicken and bacon. Also, GBD might be the only spot where you can sip on cocktails instead of coffee with your fried wonders.
Columbia Heights
You don't have to be a member of the undead to enjoy starting your day with fried dough from Zombie Coffee and Donuts. We dig them because they use throwback cereal like Fruity Pebbles, Fruit Loops, and Cap'n Crunch as flavors (and toppings). The cake donuts fly out of the fryer throughout the day and you can top them as you please, even making a monster Frankenstein donut with a little of everything. If you don't go custom, note that maple bacon and vanilla icing with crushed Oreos are two can't-misses. Wash them down with really strong coffee.
Various locations
Let made-to-order donuts come to you thanks to Mama's Donut Bites. The bright pink food truck founded by a mother, son, and daughter team cranks out comforting flavors of mini-donuts like apple, pumpkin spice, Dutch dark chocolate, and red velvet. On the weekend, it's parked at Virginia farmers markets like Westover and Falls Church, but follow the truck on Twitter to find the its whereabouts during the week. You won't believe how long the donuts stay hot in your hands.
Bethesda
Sometimes the simplest donuts bring the most pleasure. Like 202 Donuts and Coffee's Bomba. With no hole, this bad boy is just a ball of dough filled with vanilla pastry cream and rolled in sugar. The Creamsicle version is also dreamy. Use your nose to find the donut shop inside Bold Bite in Bethesda. Just follow the smell of extra yeasty donuts and Vigilante Coffee. Other must-try flavors include Snickers with chewy caramel, chocolate ganache, and salted peanuts and Apple Crunch.
Love free donuts? Find out where to stock up for this year's National Donut Day on Friday, June 2, 2017.
Sign up here for our daily DC email and be the first to get all the food/drink/fun in town.
Laura Hayes is a DC-based food, drink & travel writer who also contributes to Washington City Paper, Food Network, Arlington Magazine, and others. She's on a quest to a place that serves donut holes but hates that DD still calls them Munchkins. Follow her on Twitter @BTMenu.