Fried chicken 'n doughnuts in Dupont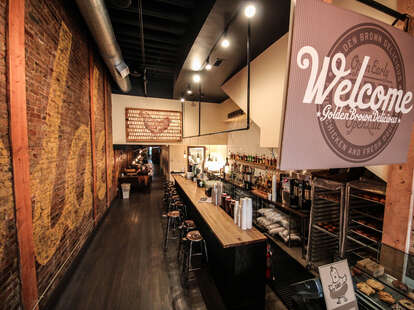 GBD, or "Golden Brown Delicious", is really a misnomer, as their food is actually way sweeter than even Betty White and Rue McClanahan combined. That's thanks to the crew from Birch & Barley, who're frying birds & doughnuts in this skinny Dupont spot split into three sections: counter-service in the front, bar in the middle, and pin-cushion booth seating (lit by fryer baskets!) in the back.
There are 12 doughnuts total, including a carrot cake (w/ a cream cheese glaze), shown above being mounted by the toasted, coconut-flaked Tres Leches, so named because it's soaked in three milks that lead to strong bones, and a soft mid-section
The starting lineup also includes gooey-center secret surprisers like a chocolate eclair, and a brioche number filled with chocolate and topped w/ milk chocolate ganache & Cocoa Krispies -- oh Snap!
Since you're not technically supposed to eat doughnuts for dinner, sup with buttermilk fried chicken buckets, which're loaded with drumsticks, thighs, and breasts, and are to KFC buckets what Slash is to that new Guns N' Roses guitarist who wears a KFC bucket on his head. Or just swing by midday for a drum & thigh Lunchbox with kohlrabi slaw & a biscuit
And to prove you're not a child, and only eat like one, plant down at the bar for their pre-made punches or one of 19 drafts like the Ballast Point Sculpin and Maine Beer Company's "Mean Old Tom", which's gotta be the nickname for at least one of the Golden Girls' ex-husbands.