Wild game + rifle lights = Teddy Roosevelt's favorite bar
Though no one will likely hear you if you talk quietly, and you'll likely get kicked out for carrying in a big stick, this doesn't mean that Teddy & The Bully Bar -- the second presidential-themed pub from the Lincoln folks -- isn't for Roughriders, especially considering all the animal heads, rifle lights, and wild game-heavy eats.
After settling in below said rifle lights, you'll want to pull the trigger on the animal options below.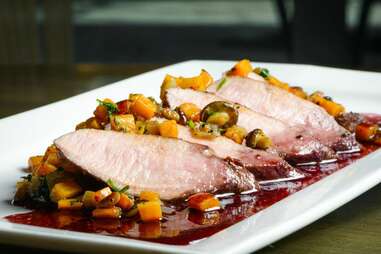 Chef Michael Hartzer, from Jack Rose and Citronelle, steps up his game w/ loin of wild boar & sweet potato puree.
If you don't like your Maine lobster with exotic mushrooms, sherry, and cream, future relationships with this meal are going to be a problem.
In lieu of eating Bull Moose, opt for this slow-roasted prime NY strip with a potato-horseradish fritter & red wine reduction.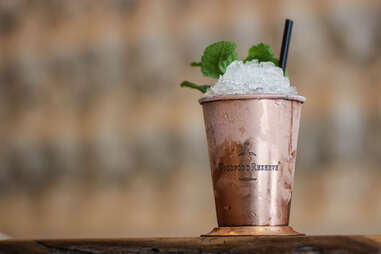 The cocktail list mixes the old (barrel-aged Old Fashioneds) with the new (the above Woodford mint-infused strawberry julep), and even has a "square deal Shot & Beer" that's a PBR can & Milagro Silver shot with a green sangrita backer, all for $10 -- perfect for those worried about busting their own trusts.