9 reasons GCDC is going to be your grilled cheese go-to
The antidote to Michelle Obama's Let's Move campaign just landed in close proximity to the White House. GCDC is serving up gut-busting grilled cheese sandwiches and smothered tots by day and decadent cheese plates by night. Here are the top nine reasons to visit GCDC ASAP, before FLOTUS gets wind of it. Enough acronyms! Time to eat.
1. Umm, do you SEE that sandwich up there?
Yeah, they're definitely going next-level on the whole grilled cheese thing. In this case, a little bit of Korea slipped between two slices of bread to bring you the Kim-Cheese-Steak. A cheddar blend as orange as a fake tan is dotted with kimchi from No.1 Sons and Korean-style roast beef. Like heat but not a fan of the fermented stuff? Try the Buffalo Blue GC splashed with Frank's RedHot.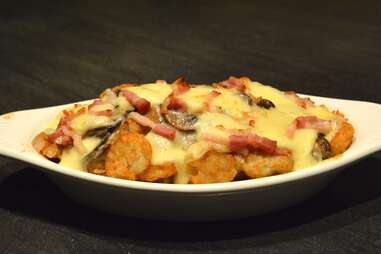 2. They're backing those sandwiches with these poutine tots
Substituting the Canuck-preferred fries for tater tots (America!), this beautiful mess is smothered in the obligatory rich combo of gravy and melted cheese curds. GCDC also throws bacon and mushrooms into the mix for good measure. The Frisbee-shaped tots may remind you of old-school Burger King, but shape's the only thing they have in common. If French Canadians make you uncomfortable, you can get your tots smothered American-style (think nachos).
3. You can also get your sandwich with a side of booze
A full liquor license means GCDC can pour you something other than wine with your massive pile of cheese. The Green Hat Aristocrat is a solid choice, and was designed to pair well with queso. Local gin combines with Fernet Branca, orange bitters, and Triple Sec over ice with a Lillet Blanc float.
4. Every week's a chance to win
Think you have what it takes to make it onto the menu? Grab some chalk and jot down your grilled cheese recipe on a big board by the bar. Your fellow diners will vote throughout the week before a winner's announced every Friday. Not only does the sandwich show up on the menu, winning you a week of notoriety, but you also get $100 to donate to your charity of choice.
5. They're using the pinnacle of grilled cheese technology
The next best thing to having your own mother make you a grilled cheese after a bad day at middle school is one made in a Turbo Chef SOTA convection oven. These bad boys cost about $8,000 apiece and eliminate any chance of burning the bread. Just don't ask your waiter to cut off the crust.
6. Your favorite pasta now comes in sandwich form
You probably remember the day that spaghetti carbonara surpassed marinara as your favorite pasta preparation. GCDC has transformed this guilty pleasure into The Grilled Carbonara, featuring a Gruyère blend, fresh goat cheese, sautéed leeks, and pancetta.
7. The drink menu has a little bit of Brookyln
Bruce Klores is one half of the father/son duo that owns the restaurant. He hails from Brooklyn, where people have been drinking egg creams since the 1880s. The GCDC version is made with whipped cream vodka, Frangelico, u-bet chocolate syrup, whole milk, and club soda. Unfortunately, they're no longer five cents.
8. You can dunk!
Childhood memories flooding back to you with all this grilled cheese stuff? Hankering for some Campbell's Soup on the side? Yeah, we thought so. GCDC serves up homemade tomato soup, and if you don't want a whole bowl you can add a $2 dipper to any order.
9. Their cheesemonger's a baller
The GC sandwiches are great and all, but it's at nighttime that cheesemonger Sophie Slesinger shines. Maybe you saw her on Zagat NYC's "30 under 30" list of rising food professionals. She'll put together a whimsical assortment for you from her collection of about 20 rotating cheeses from DC's own Righteous Cheese. If your list of future aspirations includes some cheesemongering, be sure to sign up for one of her classes.