House-infused tequilas, a huge back patio, and more surprises await...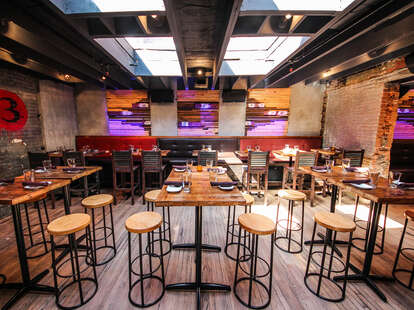 Most of you have already hit up Richard Sandoval's El Centro DF on 14th St, and some of you may remember -- or may not remember -- going to Third Edition, and now all of you are wondering where we're going with this... Well, we're going straight into El Centro Georgetown, taking over the old Third Edition.
The first thing you'll want to do when you arrive is head out back to the heated patio with ivy scaling the walls, a huge bar, a fire pit, and... did we mention that huge bar?
For anyone who's Mexican and Greek: 1) you probably have an amazing skin tone, and 2) you'll really enjoy these pita tacos w/ cucumber pico de gallo, chipotle yogurt, and grilled chicken.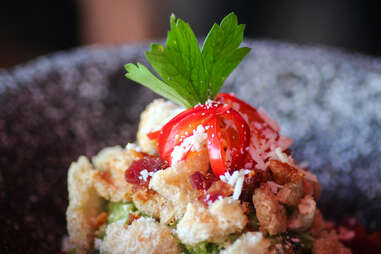 One of the newest app experiences isn't actually on your phone, it's this bacon guacamole w/ chicharrons, pickled chiles, and queso cotija. But knowing you, it'll probably end up on your phone.
This meat sundae is slow-roasted pork shoulder hidden below a mountain of pipian mole verde, sprinkled w/ pumpkin seeds, topped off with caramelized onions, and served w/ tortillas.
With four total bars spread out over the entire two-floor space, hunker down at a cement bar top surrounded by custom Mexican newspaper murals and read up on the $4 'tails & $6 specialty dishes at happy hour (5-7p). Or, hit the late-night menu from 11p-2a for something never available at Third Edition -- a fourth meal.
The last thing to remember is that they've got a larger selection of tequilas & mezcals here (270!) and more of their delicious house-infused tequilas, like the pineapple & habanero, rosemary, and 10 others that you'll soon forget if you try putting them all to memory in one sitting.