Vote for John Critchley's "A5" steak/foie gras dog in our Search for the Most America-est Hot Dog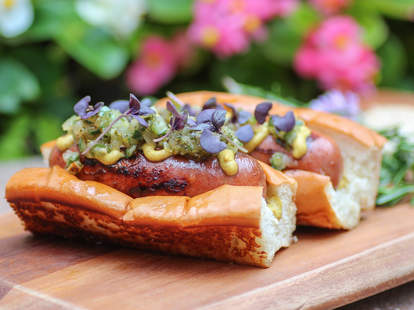 You know what's American? Eating steak. You know what else is American? Eating hot dogs. Well, what if we told you that Bourbon Steak's John Critchley made a hot dog using steak for our Search for the Most America-est Hot Dog, and it's your duty as an American citizen to vote for it? But, first, you should probably check out exactly what else he put in this ridiculous creation.
This two-hander is a mixture of Bourbon Steak's Japanese A5 wagyu beef and lean beef shoulder, emulsified together with just your average foie gras trimmings and stuffed into casings.
Call Paul Wall, because it's time to get grillin'.
He adds a bit of housemade brown mustard to the top and bottom of the dogs & toasted buns, which get painted with plenty of butter. Please feel free to make your own Paula Deen joke here.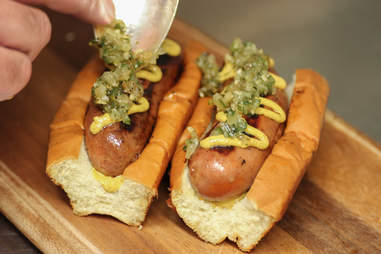 Next up is the smoked onion & cucumber relish that they make in house.
Finish it off with a few microgreens, right before you finish it off.
And there you have it: John Critchley's all-American "A5 Dog". Like America, it, too, is a melting pot of cultures, all brought together just for you. And if you want to see what the other 15 chefs competing for the title are making, you can check them out here. Just make sure you vote for this one.