Wash down that wood-fired pizza with a homemade LIMONCELLO SLUSHY
Have you ever burned the roof of your mouth and gotten brain-freeze, at the same time? No? Well, Mr. Foodie, you better Razor scooter yourself over to Arcuri: the below-ground Italian pizza spot in Glover Park where you'll pair a wood-fired hot pie with frozen limoncello slushies and finally experience the newest sensation all the food critics in Europe and Asia and other places are raving about.
Before burning the roof of your mouth/ freezing said brain, grab a starter like the prosciutto/ asparagus/ egg/ truffle plate.
Their two-week infusion of grain alcohol, lemon peels & simple sugar can be taken straight from a frozen shot glass, or, for those looking to dabble in the burn-freeze we continue to inexplicably hype, consumed straight from their slushy machine. Don't freak out: there is also a mixed-berry flavor.
The delicious wood-oven-roasted Gorgonzola bianco w/ speck, apple, and balsamic is available in a 10in or 14in size.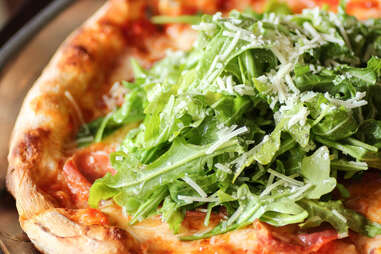 They've got seven total pies on the menu -- like this American prosciutto & arugula -- so you, Mr. Foodie, should have no problem finding something for any pala---OWWWW. MOUTHBURNBRAINFREEZE!!!