9 Classic Old-School Restaurants That Define DC
Capitol Hill steakhouses, half-smoke joints favored by former presidents, and the restaurant where JFK proposed to Jackie O.
DC is a city steeped in history—from the monuments on the National Mall to the artifacts tucked away inside the Smithsonian museums—so it's no wonder that its restaurant scene is also home to some long-standing restaurants with legacy status.
In the District, you can dine at the book where JFK proposed to Jackie O, visit an old-school steakhouse where politicos convene for power lunches, or snag a seat at a bar where locals and tourists alike convene for $1 oyster happy hour. So whether you're a tourist looking to eat your way through history in the nation's capital or a local looking for an old-school dining experience, here are 9 historic DC restaurants serving up classic dishes with a side of history.
While the origin of DC's iconic half-smoke is murky, Ben's Chili Bowl is the de facto home of this city's signature dish. This spot is known for serving up a half beef, half pork sausage that comes slathered in chili, cheese, and onions, but it also boasts a reputation for having an essence that mirrors the energy and vibrancy of its founder, 88-year-old Virginia Ali, the wife of this spot's namesake. Over the years as the epicenter of U Street, Ben's Chili Bowl has hosted former presidents, celebrities, comedians, and served as a meeting place for Dr. Martin Luther King Jr. and other Civil Rights Movement leaders—and the restaurant commemorates those visits with a prominent mural on the building's facade.
One does not simply dine at Cafe Milano. DC's top political figure heads and tourists alike visit the restaurant to put on a show, and hopefully get a mention in tomorrow's Playbook. Over the years politicians and celebrities have gravitated to this Italian-style restaurant known for its housemade pasta and pizzas, plus an extensive wine list and espresso martinis. Since day one, it's been an inside-the-Beltway fixture. Maybe that's because one of the restaurant's regulars, Bill Clinton, took office the same day Cafe Milano opened its doors.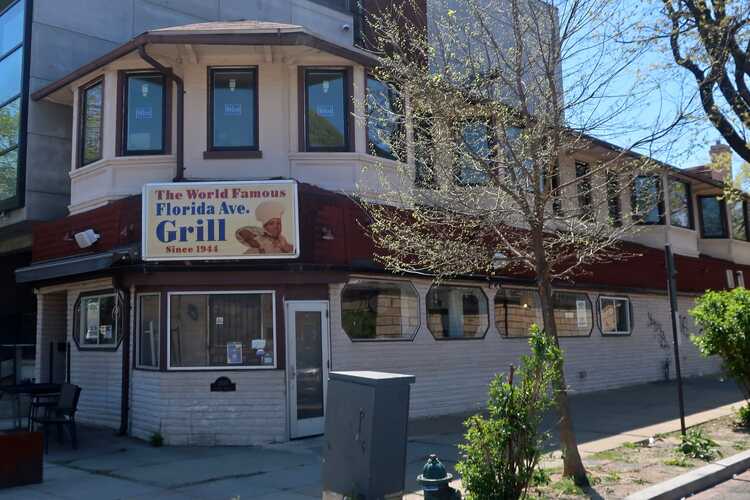 Florida Avenue Grill

| Flickr/Wally Gobetz
Located at the corner of 11th and Florida Avenue, the Florida Avenue Grill, or "The Grill," is a time-tested diner that opened in 1944. It's the longest-operating soul food eatery in the city, with quintessential dishes, including an iconic DC half-smoke and Fried Catfish and Grits. Aim to grab a seat by the grill top and watch the line cooks master juggling multiple orders for hungry patrons that typically line up on weekends to snatch a table or barstool inside.
Iron Gate takes the prize as DC's longest operating restaurant—it's been open for more than nine decades. Over time, the space has been a women's tea room, a Middle Eastern restaurant, and even the place where novelist Tom Wolfe would hang out when he was a staff writer at The Washington Post. Beyond the menu created by chef Anthony Chittum over the past decade, part of this restaurant's allure is the interior. Most diners secure a seat underneath the wisteria vines which have been there as long as historians have been documenting Iron Gate's history. However, what most also don't realize is that the dining room is said to be haunted by ghosts known to play pranks like flickering lights or knocking over chairs.
Many restaurants in the District can boast about hosting former presidents and other politicians, but none can make quite the same claim as Martin's Tavern. This unassuming neighborhood bar is where JFK and Jackie O's Camelot was born. It's said that the former president proposed in booth three, and it remained a beloved spot for the couple to visit during their tenure living in Georgetown. Beyond the Kennedys, Martin's has hosted notable people from former Secretary of State Madeleine Albright to baseball legend Yogi Berra for more than nine decades. Today, DC residents continue to flock to the laid-back tavern for familiar favorites like Traditional Oyster stew with housemade garlic crostini and Grandma Martin's Meatloaf.
Across three generations, Mangialardo's remains a family-owned and -operated sandwich shop with a loyal base of customers who come here for super stuffed hoagies. If you're new here, order a G Man. It's a mouth-watering cold cut sandwich stuffed with ham, salami, mortadella, pepperoni, fontina cheese, provolone cheese, and oregano, with the option to add hot peppers, oil, and vinegar, or mayo on a soft or hard roll. But you really can't go wrong with anything on this simple menu—the beloved shop keeps a spot in the hearts of DC residents because of it's reliable service and honest prices.
This quaint, bright yellow townhouse stands out from the grand marble surroundings of Capitol Hill—but it fits right in as a go-to lunch or dinner spot for local politicians. Since the restaurant opened in 1960, it's been host to senators, representatives, and lobbyists looking to escape the Capitol complex's cafeteria food in favor of old-school steakhouse fare. Today, the authentic restaurant still offers a straightforward menu with a selection of steaks and burgers and seafood dishes like Jumbo Lump Crab Cakes and Littleneck Clam Linguine.
Whether you're a tourist or local, Old Ebbitt Grill calls your name for its reliable service, oyster happy hour, and Chesapeake seafood dishes like Jumbo Lump Crab Cakes and seasonal Soft Shell Crab Sandwiches. Securing the spot as Washington's oldest saloon, it was founded in 1856. While no one can pinpoint the original location, Old Ebbitt Grill's current spot just outside the White House has transformed into an around-the-clock buzzy bar and restaurant, where the bartenders can and will quiz you on presidential history. Take in the beauty of this Beaux-Arts building that was once the old B. F. Keith's Theater, and time your visit accordingly to align with oyster happy hour. A dozen oysters on the half-shell are just $24 from 4 to 5 pm daily, perfect for capping off a day exploring the National Mall.
Before the District ever heard of Jose Andrés, there was Taberna del Alabardero, a stunning Spanish-style restaurant that immediately transports you to the grandeur of Madrid with its decor and dishes. Since opening in 1989, this Spanish-style eatery has been serving croquetas and tapas to World Bank workers and diplomat crowds near this downtown location. It's also a popular spot for private and intimate dinners with a formal dining room, adorned in silk red wallpaper. The restaurant may also be the standard-setter for DC's beloved bottomless brunch on a budget, because for $35, diners can select a starter, main, and beverage pairing with the option to go bottomless for an added $15.