How Washington DC Became the Fast-Casual Capital of the United States
The District has been an incubator for some of the biggest fast-casual chains in the country.
Image by Maitane Romagosa for Thrillist
From $15 salad spots that have become workday destinations to a now-iconic burger joint with Mid-Atlantic influences, the greater DC region has long been an incubator for fast casual chains and franchises.
The area served as a launchpad for mammoth chains like sweetgreen and Five Guys, while also nurturing smaller businesses like BGR and Elevation Burger that can now be found in cities big and small, as well as in airport terminals and even on the campus quad. Some of these restaurants call DC a microcosm of the United States itself, making it the perfect place to test out a new concept, while others found that the workaholic nature of residents within the nation's capital put their concept to the test and helped them expand to other cities across the country.
For CAVA, the Mediterranean fast casual restaurant that launched in 2011, DC's blend of intimate neighborhoods and buttoned-up business districts made it an ideal testing ground for the soon-to-be chain. CAVA opened its first location in the leafy, upscale suburb of Bethesda, Maryland, and quickly expanded to several locations across DC from Chinatown to Reagan National Airport to Capitol Hill.
Brett Schulman, the restaurant's co-founder and CEO, said the range of customers and types of locations in the District helped CAVA expand to more than 110 locations nationwide, including shops up and down the East Coast and out west in Colorado, California, and Texas.
"The surrounding metro area is an incredibly dynamic and multifaceted region and is made up of both workplace and residential areas with vastly different needs from each other," Schulman says. "The pockets of commercial and residential hubs have granted us the ability to get to know a wide array of customer demographics—both from suburban and urban perspectives and helped inform our strategy as we've expanded to different neighborhoods across the country."
In a city where the local slices frequently get a bad rap, &pizza found room to put a new spin on the pie, transforming it into a rectangular shape and redesigning the very process in which pizza gets made so it could be a speedy lunchtime option. Co-founders Michael Lastoria and Steve Salis opened the shop's first location in July 2012 along the H Street, NE corridor with a business plan uniquely positioned to thrive in the District.
They wanted to make customizable pizzas right in front of you using a ventless electric conveyor-belt oven that was flexible and could be squeezed into small spaces, including corner shops, kiosks, and mobile kitchen setups. The quickness of the concept has helped &pizza find a foothold in the halls of Congress at a site known to sell out quickly thanks to throngs of hungry staffers who sometimes have mere minutes to spare for lunch, and the success in that setting proved that &pizza could go the distance. The oven's compact technology has also opened up new site possibilities, allowing &pizza to quickly grow to more than 30 locations along the East Coast, including in pizza capitals, such as New York and New Jersey.
"Without a doubt, our success can be attributed to the District, Maryland, and Virginia," Lastoria says. "DC also has a transient nature, which can be a good thing, because many people come to DC and then disperse around the country. It's the from-everywhere nature of the city [...] proving that your cuisine, or your restaurant, or your concept, can work with a lot of different types of people."
The fast casual pizza chain has launched 11 new locations since the start of the pandemic, and there are 25 more sites in development, slated to open by December.
"It's times like these that bring us closer together and allow us to grow more like a family than ever imagined," Lastoria says. "And by more, I mean we will have doubled in size between now and next year and have over 100 locations by the end of 2022."
While the veggie-focused restaurant Beefsteak is nowhere near the scale of other DC-born chains, the restaurant group behind it has a long history in the area that has allowed it to thrive and grow even beyond the DC region.
Beefsteak is the brainchild of José Andrés, and the celebrity chef runs eight different restaurant concepts in DC as part of his ThinkFoodGroup empire. He's also the founder of World Central Kitchen, a nonprofit striving to use the power of food to nourish communities, especially in times of crisis—and Eric Martino, the chief operations officer at ThinkFoodGroup, said Andrés' position as a pillar of DC's food community has positioned Beefsteak for success.
"We have had restaurants here for more than 28 years," Martino says. "This community trusts us, and we continue to earn that trust day-in and day-out, guest-by-guest and shift-by-shift."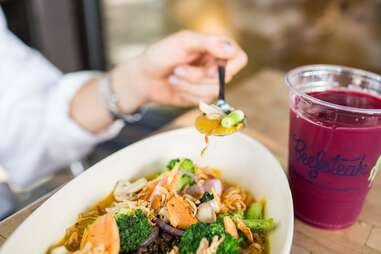 While Andrés becoming a household name certainly helped the business, it's the tight-knit nature of this small city that really helped the concept expand. With a population of about 700,000 and just about 68 square miles making up DC proper, the city has a sense of community you just can't find in other places, making it an ideal place to dig roots and find a loyal base before expanding.
So when Beefsteak was ready to move beyond the DMV area, they looked for a similar sense of community. The fast casual chain has strategically centered its growth on college campuses, supplying healthy food options that go beyond some of the questionable choices served on cafeteria trays. Beyond the flagship location in DC's Foggy Bottom neighborhood near The George Washington University, the chain also has outposts in Chicago at Northwestern University and a food truck on the campus of Florida International University in Miami, which remains temporarily closed due to the pandemic.
"Grooming a concept for scale is a marathon, not a sprint," Martino said. "We let vegetables take center stage and have been focused on local partnerships in the communities we are in."