5 reasons DC will scream for Ice Cream Jubilee
Once upon a time, there was an attorney who knew her true calling was to fill your belly with delicious ice cream. That attorney (Victoria Lai) started selling her Ice Cream Jubilee flavors at local shops. People enjoyed them. And now she's opening her own storefront on Saturday, July 12th. Spoiler alert: there's bourbon involved.
1. Some of the flavors are boozy
Among the many inventive flavors are many that involve a little something extra, like Banana Bourbon Caramel or Pear & Brandy. If you're more of a clear liquor guy, there's a seasonal sorbet modeled after a gin & tonic.
2. Forget Starbucks, this is the best "home office"
Ice Cream Jubilee will be plenty comfortable for those who can actually achieve productivity in the presence of booze-infused ice cream. There'll even be Adirondack chairs outside so laptop hobos can soak up some Vitamin D while eschewing break room coffee in favor of a scoop of Dark & Stormy.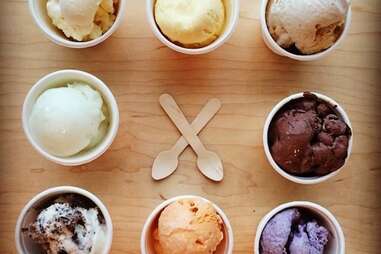 3. You'll never get bored
There will be a dozen flavors available with the offerings changing all the time. Victoria wants to keep everything seasonal with different fruit and flavor combos (Mango Habanero, Sweet Potato Pie), but crowd pleasers will stay on the menu. Her store will be a laboratory where she'll experiment like a deliciously mad scientist.
4. Small batch = big flavors
Even though Victoria is moving into a bigger space, that doesn't mean she's going industrial. The ice cream will still be made in 6-8 gallon batches to ensure the flavor's always consistent, unlike your waistline.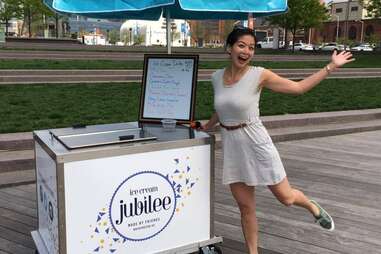 5. They're also mobile
If you can't make it into the shop, there's an Ice Cream Jubilee Cart hanging out in The Yards Park. It's conveniently a baseball's throw from Nats Stadium. Also look for her flavors -- even the boozy ones -- at Mt. Pleasant's Each Peach Market and Dupont's Glen's Garden Market.