Around the world in 10 DC restaurants
Maybe you came to DC hoping to form some sweet connections you'll one day be able to parlay into a cozy ambassador gig, but until those plans pan out, there are more attainable means of experiencing far-flung global cuisines. DC's a hotbed of international flavor that goes well beyond Taco Tuesdays -- so here are 10 spots to score some flavors you (probably) aren't familiar with.
CUBA
Mi Cuba Cafe, Columbia Heights
In the hidden shadows of... the Target in Columbia Heights sits a gem of a Cuban restaurant surrounded by El Salvadorian chicken dives and Latin barber shops. The steady stream of Cuban expats frequenting the place lets you know it's legit. The Cubano sandwich is outstanding, but the churrasco (skirt steak), croquetas (breaded and fried balls of goodness), and empanadas are not to be missed.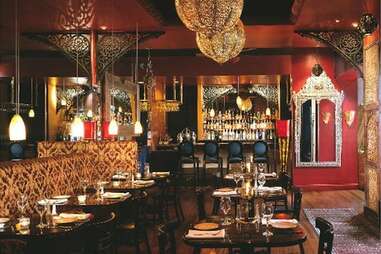 EGYPT
Mama Ayesha's, Adams Morgan
Known more for its Pyramids and distinctive walking style than its cuisine, Egypt still has plenty to offer in the culinary department. From traditional stuffed grape leaves and baba ghanouj to the more exotic Mount of Olives Salad and lamb shanks in tomato stew, Mama Ayesha's brings flavors of the Nile to those living on the Potomac.
ERITREA
Dahlak, Dupont Circle
Ethiopia's breakaway neighbor shares many of its culinary traditions, but Dahlak is able to highlight what makes Eritrean dishes Eritrean. Dahlak also tips its hat to its Italian colonizers with a few Mediterranean bites on the menu. Like Ethiopia, Eritrean cuisine uses injera (sourdough flatbread made from fermented teff flour), so expect to keep your hands busy, and hopefully they won't be tempted to do any jazz-handing during the Sunday night jazz jams.
ETHIOPIA
Queen of Sheba, Shaw
This little Ethiopian hole-in-the-wall has been a constant in the rapidly changing Shaw restaurant scene. Before the cranes and high-rises, Queen of Sheba was already serving the area's Ethiopians lamb tibs (lamb in a stew) and doro wat (chicken in a spicy stew). The portions are hearty, so be sure to ask for extra injera to soak up the sauces.
GHANA
Bokum Cafe, Adams Morgan
When diners want legit African dishes, they generally head to 9th and U Streets. But you can find Bokum Cafe in the heart of the city's party district. These guys cook up authentic West African dishes including egusi (goat with ground melon seeds) and a Ghanian take on fish and plantains. The joint is so authentic that former West African Peace Corps volunteers hit this place up to remind them of their volunteering days.
LAOS
Bangkok Golden, Falls Church, VA
For Southeast Asian food, people default to Thai and Vietnamese. And they are missing out. Hidden in a strip mall in the burbs, Bangkok Golden has both Thai and Laotian menus, and diners should definitely indulge in the Laotian dishes. Order any of the larb (minced meat), anything ping (grilled), and the crispy watercress salad. Expect to order many dishes for you and your crew -- Laos eats family style, and you should do the same.
NEPAL
Himalayan Heritage, Adams Morgan
No need to bring your climbing gear to enjoy some flavors from the "roof of the world" much closer to sea level. The chicken dumplings (called "momo", which is fun to say) are understandably popular, as is the restaurant's popped rice dish, which looks a lot like Rice Krispies. Because Nepal shares a border with Northern India, expect some familiar menu items, including paneer, naan, and chicken tikka masala. As an added bonus, there's Korean karaoke underneath the restaurant. Two for one!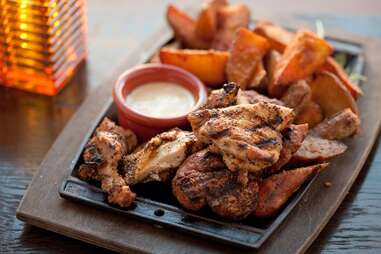 SERBIA
Ambar, Barracks Row
Northwest isn't the only DC quadrant with cuisines from off the beaten path. Along Barracks Row is Ambar, which specializes in Balkan foods and is gaining a following for its Serbian wines. The restaurant's crusted trout (pastrmka) feeds two regular diners -- or one you. Pro tip: folks from the nearby Marine barracks and other military personnel get 20% off.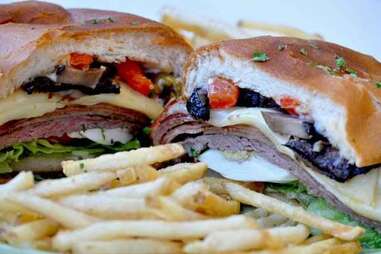 URUGUAY
Fast Gourmet, U Street
A gas station might not be your first thought when it comes to seeking out a fine meal. But just North of U Street is a gas station where the line for food is much longer than the line to fill up. This Uruguyan diner has plenty on its menu, but you're ordering the chivito, a sando loaded with meats (tenderloin, ham, and bacon, among others), hard boiled eggs, mozzarella cheese, and so many other things that the bread has a hard time keeping it all inside. Though, that won't stop you from adding a fried egg.
FINLAND
Embassy of Finland, Embassy Row
Easily the hardest reservation in town (sorry, Le Diplomate), this is a real treat for DC insiders. Once a month, the embassy hosts its Diplomatic Finnish Sauna Society for about two dozen guests. They get steamy in its luxurious sauna and also enjoy many traditional Finnish dishes (and drinks) in the dining room next to the sauna. You even get a diploma when you're finished! But to be a part of this small club, you gotta know who to ask. Here's a tip: the gatekeeper's name sounds like "sauna".