What Would Be Your Last Meal in DC?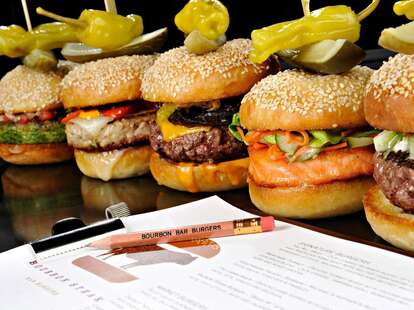 What if you woke up to learn you had one day left in DC and could never return? What would do you? More (actually most) importantly, what would you eat?
Suspend reality for a bit and pretend cost, calories, and geographic convenience are of zero consequence. This is only about getting as much deliciousness as you can in your belly. In fact, since DC has WAY too much good stuff for just one meal, here's an entire day's worth of DC eating planned out. Have something else in mind for your last day? Let us know in the comments.
Breakfast: Uncle Buck
Golden Brown Delicious (address and info)
Dupont Circle
GBD's bacon, egg, and cheddar on a crème fraîche biscuit is OMFG good, making it your breakfast swan song. It costs what breakfast should -- $3.50 -- and combines salty and sweet quite skillfully. If you want something even more outrageous, hang on until 11am when The Luther enters the picture, sandwiching fried chicken between fried brioche donut halves glazed in maple-chicken jus. It's a bit poetic that the Dupont Circle shop's initials could also stand for Good Bye DC.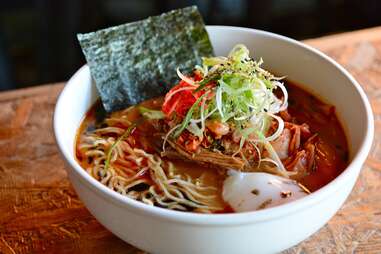 Lunch: Kimchi ramen
Toki Underground (address and info)
H Street NE
Can you get ramen wherever it is you're headed? Probably, but it won't near nirvana like Erik Bruner-Yang's kimchi ramen. The noodles bite back when you slurp them into your mouth, almost bragging about their perfect texture. They sit in a hot tub of red broth bringing the right amount of heat, and that soft egg is so silky it's almost sexual. Pulled pork, greens, sheets of cabbage kimchi, and pickled ginger join the party. The H Street NE hotspot is a little less competitive at lunchtime, which is important because your farewell tour agenda is demanding.
Afternoon snack: Burger and duck fat fries
Bourbon Steak (address and info)
Georgetown
Before you move (or moooove?!) on from DC, visit beef master Joe Palma in The Lounge at Bourbon Steak where six burgers are on offer along with a trio of duck fat fries. His classic Oak-Fired Prime Steak burger with pickles, Cabot cheddar, and secret sauce is worthy of your last afternoon snack. But, if you're feeling wild, inquire about the burger of the month. That's when Joe flies over the cuckoo's nest. April, for example, brought a patty topped with bacon, pimento cheese, and relish on a benne seed yeast donut. Since today is about decadence, pair your gut-busting sandwich with Bourbon Steak's signature Barrel Aged Jefferson.
Dinner appetizer: Pork lychee salad
Rose's Luxury (address and info)
Barracks Row
The dish that doesn't seem like it should work because of its disparate ingredients and whack texture has won the hearts of Washingtonians. It's so addictive that some order it for a starter and again as dessert. The dish uniting crumbled pork sausage with lychee halves, sliced red onion, coconut cream, and peanuts falls into the category of "would create homicidal maniacs if removed from menu." It's a trip to Southeast Asia for the price of an Uber ride to Barracks Row.
Charcuterie: Any board at The Partisan
The Partisan (address and info)
Penn Quarter
Creative charcuterie that you order like sushi is something you'll want to remember, so fire up an order at The Partisan. The "Red Menace," Greek fennel-lemon verbena salami, and "Saucisson de Strasbourg" are must-orders. While charcuterie captain Nathan Anda is probably referring to a European locale on that last one, we'd like to take this time to remind you that you'll probably also miss Stephen Strasburg. Wash down your pig plate with "Here Today, Gone Tomorrow," with Old Forester bourbon, Cocchi Rosa, Nardini Tagliatella, and lemon.
Dinner pasta course: Fiola Maine Lobster Ravioli
Fiola (address and info)
Downtown
Fiola defends the $50 price tag of its Maine Lobster Ravioli by including the entire crustacean. You'll find the tail swimming alongside pasta pockets stuffed with claw meat. It's been Chef Fabio Trabocchi's calling card for years -- meaning he has absolutely perfected the buttery, briny beast. All it needs as accelerants are ginger and chives. Try it at Fiola or Fiola Mare.
Dinner side: Palak Chaat
Rasika (address and info)
Penn Quarter
It took a culinary mastermind to make Washingtonians crave spinach. Frying it and rolling it around in a combination of sweet tamarind and tangy yogurt helped. Everyone with a frying pan and access to a grocery store has tried to recreate it, but no one does it like James Beard award-winning Chef Vikram Sunderam. Entrust him with leaving a lasting impression of the DC crowd-pleasing green machine.
Dinner entrée: Si Krong Muu
Little Serow (address and info)
Dupont Circle
Whiskey makes a lot of things better, like high school reunions, mandatory networking happy hours, and any cocktail that was previously made with vodka. Add pork ribs to that list as proven by Little Serow's signature dish: Si Krong Muu. Chef Johnny Monis marinates ribs in Mekhong whiskey, magic, and dill, leaving behind meat that falls off the bone before it reaches your lips. You don't have to remember how to say the name of the dish, but definitely commit the sweet and smoky flavor to memory.
Dessert: Apple pie
Blue Duck Tavern (address and info)
West End
We pressed pause on reality, remember? That's why you can still stomach a dessert the size of those buckets you used to make sandcastles with when you were a kid. Blue Duck Tavern's famed dessert is as American as apple pie... errr as American as going to a baseball game on bobblehead night and drinking $9 beers. It's said to be made for two, but we know you can do it, especially once the canister of ice cream arrives to make your a la mode dreams come true. What makes the pie so unforgettable is the sticky caramel and buttery crust.
After-dinner drink: Ode to Omaha
Dram & Grain (address and info)
Adams Morgan
Much of life in DC is about the show, so finish your nostalgia crawl with a drink that's a little dramatic. Dram & Grain's Ode to Omaha has been on the menu since opening night and isn't going anywhere for good reason. It's served in a smoke-filled orb with rum, blackberry cinnamon syrup, and bitters. One of the bar scientists will light up some wood chips and then trap the smoke, creating a mesquite aftertaste.
Sign up here for our daily DC email and be the first to get all the food/drink/fun in town.